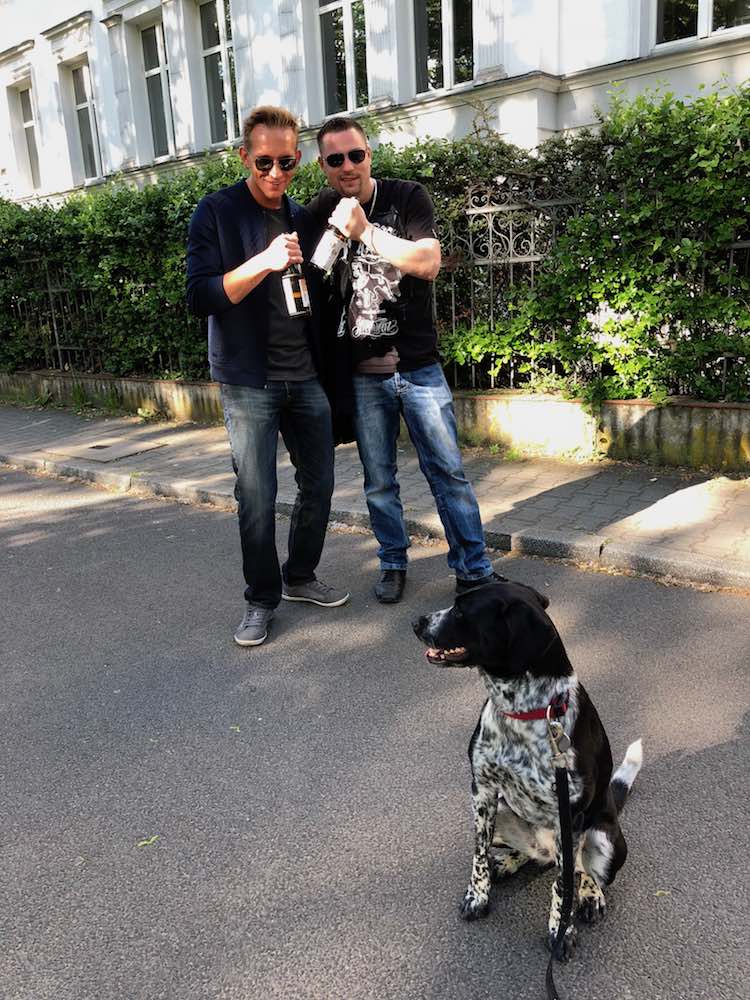 Friday, 4 May
When I wrote about shopping in Berlin two weeks ago, how could I have neglected to mention the most German part of my routine?
Every few weeks—and really I wish it were more often—I make a trip to the Trinkhalle, a place solely devoted to the sale of beverages and their accessories (snack food, cigarettes, ice, barbecue products, party-ware). I go every time we run low on the lightly fizzed St Leonhards water we drink...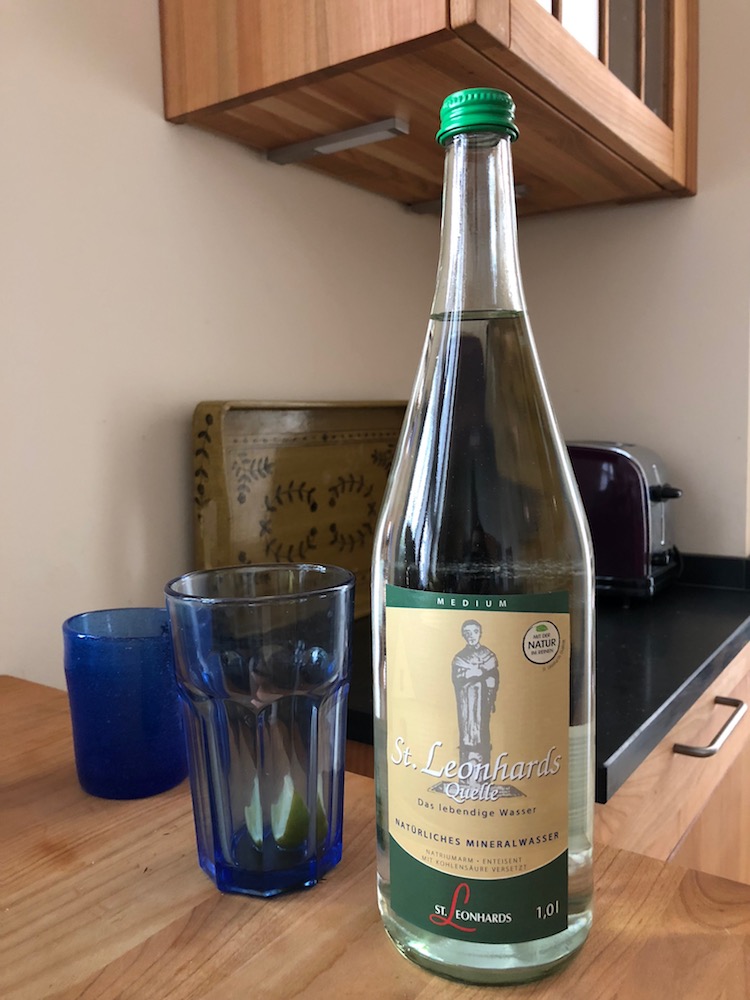 or the Volvic flat water we feed our espresso machine since my son William told us it's the only one that doesn't clog the innards with calcium. If we're having a party, I might stock up on some beer too.


I like going to the Trinkhalle because it brings together several pleasing features of life here. The Getränke Hoffmann closest to us, on the Dammweg, is in an old-fashioned part of former East Berlin. The buildings are low; the streets leafy, quiet and unassuming. Recently a fox crossed the road just in front of my car, stopped in the bushes on the other side and stared me down.
On the one hand the experience is quaint and quirky. Upon entry, your empty cases and bottles (preferably with their tops) are counted and set aside. Plastic bottles are also counted, then tossed with other plastic bottles. Accordingly you are given a chit of paper with the total of your Pfänder (deposits) that will be deducted from your bill when you come back round the other side with refilled cases.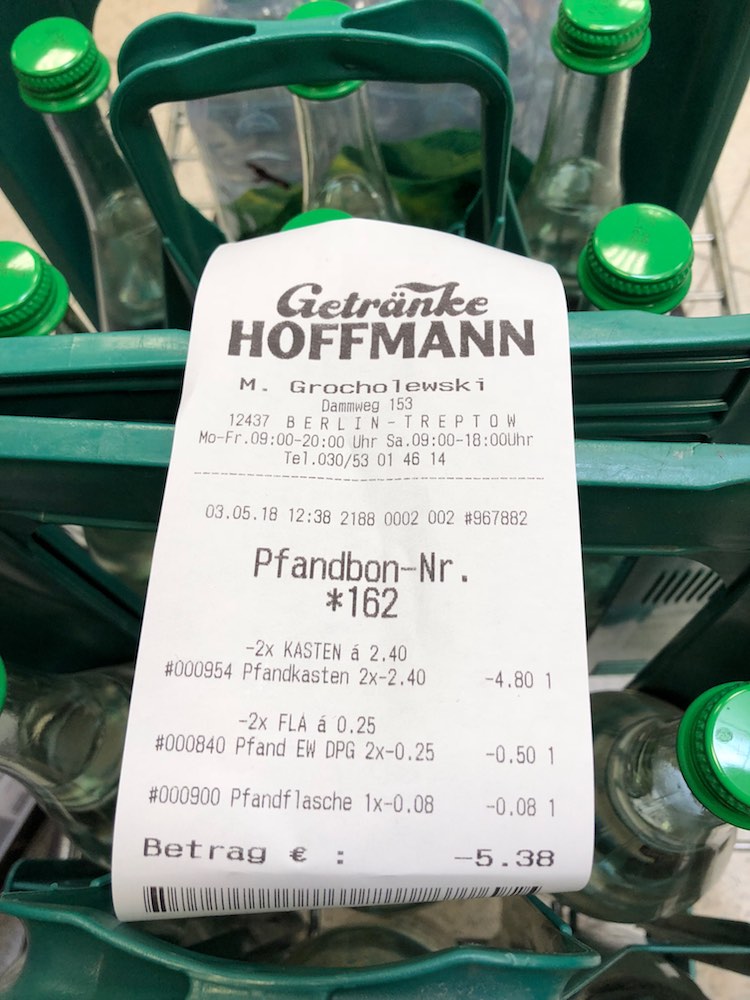 On the other hand the Getränke Hoffmann is contemporary: large-scale recycling, taken seriously. As their web site proudly declares, 92% of their business is in "eco-friendly reusables".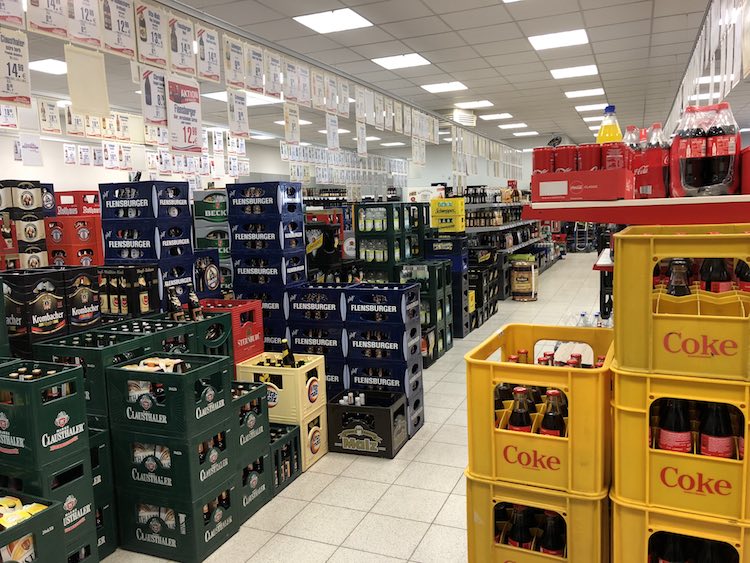 The bottle culture here approaches a mania. People buy case-loads not just at Trinkhalle but also at supermarkets and Spätkaufs, corner shops that stay open late. The Pfand system applies universally.
Every supermarket has machines to process the deposit returns and there are often serious traffic jams.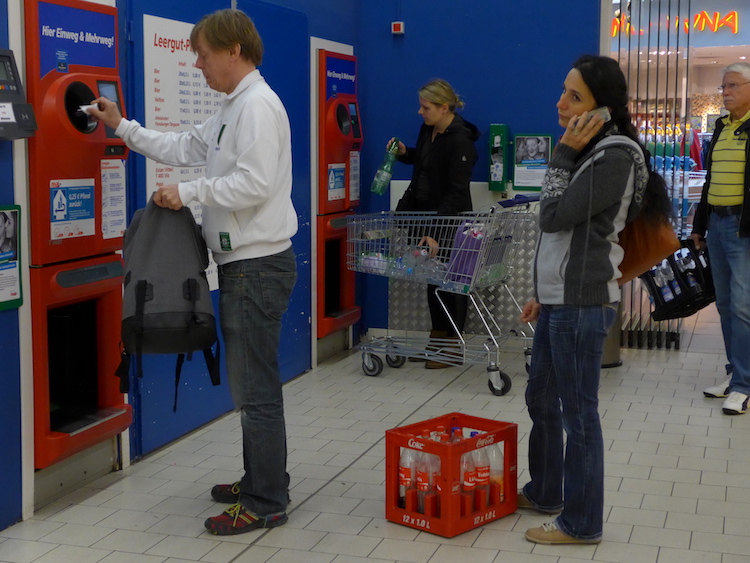 "This is taking forever. I'm going to be late."
As for non-refundable glass, such as wine bottles or jam jars, there are rows of containers on the street where one must separate into white, green and brown, though where to throw greenish-brown wine bottles still flummoxes me.
While I may be buying mostly water at Getränke Hoffmann, other Berliners are more likely to be buying beer. I am not surprised to also learn from the web site that in their 314 stores, the majority in Berlin and the surrounding Brandenburg, they sell more beer than any other type of beverage: 150 million bottles from 400 brands a year, versus 120 million non-alcoholic drinks. And I'm pretty sure the real raison d'être for the Spätkaufs is not so people can buy a bottle of water and a bag of chips late evening but so they can stay supplied with beer into the wee hours.
Because beer is drunk at every hour of the day and night, all over the place, in Berlin. And it's almost always out of a bottle.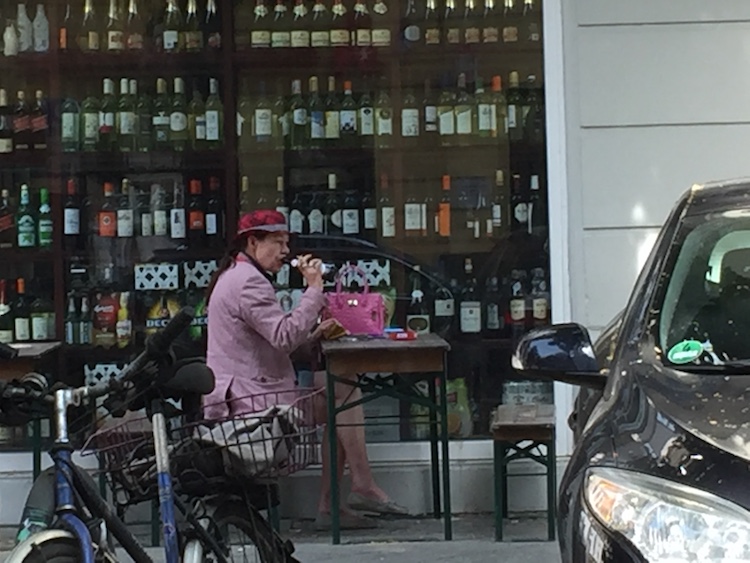 A quick one at mid-day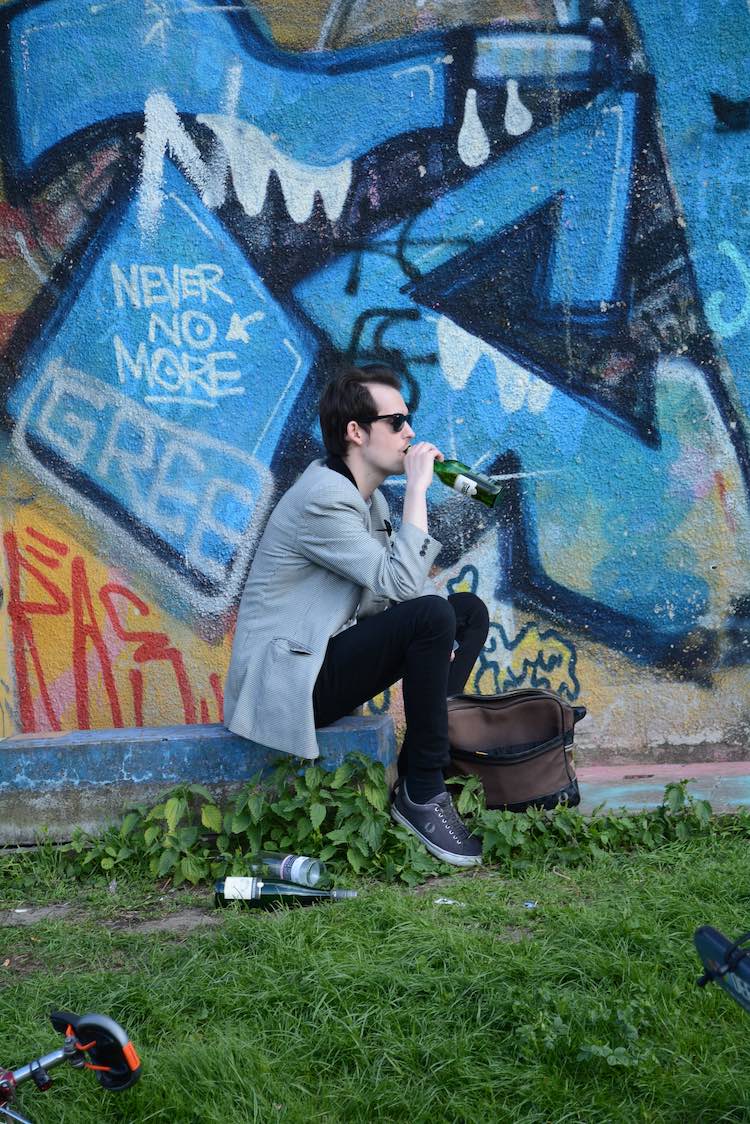 Late afternoon at the foot of a former watchtower between east and west Berlin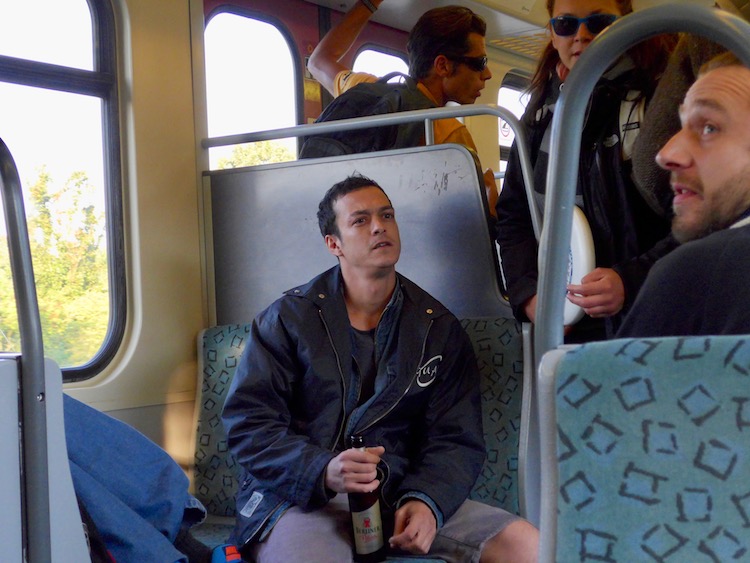 Still going at 8.30 in the morning on the S-Bahn
The problem with all this public drinking is that many of these bottles, despite the deposit that has been paid, are not returned. Empties litter the landscape, in all seasons.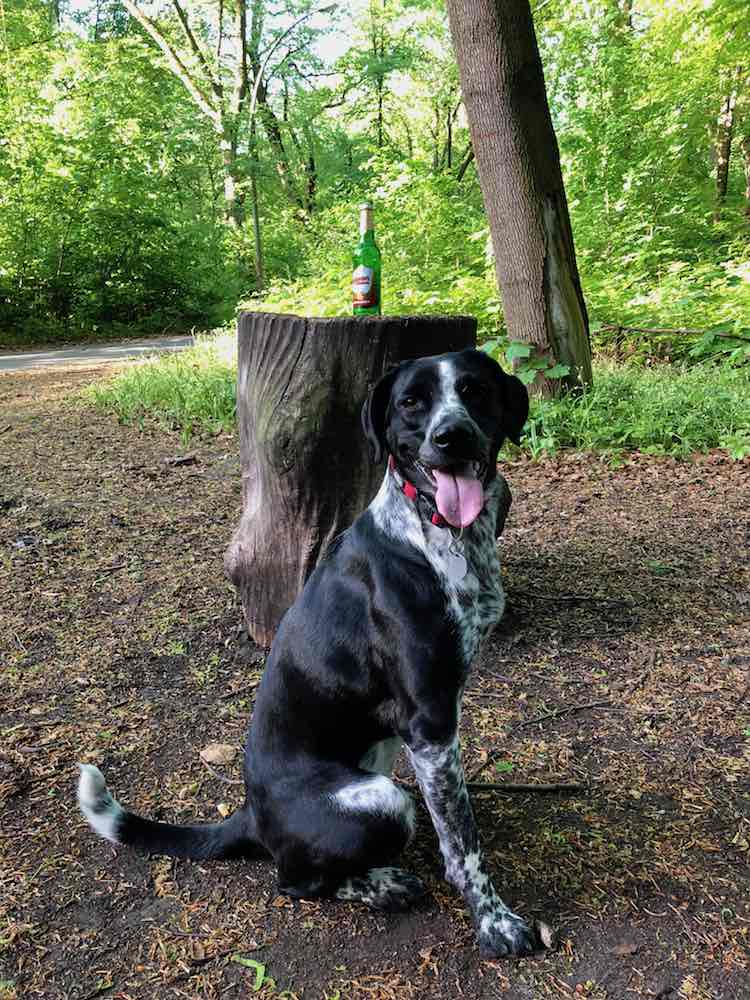 Spring-time in the Plänterwald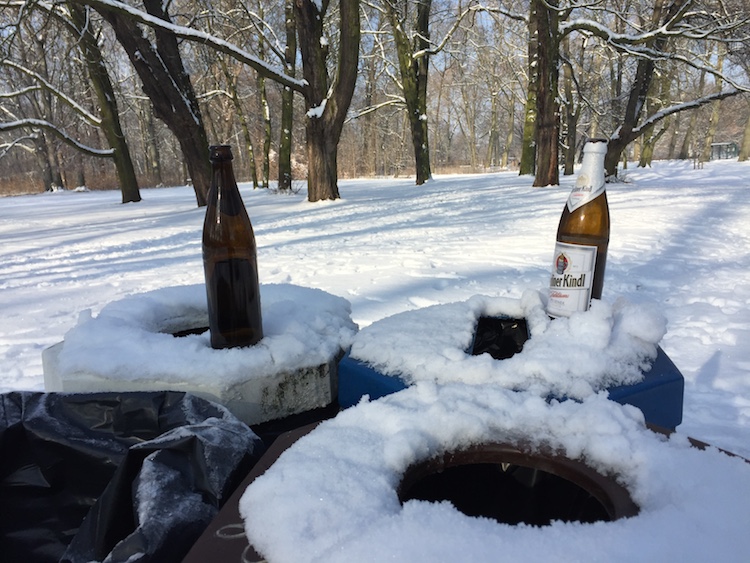 Winter in Treptower Park
And because all that drinking leads to drunkenness, there's broken glass überall too. It's in fact a plague on the city. Certainly in our neighbourhood you'd be wise to keep your nose to the ground.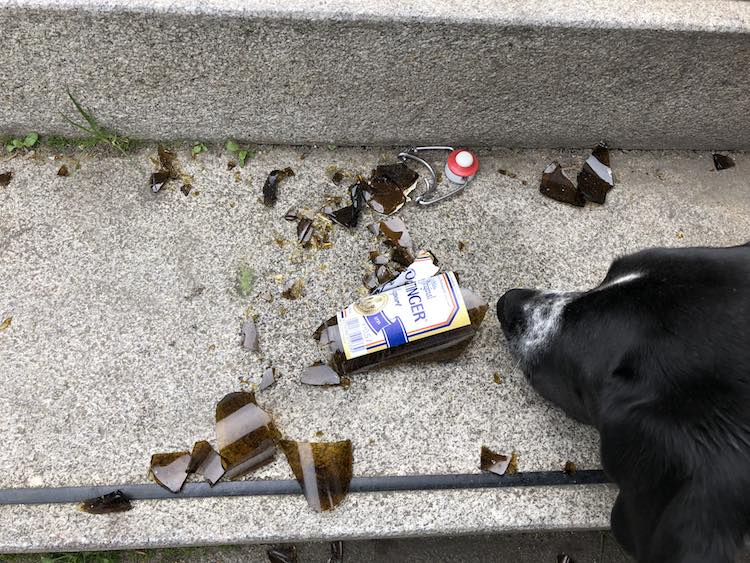 As for cycling, the streets and bike paths are a-glint with the stuff.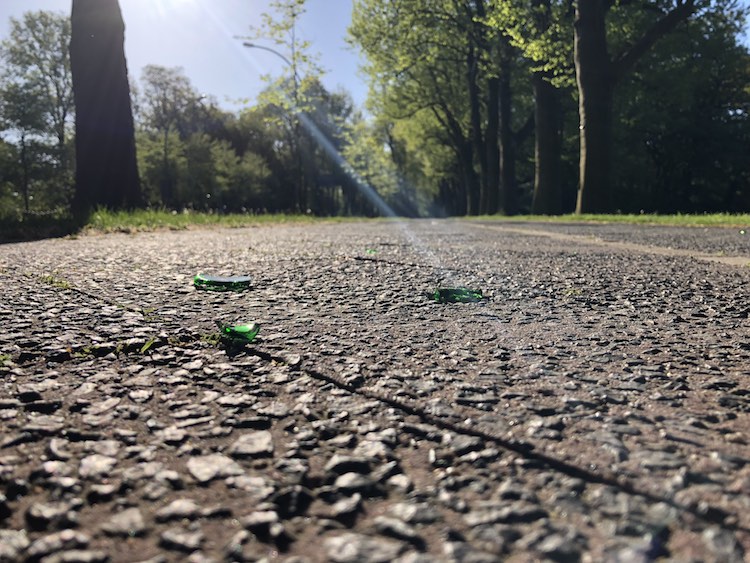 Bike path, Puschkinallee
Without the extra-thick rubber tires available in Berlin I'd be repairing a puncture a week.
The situation would be much worse, if it weren't for a thriving sub-economy. Collectors, often homeless people, abound. I have seen groups of picnickers happily handing over their empties to men making the rounds. And mornings in the park I often see bottle gatherers with laden with bags...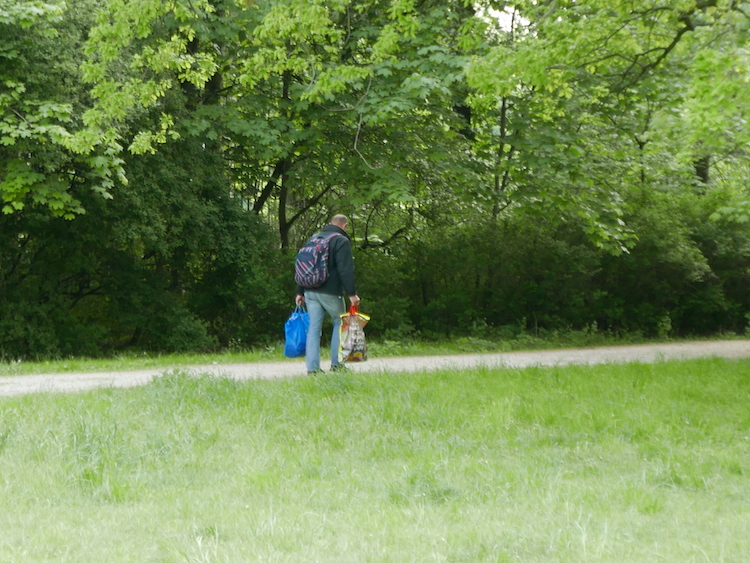 or sleeping next to shopping carts.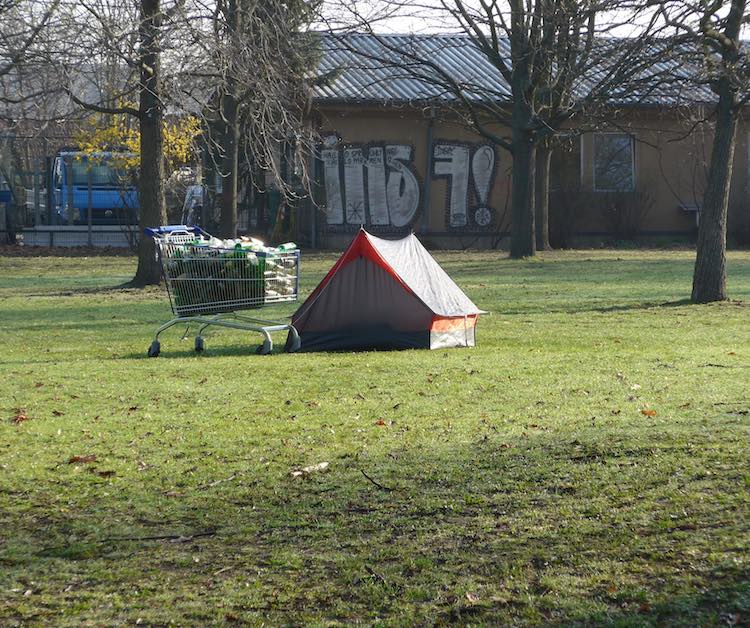 Last night's harvest
For better or for worse, Berlin and bottles go hand in hand.