Calm, Peace and Near Silence
Friday, 11 September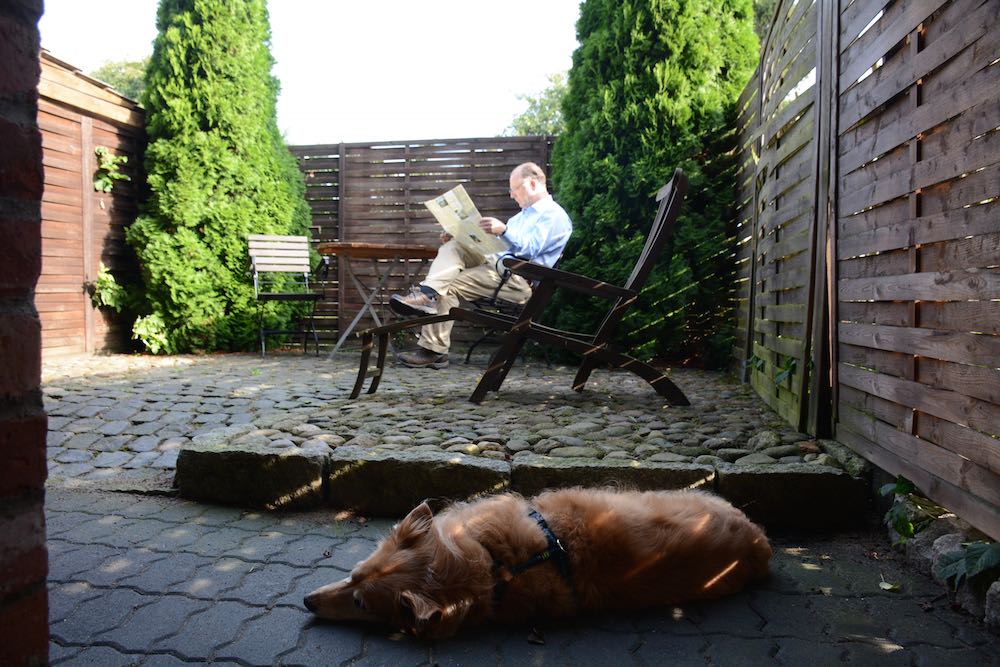 Just after I pushed the "publish now" button for my last blog entry, we got in the car and began a three-day weekend to the Rheinsberger-Seengebiet, a lake region about 75kms north of Berlin. It was the perfect antidote for lingering thoughts of the creepy former East German political prison Hohenschönhausen—and in fact for the infamous date on which I am writing today.
The town of Rheinsberg, where we were staying in the sweet little Seehof Hotel (our private terrace pictured above), had its heyday when Frederick the Great, still crown prince, resided in this handsome castle between 1736-40: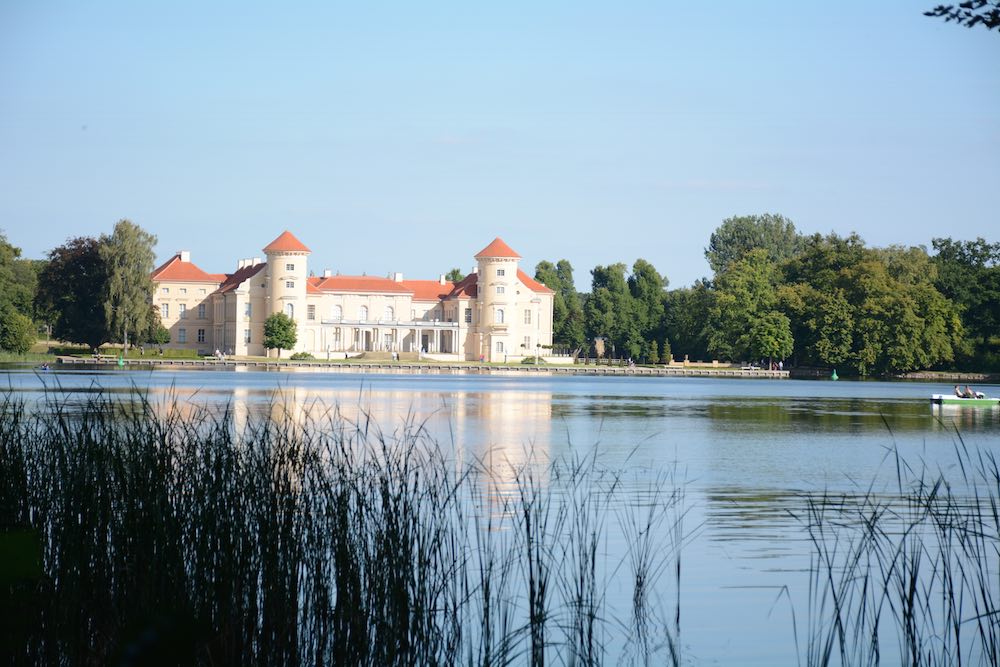 During those years he spent his time corresponding with Voltaire, writing his irenic Anti-Machiavel essay and organizing concerts and theatre productions, a tradition which continues to this day.
Having been to Rheinsberg in 1994, not long after reunification, we were interested to see how much the area had changed. Then it seemed to have barely emerged from the 19th century. Tree-lined roads through thick woods or small meadows led to cobble-stone villages and rundown farms with very old equipment. While still a tourist area, almost all the visitors in those days came from the former GDR. Today it's a bit buffed up, with some German tourists from farther afield, but its essence remains largely intact.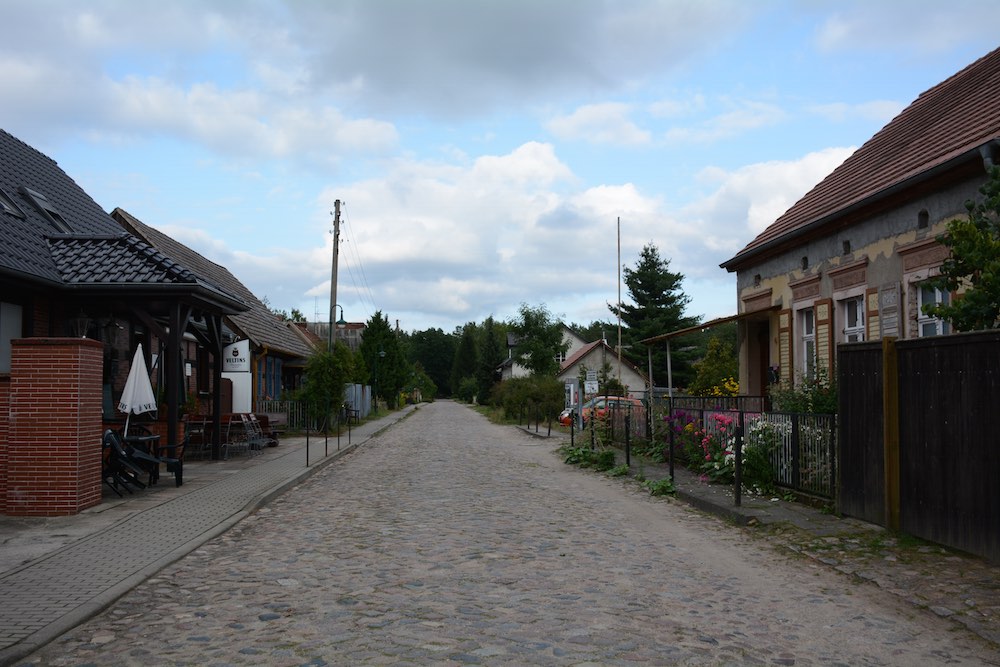 There is still, of course, water, water everywhere, so our first day we rented a boat. The combination of Elsa and a desire to see as many lakes as possible resulted in us opting for the motor variety, rather than a canoe or kayak. For three hours, we chugged along through the crystal clear water at 9km/hr (the speed limit and certainly the limit of our little boat's speed), traversing the lakes through connecting canals.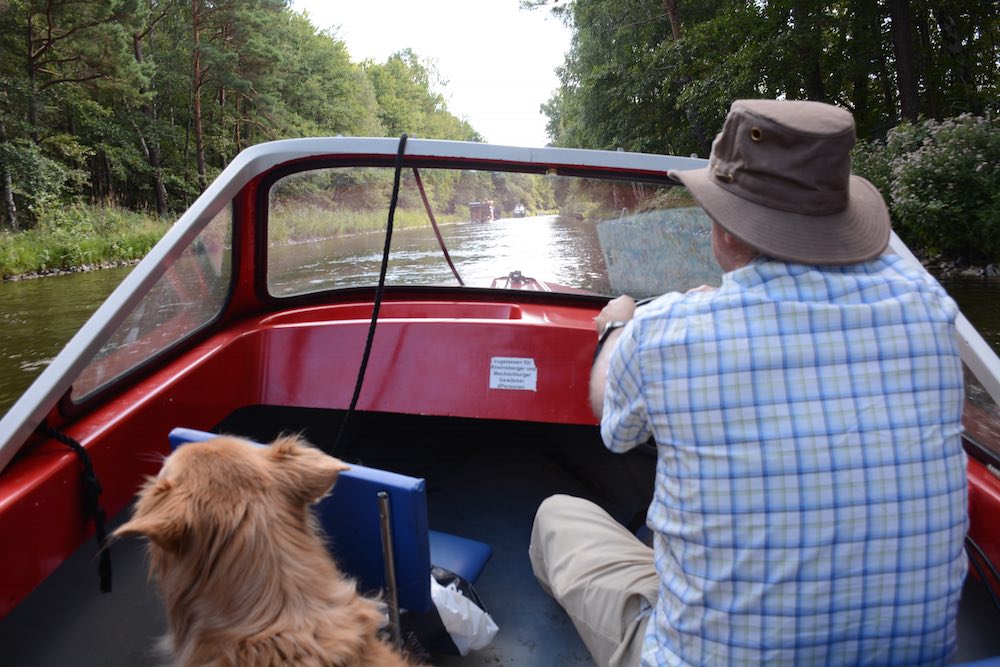 We stopped for a delicious smoked fish sandwich at a holiday camp. Later in the day we went for a walk in the woods around the lake and didn't run into a soul. We bought more smoked fish for our picnic the next day.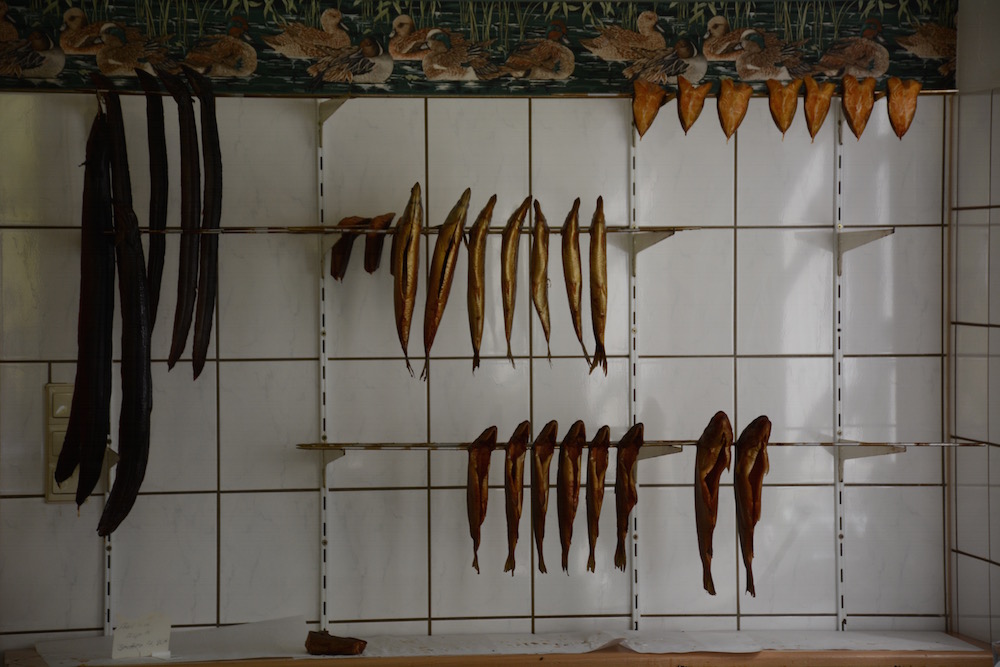 That night we ate at "Zum Alten Fritz" (how the Germans fondly refered to Frederick, once he became the Great), long on ambiance and charm, if not haute cuisine.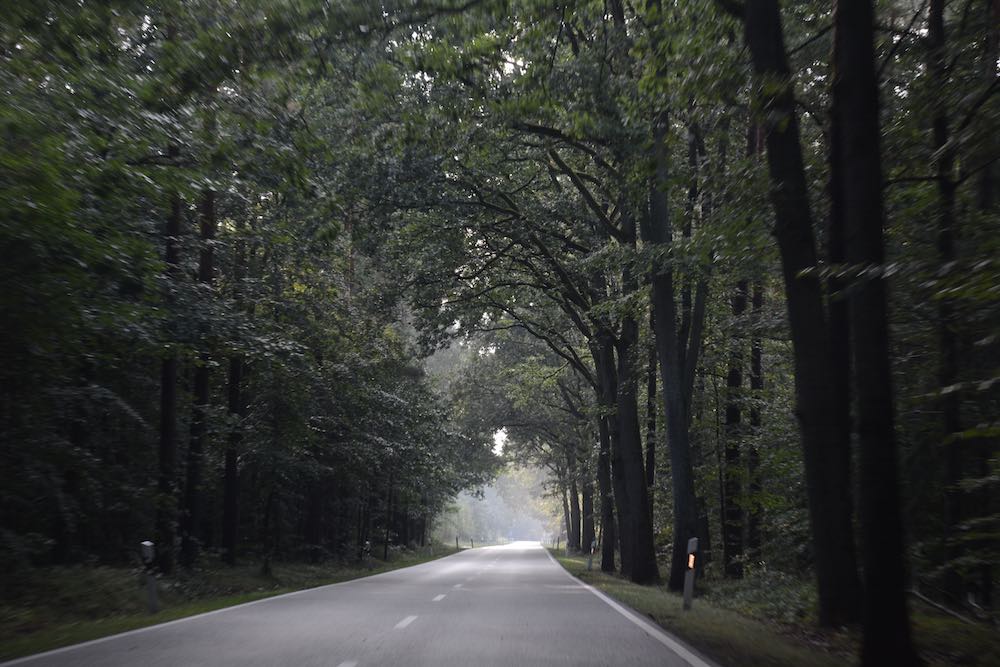 The next day we drove around the area, stopping for walks and a picnic at a covered dock on this lake. After we ate our smoked fish, we went for another walk. Elsa cooled off.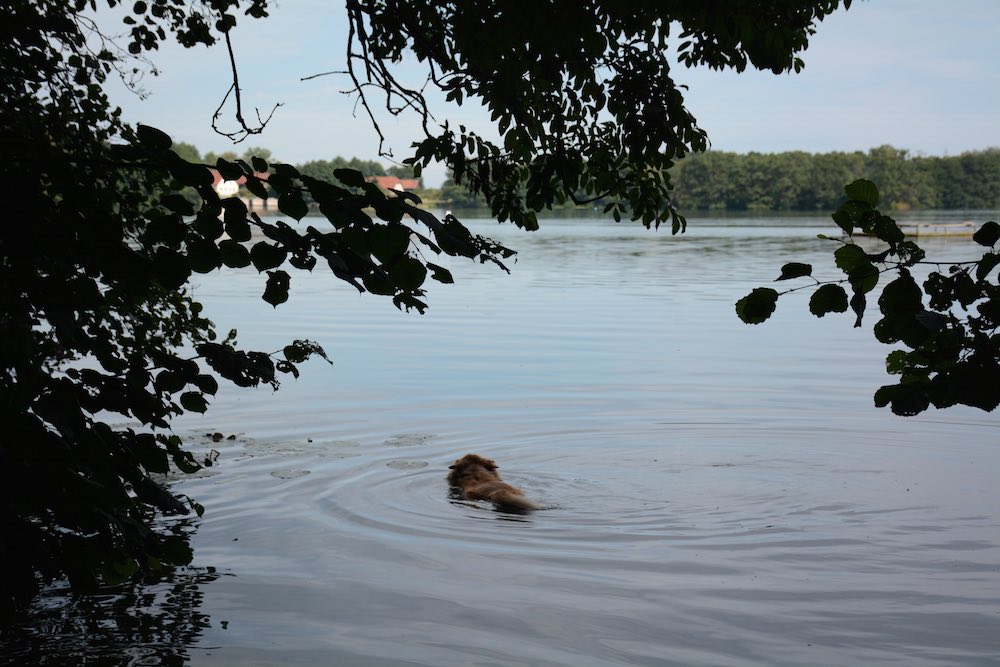 Sometimes you don't hear the noise and buzz and general frenzy of our world until you don't hear it anymore. Here in the bucolic bliss of the Ruppiner Land it was all so quiet and peaceful and simple, it was as if we'd travelled back in time to circa 1965. And it was amazing how soothing and relaxing that felt.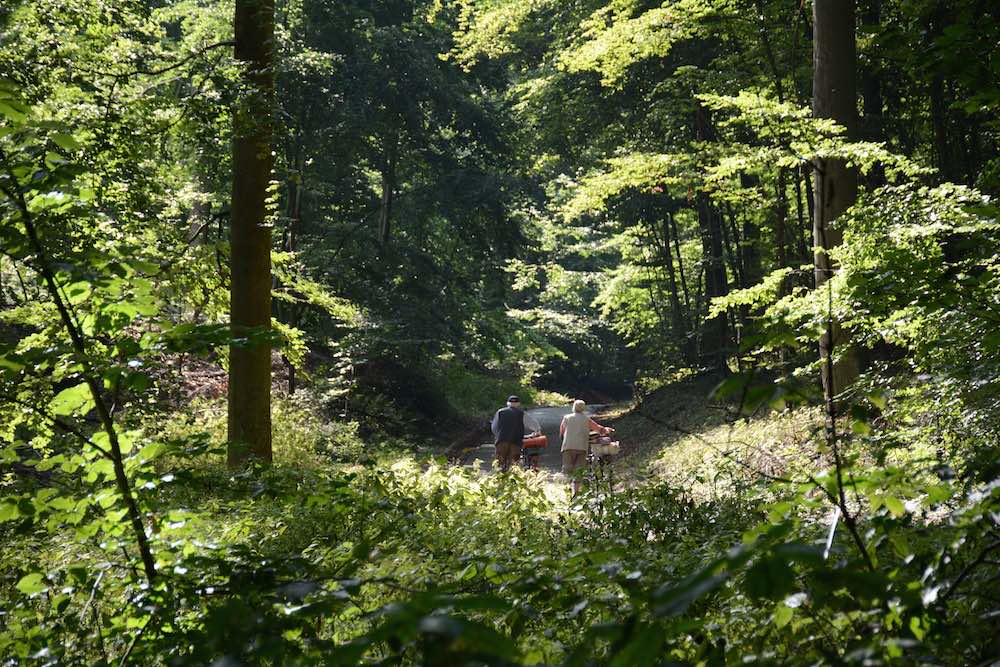 But readers familiar with German history and geography will know the picture is not perfect. That one must beware of nostalgia.
Once Frederick became king, he may have supported the arts, reformed and modernized Prussia, but he also turned ultra-militaristic and was almost constantly at war, thus becoming a model for both Napoleon and Hitler.*
And on Sunday, as we were driving back from our day of bucolic bliss, what should we notice just outside the charming lake village of Fürstenberg but signs to Ravensbrück, the notorious World War II women's concentration camp.
Which of course we then visited, thus sobering our mood by several degrees, but that will be the subject for a future blog.
Today I'll leave you with a parting shot of this woman. While we were enjoying our picnic, she walked to the edge of the lake, shed robe and shoes, waded into the water until out of her depth and just kept swimming. Calmly, peacefully, silently.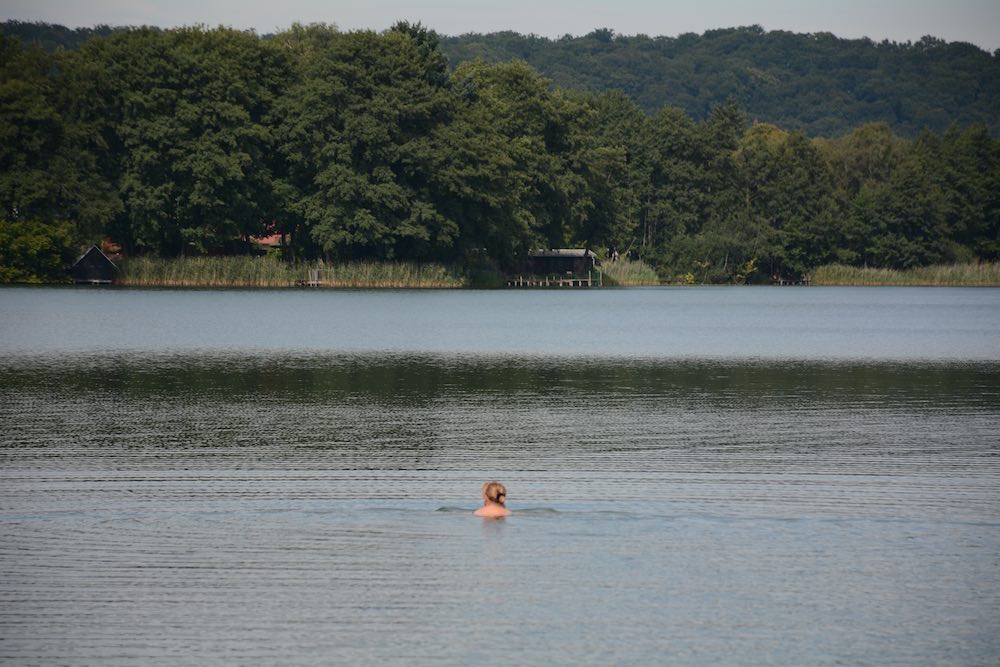 ---
*Bizarre coincidence: in The Economist that came out today there's a review of a new biography on Frederick the Great. Just by reading the article you can learn quite a bit about this complicated man. Elsa is happy to now know who coined the phrase: "A dog is man's best friend." (http://www.economist.com/news/books-and-arts/21664055-what-made-frederick-great-prussian-and-powerful)