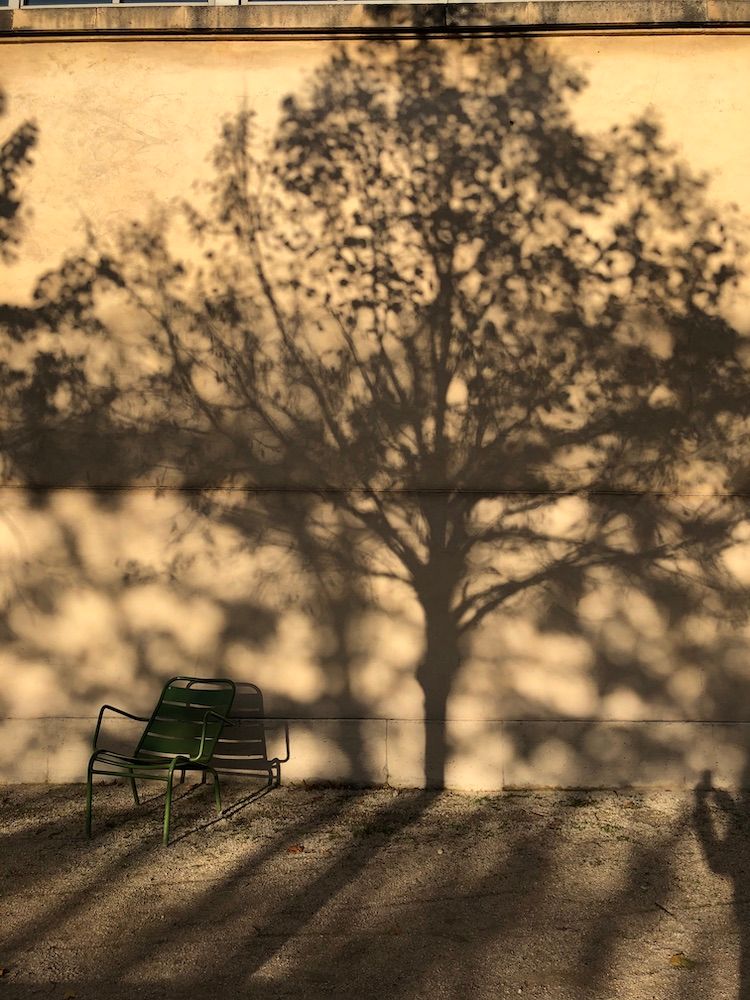 Friday, 6 November
I got my wish and am back in Paris but it's been a bit of a rough week. The American elections have made concentration on anything else close to impossible. Whatever your political views, it's distressing to see a nation so riven, especially when the discord looms as an example writ large of what's happening the world over. I live in a country, after all, where a teacher was recently decapitated on a leafy street in a Paris suburb. The subsequent rhetoric has not done much to attenuate tensions.
And as of last Friday, we're once again confinés. Covid-19 is raging, with this wave looking to be worse than the first. According to our gardienne's daughter who is a nurse, the hospitals are now filling up with many people in their twenties, thirties and forties. Soon it will be necessary to decide who lives and dies in the intensive care units.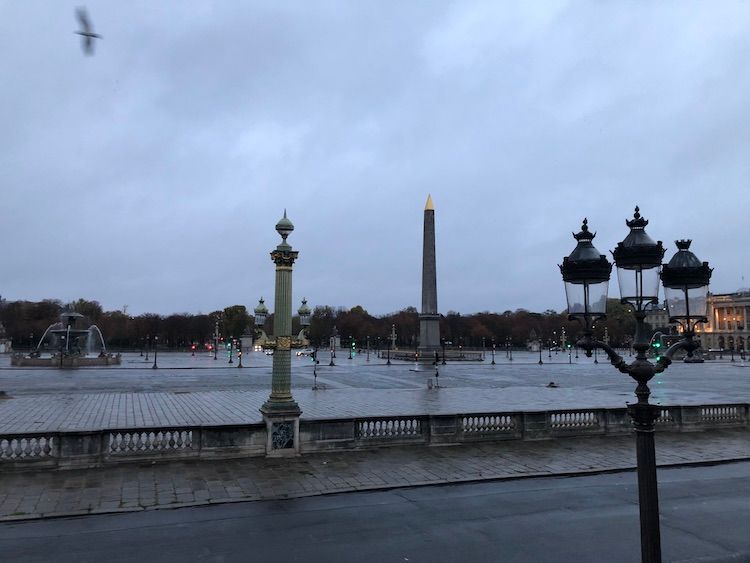 Over the weekend I got a taste of what Confinement, Chapter One must have looked like in Paris. Sunday morning, Tasha and I had the city to ourselves.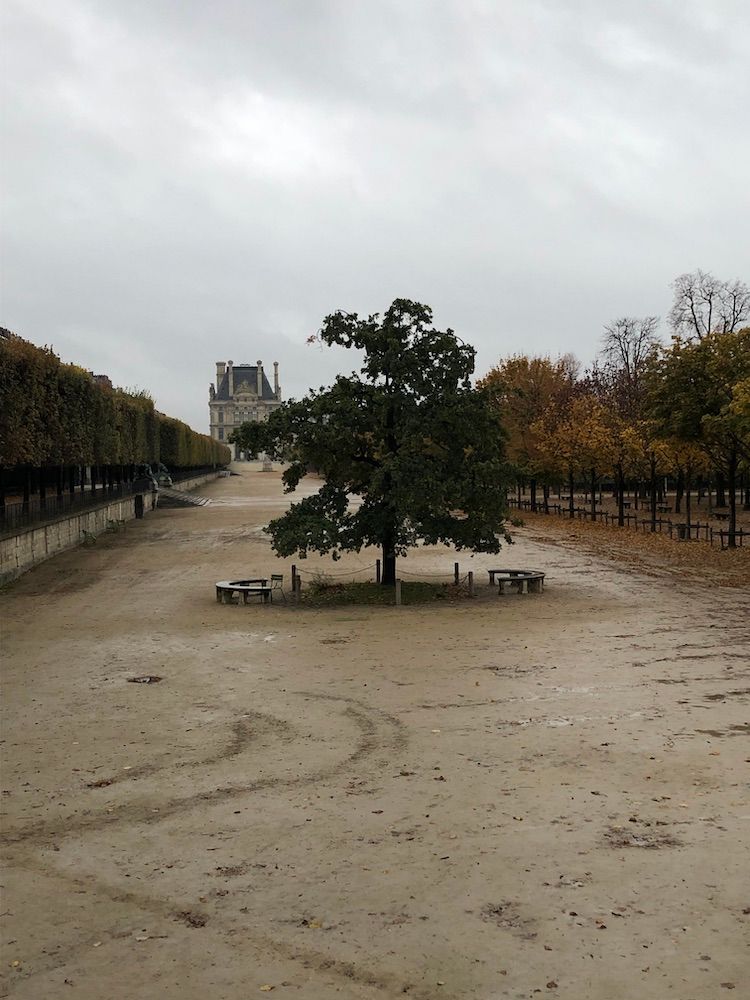 But that had changed by Monday morning. Businesses other than 'non-essential' shops and restaurants are open and there was a fair stream of nervy traffic. Hot-headed Parisiens were still running red lights and hooting at one another. Innumerable construction projects are moving ahead, though one wonders in this mostly stagnant world just what future they're building for.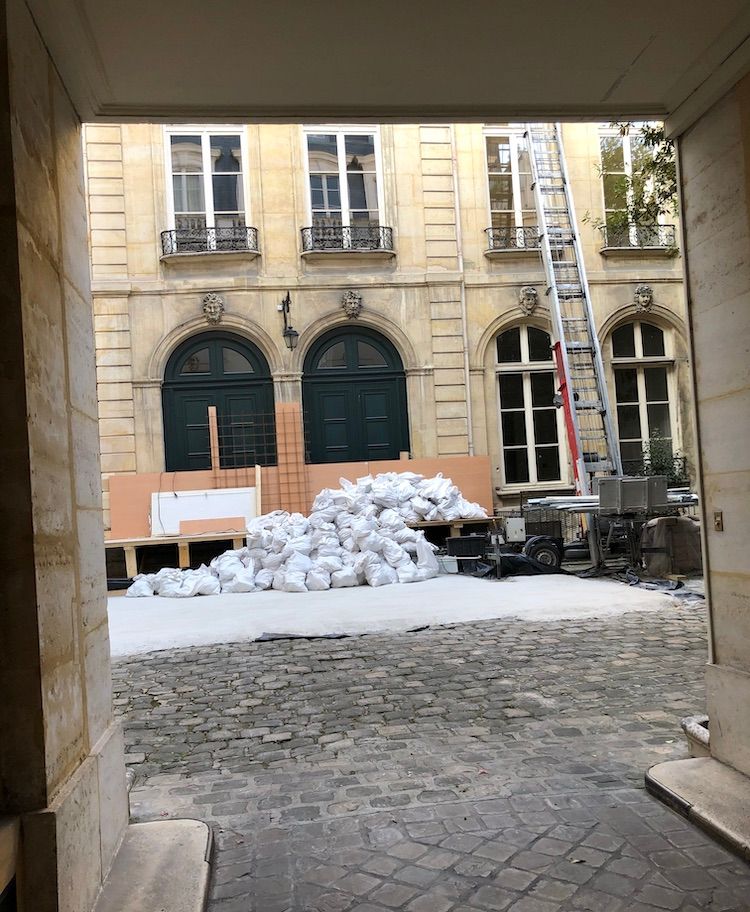 At least they make more sense than the Christmas decorations that the city is putting up. What, exactly, are we meant to celebrate during the lockdown?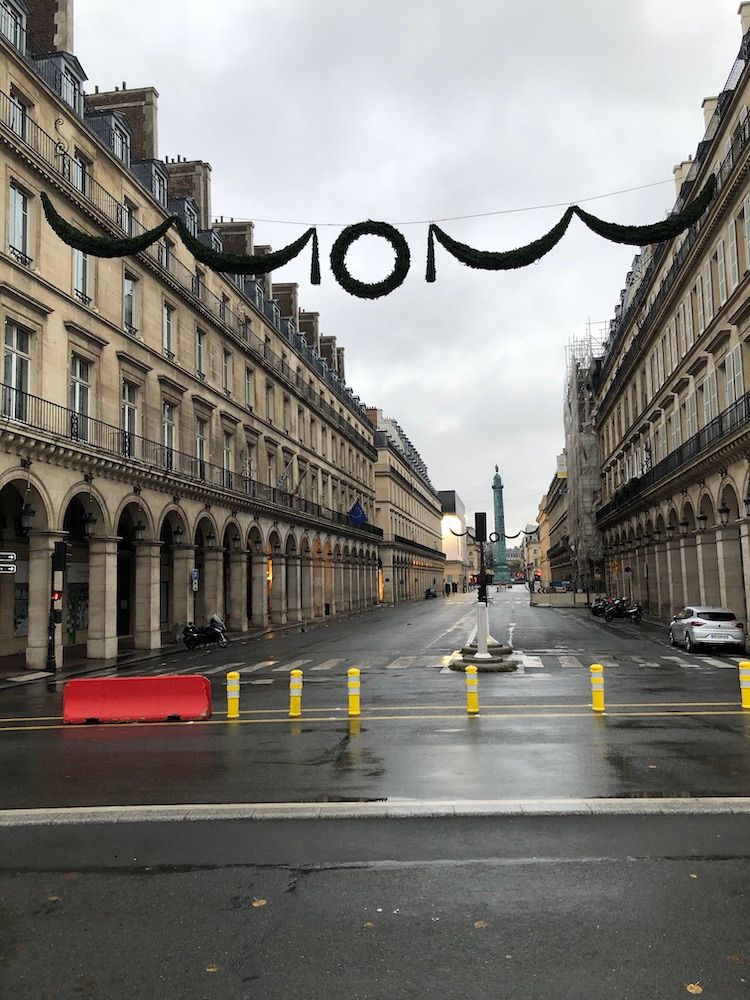 Doctor and dentist offices are also open in greater numbers, thus giving us our needed excuse to spend the week here. Fortunately, Koffi and Virginie - who should indeed be considered relief workers - are still fostering the good health of the canine population with walks in the Forêt de Meudon.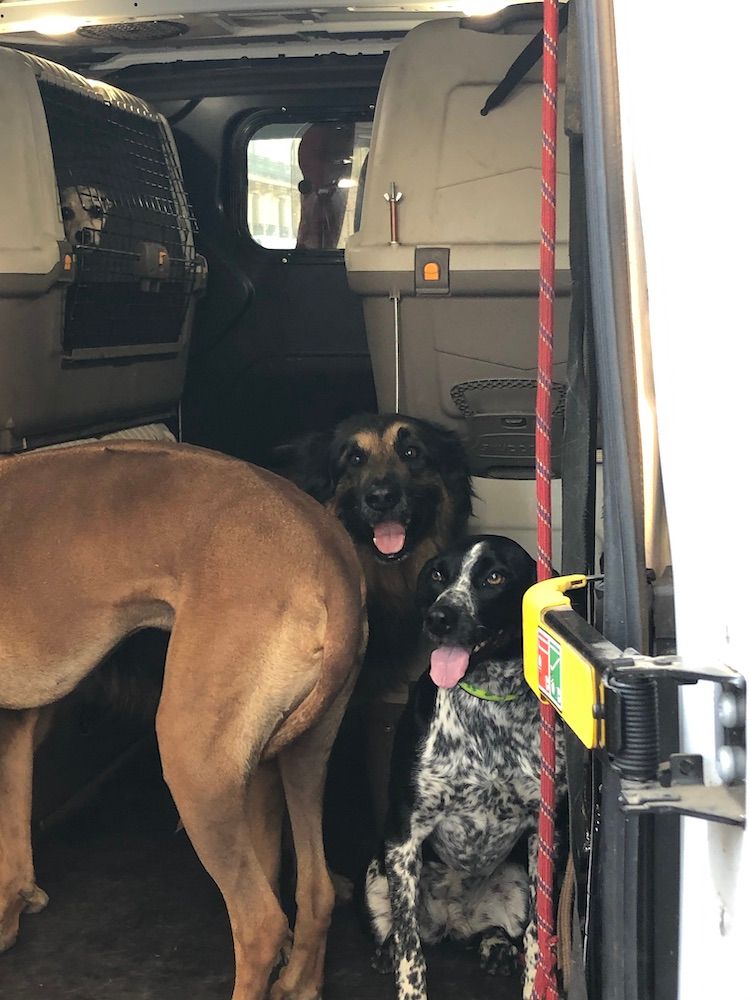 There are more subtle differences from Confinement, Chapter One than open public gardens and more people at work. During the first lockdown, even in the Perche, I was a nervous wreck every time I went into town with the required paperwork (attestation) clutched in my hand. I'd think fearfully about my every move. Unimaginable as it is today, I wore no mask because none were available but I did don plastic gloves because I happened to have them in stock. When I got home, I'd remove my shoes, air my jacket, set the shopping aside, wash my hands for 20 seconds, wipe surfaces with parsimony since alcohol was also hard to come by. I'd feel guilty for not actually washing the food, like all my friends and family seemed to be doing. The one time I did take dish liquid to my apple no amount of rinsing would rid it of a soapy taste.  
I look back now at those early days of innocence almost with nostalgia. Today I wear a mask but no gloves; I still put gel on my hands while moving around and wash them when I get home. Getting out the door on the first try with all the required kit is still a challenge, but the gestures have become routine in a way I could not have imagined in March. We've grown used to living like this.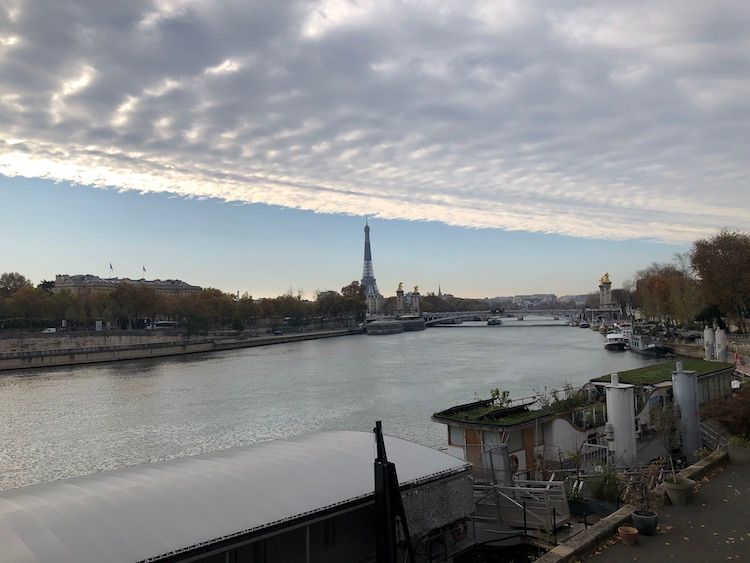 As for Paris, she is a sad place. The traffic and the construction work provide an appearance of near normality but heart conditions are often not apparent to the casual observer. What makes the city pulse, her internal energy, has weakened to a point of near inaudibility. No wonder the Eiffel Tower's middle is swathed in a black brassard of mourning.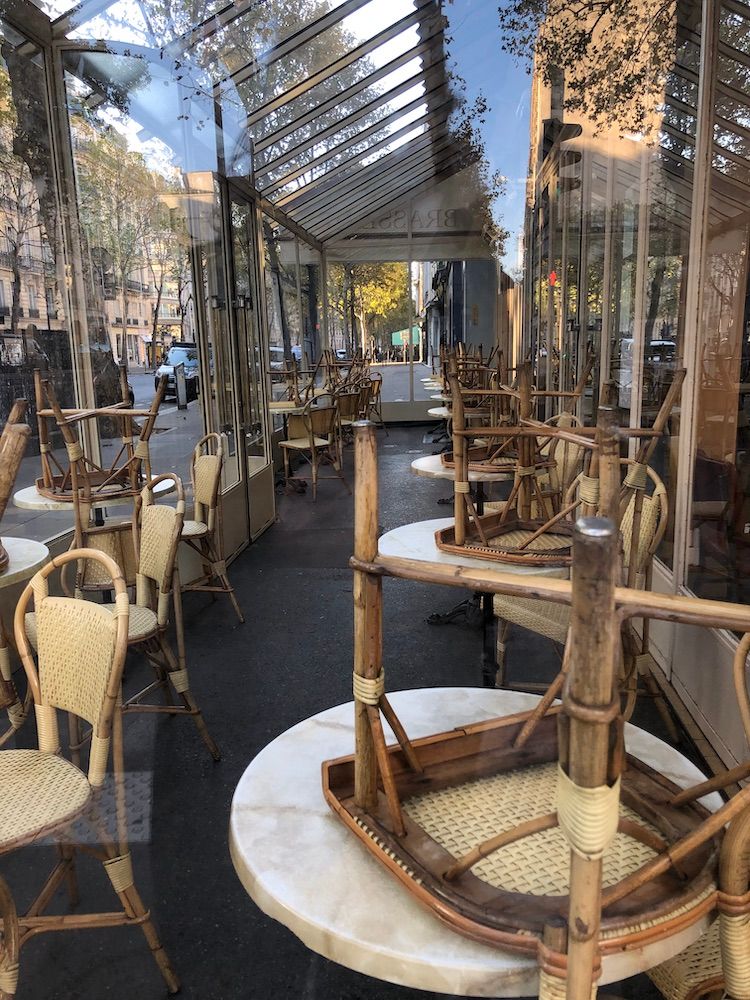 Yesterday I had an iridotomy, a laser treatment to relieve pressure on the eyes. I walked to the doctors' offices at Odéon along the boulevard St Germain, a thoroughfare lined with cafés and small shops. It looked like Pompeii, everything set up but lifeless.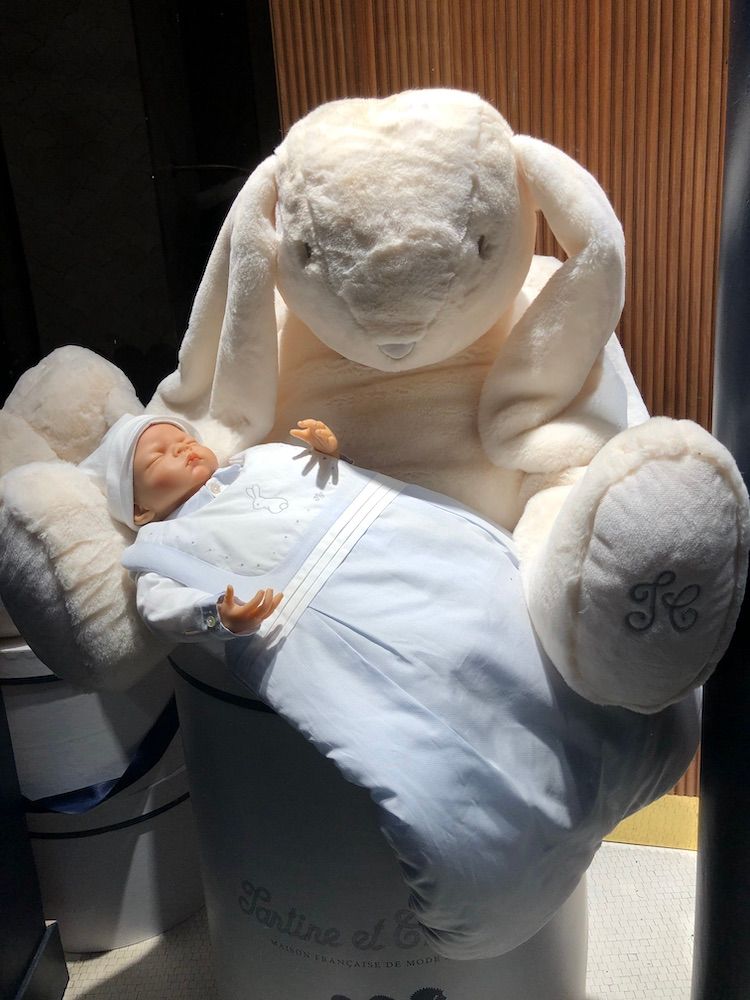 It's going to be a long winter and it's partly our own irresponsible fault; we can't stop ourselves from behaving stupidly. Some friends who live next to the rue Cler, a pedestrian street with lots of bars and restaurants, said that last Thursday evening, just before the new confinement became effective at midnight, when everyone knew how rampant the virus was, the place was a sea of people breathing mask-less on one another at close range and laughing the night away. Assuming similar scenes occurred across the country, the record number of 60,486 new cases in these last 24 hours, one week later, should not come as a surprise.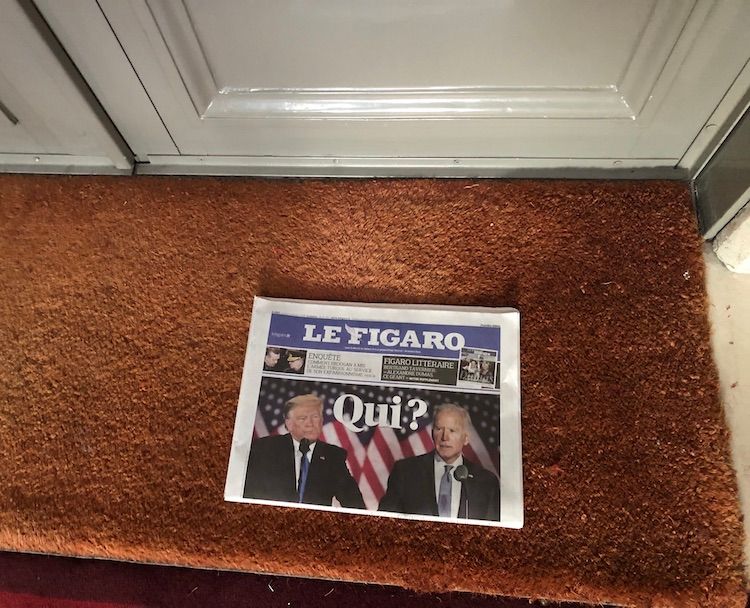 At least today the French have something else to contemplate. Since I started this blog entry, every person I have encountered (and chance would have it that there have been quite few) has said to me, wide-eyed and incredulous: "Et les Américains ?" No one can believe that an American president would reject the results of a democratically held election. "The US is a big, great country, a model to us here in middling France," said dog-walking friend Stéphane. "How can this be happening?"
The intervention on my eyes has temporarily affected my vision. Everything looks blurrier and darker than usual. Quite a fitting state, I'd say, though my eyes are likely to improve much faster than the world in general.