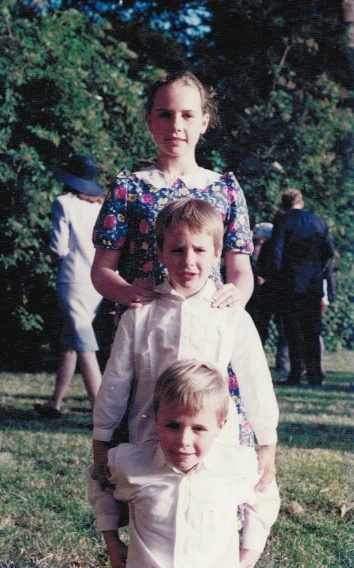 Starting small: Georgina, William, Christopher at Victoria's wedding to Antony, 1996
Friday, 29 September
"Once you start with the international thing," my friend Victoria W said, "it's exponential."
She meant that I, an American who has spent much of her life in Paris and was first married to a British man born and raised in Zimbabwe, am much more likely to have children who hook up with people from other lands.
She was referring to the fact that my daughter Georgina is marrying Amal, who is Indian but holds an American passport and was brought up in Singapore. Two weeks ago family and friends began to gather for the Paris celebration.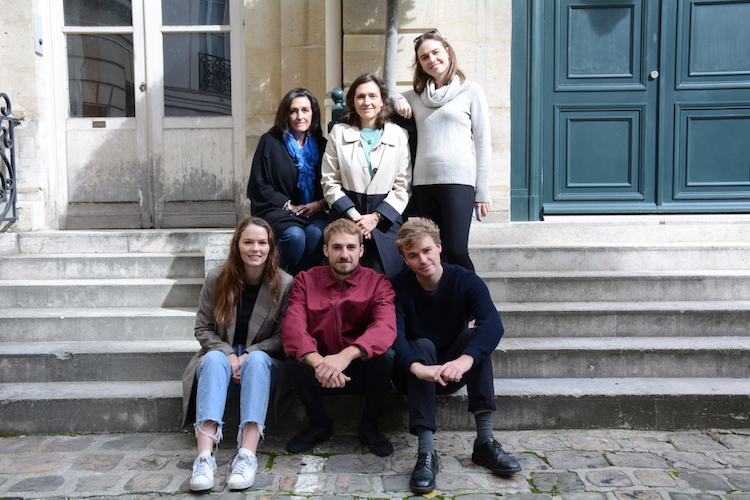 Getting bigger: with Northern Irish Kerry, my sister Catharine and me
Victoria, Georgina's godmother, could not attend the festivities. She, who first married a Mexican and lived for years in Mexico and Chile before moving back to London, had to stay home because her Anglo-Mexican daughter Alexandra was waiting for her baby to be born.The father is Greek.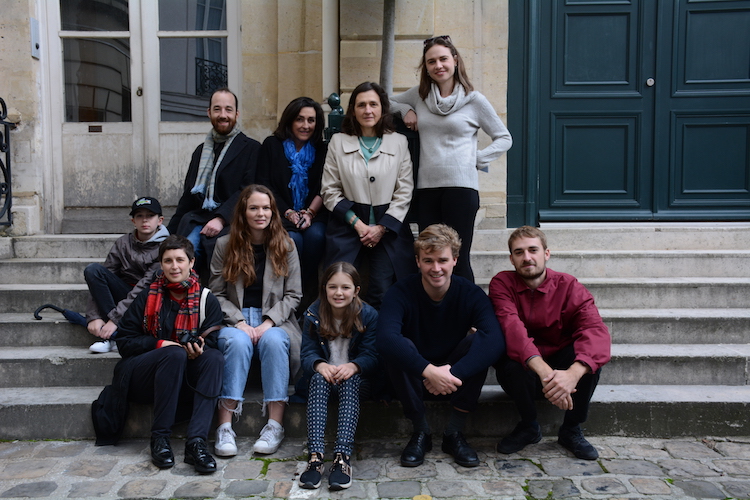 And bigger: joined by stepson Nick and his German family Maike, Victor and Fanny
As for Dilip and Radhika, Amal's parents, they come from Mumbai but resided some time in the US, where Amal was born. Not long after they moved to Singapore, where they still live.
As for Amal and Georgina, they met at business school in England, whence she went to Rwanda to work and he to Kuala Lumpur. After a year in KL together, they have just moved to London.
The international thing is making the wedding process itself exponential. Besides the Paris celebration there will be the legal marriage sometime soon in London, before the grand finale: the Indian wedding that will take place in Mahabalipuram just after Christmas.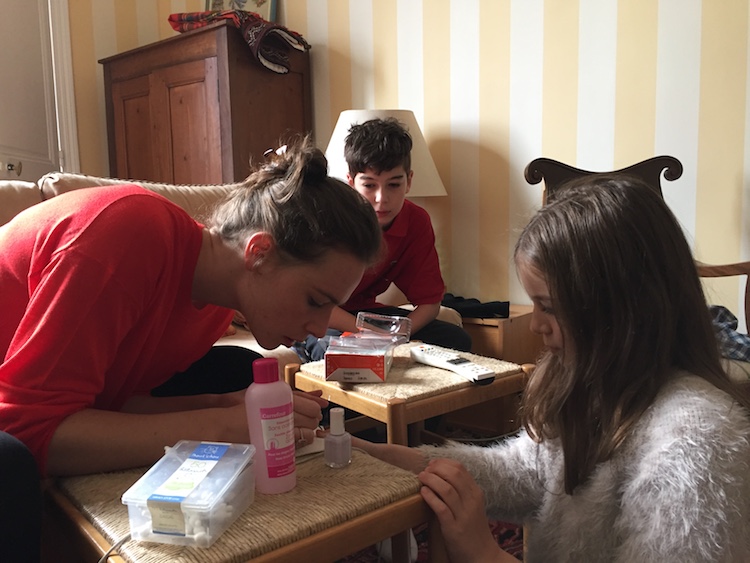 Georgina with Berlin step-nephew Victor and step-niece Fanny
Georgina's father Charles, David and I were responsible for the Paris segment. It started small on Thursday with dinner chez nous for Dilip and Radhika; Friday was a larger family dinner organized by Charles; Saturday it crescendoed with the big party at David's club and Sunday it finished with a relaxed cocktail déjeunatoire, once again chez nous.
For me, to whom party planning does not come naturally, the task seemed prodigious; the room for error capacious. What to make for supper at our first meeting with Dilip and Radhika? Would the elusive DJ actually show up on Saturday evening, with equipment? What should I read at the little ceremony Georgina wanted at the big party and would I get through it without crying in front of all the guests? Would 60+ people actually fit in our apartment on Sunday and could we keep the revellers safe from Tasha and her terrifying bark?
Plus people, not surprisingly, were coming from all over the world. Would everyone make it? How would the first meeting of the two families, not just Dilip and Radhika but the cousins, aunts and uncles who live in Britain, go?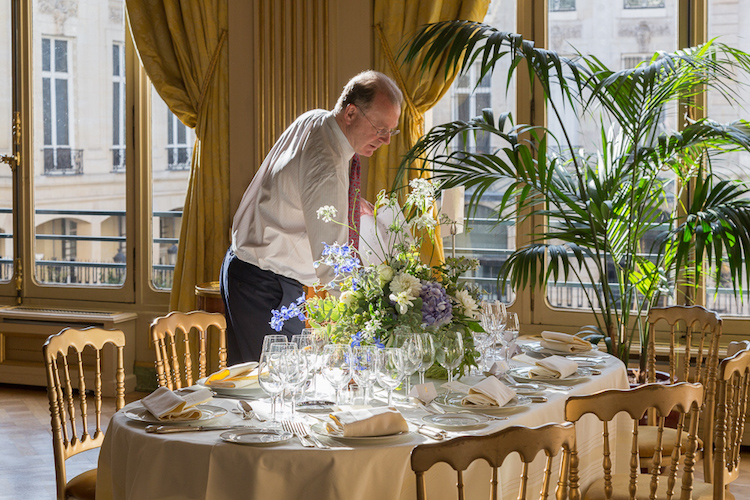 (wedding photos by Elise Prudhomme)
In the end all the events went off without a hitch. My very French dinner of roasted chicken, bean salad and potatoes was a hit. The DJ showed up and people danced. I got through the Song of Solomon (thank you again, Megan!), only tearing up at the last line: 'The mandrakes give a smell, and at our gates are all manner of pleasant fruits, new and old, which I have laid up for thee, O my beloved.' On Sunday everyone fit comfortably in the flat and nobody got attacked by Tasha. Most importantly, the families, nuclear and beyond, got on swimmingly. All the guests said they'd had a wonderful time and their words rang true.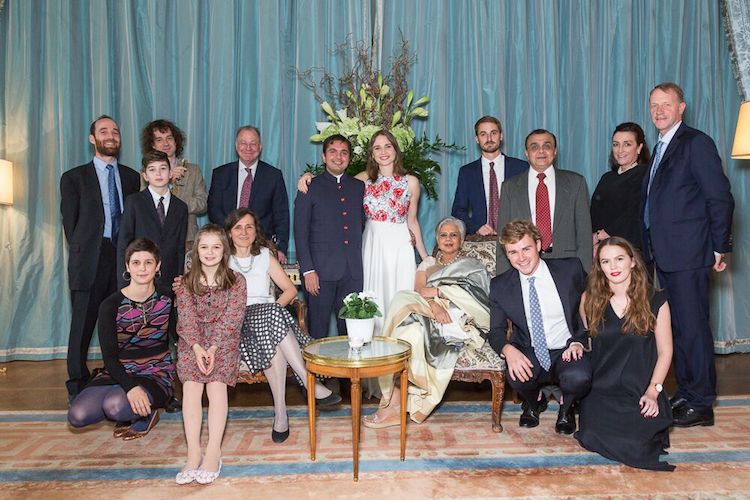 Au complet
A week later, as I was looking at the smiling faces in Elise's photos from the Saturday night, it occurred to me that even if things had gone wrong, the weekend would have been a success. At a marriage celebration, the bridal couple sets the tone. Georgina and Amal, two people who grew up a world apart, are seamlessly happy together and that happiness was contagious; it spread like sunshine over the entire four days.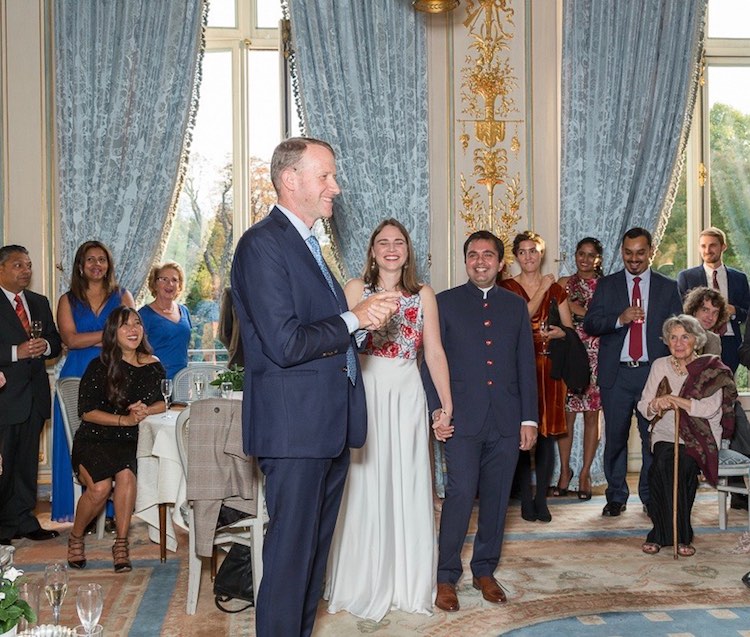 British-Zimbabwean Charles, British-American-French Georgina, Indian-American-Singaporean Amal
So long live exponential-ism. Looking forward to London and, even more, India.
---
Huge thanks to:
Elise Prudhomme for great photos that perfectly captured Saturday evening's joy.
Clarisse Béraud and Atelier Vertumne for the most beautiful flower arrangements I've ever seen.
Matthieu & Pauline for Sunday's superb food and service