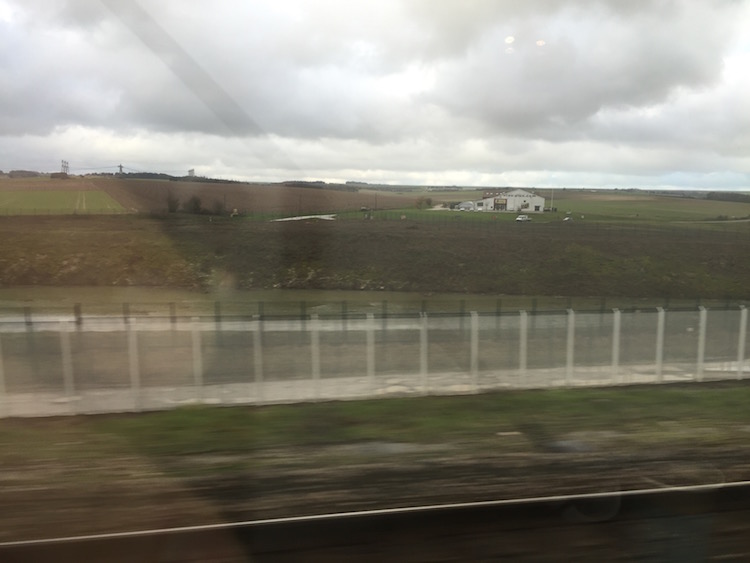 From the Eurostar, near Calais, France
Friday, 19 February
For those of us who live in northern climes, February is a nasty little month. The curl-up-by-the-fire charm of winter is long gone. It seems that morning and afternoon dog walks will forever be conducted in the dark, that spring just isn't going to happen this year. So it's a good time to travel. The Caribbean would obviously be the ideal getaway. But with that not an option, I settled for a few days in London. Certainly no better than Paris in terms of hours of daylight but there would be family and friends and exhibitions to visit, a change of scenery.
So that's what I did, visit family and friends and exhibitions. Victoria W. and I went to see "Painting the Modern Garden: for Monet to Matisse" at the Royal Academy. There were some lovely paintings, but I must say by the end I was ready to crush the next flower in my path. Maybe the limited time frame or subject matter, maybe the abundance of paintings, maybe just my mood. But it seemed a bit static and indiscriminately large.
The subject matter in the Frank Auerbach retrospective at the Tate Britain was limited but in this case that did not detract from the work's power. Born in Berlin in 1931, Auerbach was sent to Britain age 8 via the Kindertransport, a programme to help rescue Jewish children from the Nazis. His parents, stuck in Germany, were both killed in concentration camps. Auerbach paints the same people, the same views from his London studio, over and over again but the semi-abstract works, often with paint slathered on so thickly the tableaux approach sculpture, have a haunted, vibrant appeal.
During my four-day stay, I moved around a lot. There was the Royal Academy and a new Waitrose supermarket with Victoria W. I was back and forth to Islington, where I had lunch with son Christopher and tea with Eileen W. There was another lunch, with Alison M., at the Tate, plus dinner with Christopher and his girlfriend Kerry at Middle Temple in the hall where Shakespeare's Twelfth Night was first performed.
I noticed a couple things in all this moving about. First, it was hard to believe that my last visit to London was only eight months ago. New buildings, particularly along the Thames, have proliferated like spores. And second, I noticed that unlike many earlier visits, I was always on time. The public transport, which used to be slow and moaning and hopelessly unreliable, is now breathlessly efficient. Tubes surge into the station every few minutes, buses trundle along dependably, freed from erstwhile traffic gnarls by the congestion tax cars must now pay if they enter central London.
By comparison, Berlin is a slacker and Paris a tired old lady. The main reason for this discrepancy is money. London is awash in the stuff. In fact, as law student Christopher and architect Kerry told me, young people who are not bankers get pushed farther and farther out every year. Landlords, instead of renewing rents, cash in on skyrocketing property prices. Then the new owners charge higher rents, before they too sell. According to the group Expatistan, housing is 20% higher than Paris and 57% higher than Berlin. And unless you only drink Coke and eat all your meals at McDonalds (according to the list, they're about the only better deals in town), the cost of living generally is 24% higher than Paris, and 47% higher than Berlin.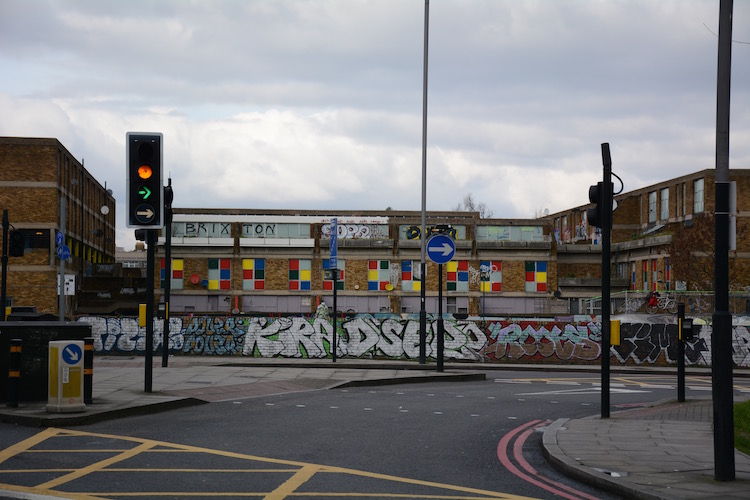 By Sunday, David now with me, I was ready to slow down, stick closer to the south London area of Vauxhall/Stockwell, where we were staying. So we took a walk in next-door Brixton, known to me originally for its racial riots in the 1980s and '90s, and now for its buzzy ethnic mix and food markets. The African-Caribbean community is still going strong but the gentrifying hordes are arriving here too. In fact, as we came upon this hipster-ish indoor market constructed with shipping containers, we almost felt we were back in Berlin.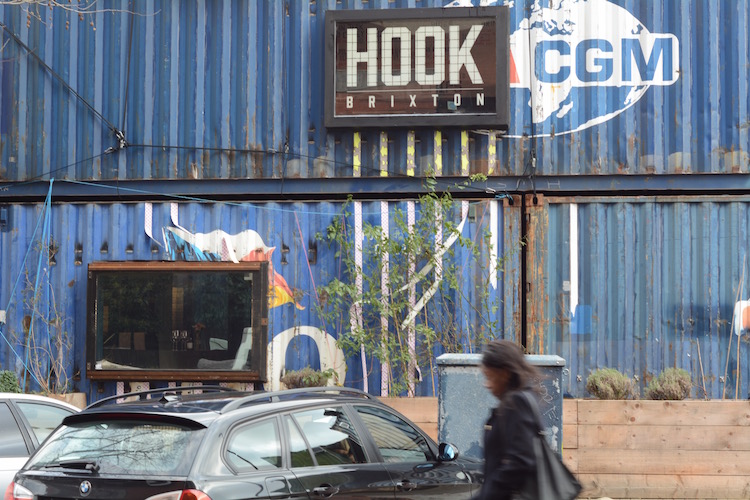 As did we in this very gemütlich bar-restaurant under the railway tracks. Even the lunch prices were (almost) comparable.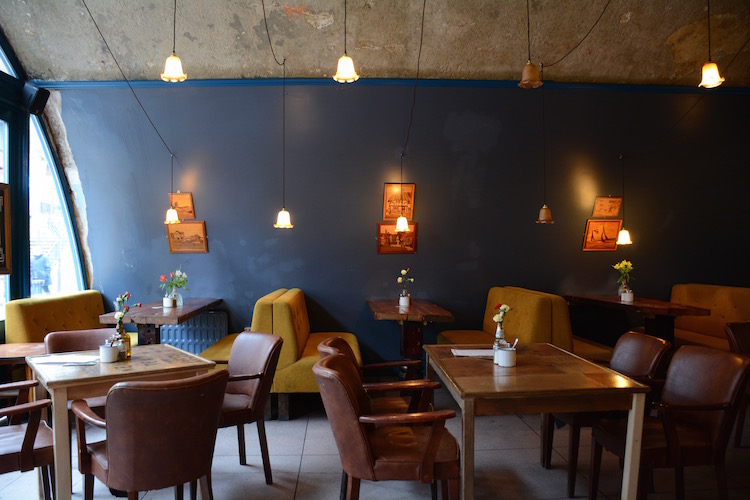 The walk actually ended up being quite touristic. Though I had forgotten, David Bowie was born in Brixton and we happened upon this mural, now shrine, where people were still leaving flowers and taking photos (!).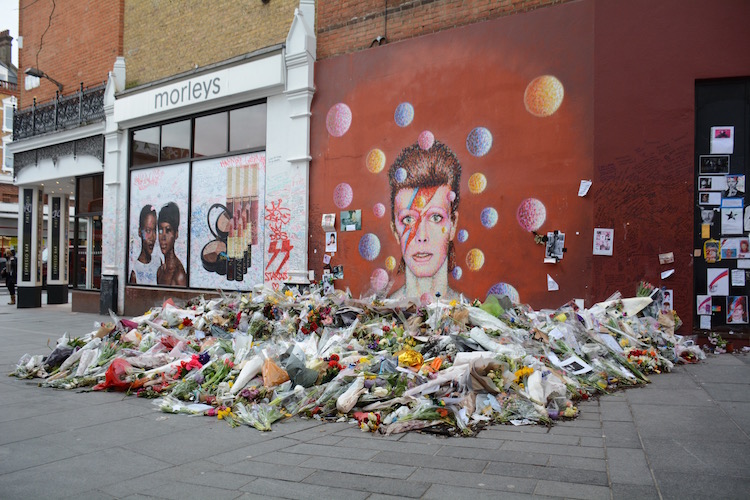 On the way back, we stumbled upon the house where—who knew—Vincent van Gogh lived in 1873-74. In those days, the area was still very rural, and he painted the surrounding woods and fields. Though none of his nature paintings in the RA show were done in London, this little bit of serendipity seemed a tidy way to wrap up the trip.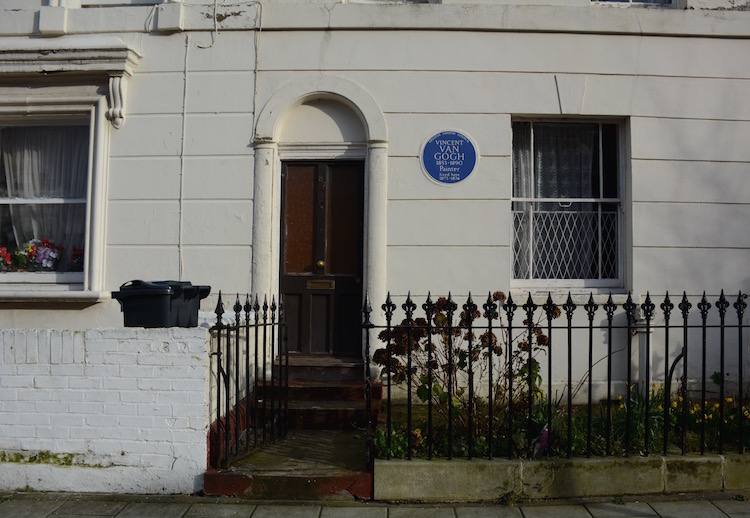 The change of air was indeed refreshing. And the seasons do move on. Sooner or later the sun always rises. So I won't begrudge the nasty little month of February, not even this leap year, when we have a 29th day of it.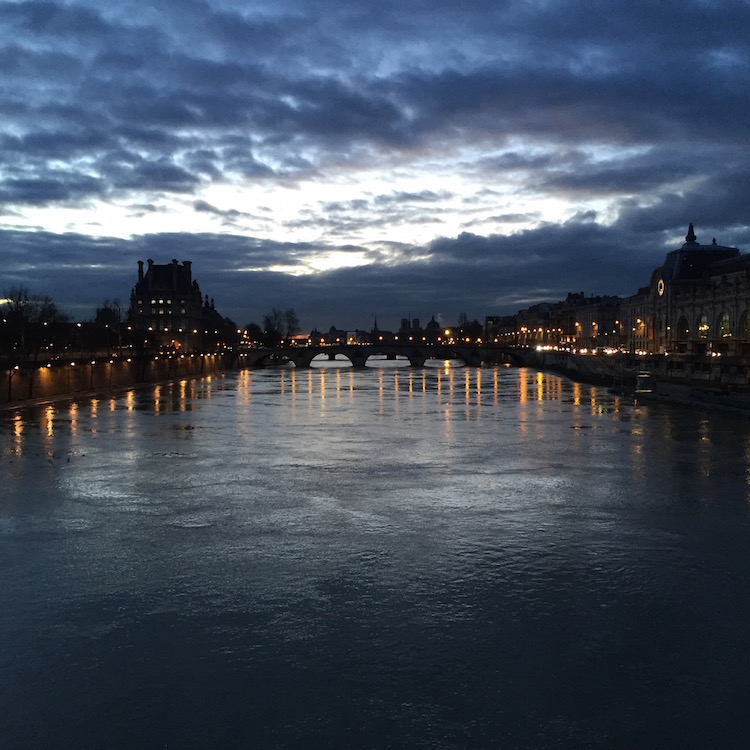 The Seine, 7.30 a.m., 19 February
---
Note to less internet savvy readers: underlined words, once clicked upon, will lead you to sites with further information on the subject.