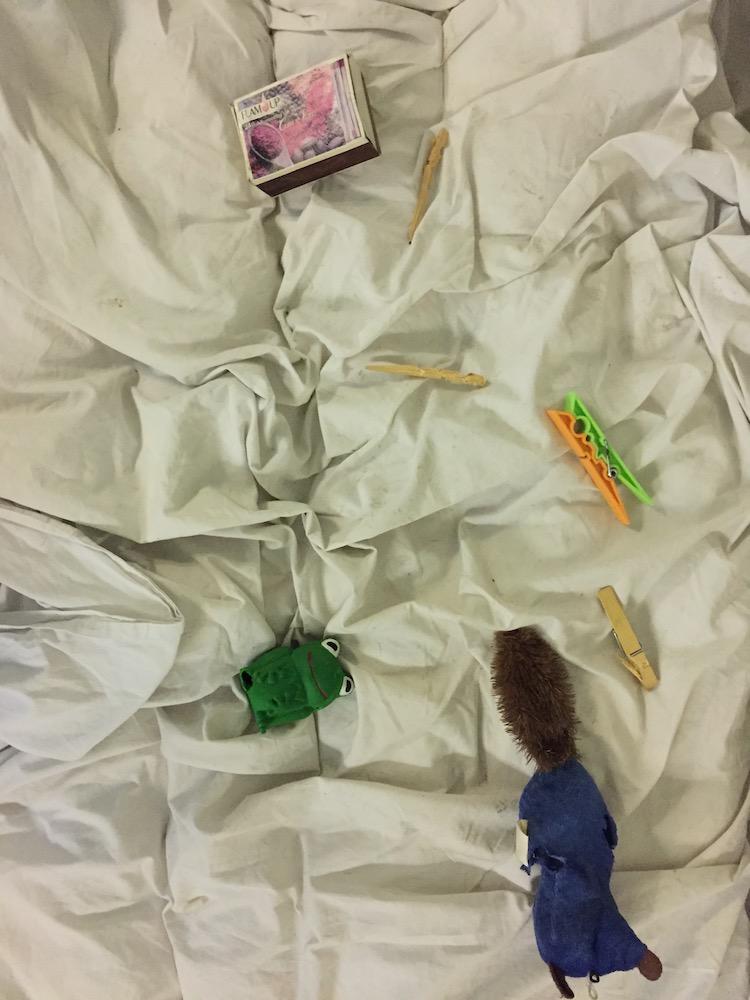 Friday, 17 February
Even in a buzzy, beautiful city like Paris it's easy to fall into a rut. To find yourself getting up in the morning, putting body and mind on automatic pilot and just enduring the day. To feel at every trudging step as if you've seen-this-done-that. The French in fact have a word for it, le cafard (the cockroach); an expression: métro-boulot-dodo (train-job-sleep); and a concept, ennui.
An excellent remedy for this condition, which can be particularly debilitating in winter when your beloved pet has recently died, is to adopt a rescue dog with a completely mysterious but obviously troubled past. Oh, and it helps if the animal has never set paw in an apartment or a large, noisy, frenetic city. As regular readers know, I did just that in January, and this rash move has shaken the winter, post-Elsa torpor right out of me.
There's no time for indolence when you're busy cleaning up messes on the floor from your un-house-trained dog or taking her out six times a day to give her the picture of where she should be relieving herself. There's no place for ennui when you're trying to coax her, in a positive voice, to greet visitors with something a little more welcoming than a deep, scary bark.
Nor is there room for lassitude when you're trying to give a two-year old hunting dog sufficient exercise, while also trying to prevent her from running after or barking at joggers, pedestrians and other dogs in the park. Such behaviour can lead to unpleasant scenes, such as one man staring me coldly in the eye and saying: "If I had a weapon," and he made a gesture of pulling a revolver from his back pocket and pointing his finger-gun at me, then at the dog, "I would shoot her."
Véronique, one of my dog-walking friends from Elsa's time, said: "Why don't you take Tasha to Koffi? He has a gift."
"Yes, he does," said Eva. "He's there, on the lawns with the Maillol statues every day from about 11 to 1."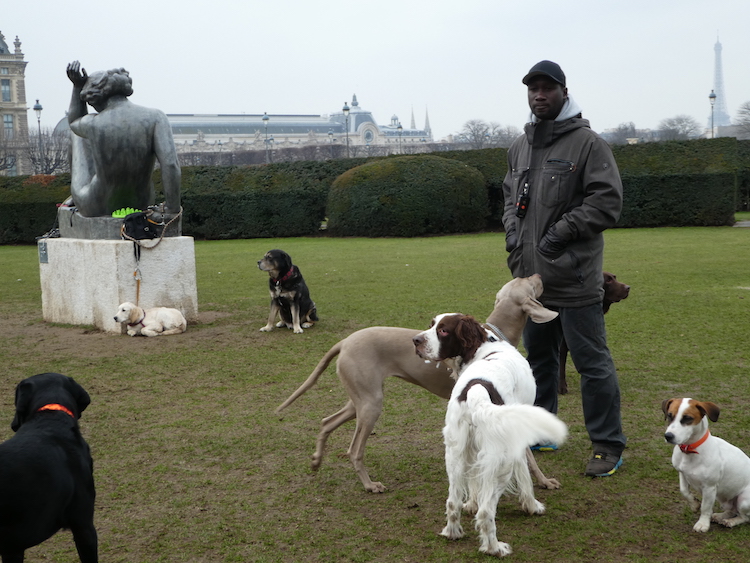 The next day Tasha and I arrived like two children on the first day at a new school. A large pack of dogs bounded towards us, sniffing Tasha from every angle. "Let her loose. Just wander among them," said Koffi. And in no time at all, she was running hither and thither with a couple of the dogs.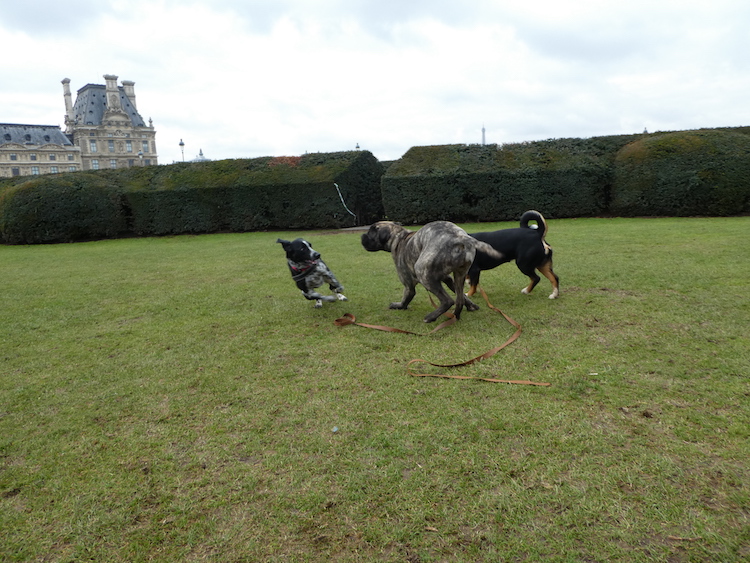 Koffi has a pack of about 10 'paying clients'. While at the park they mingle...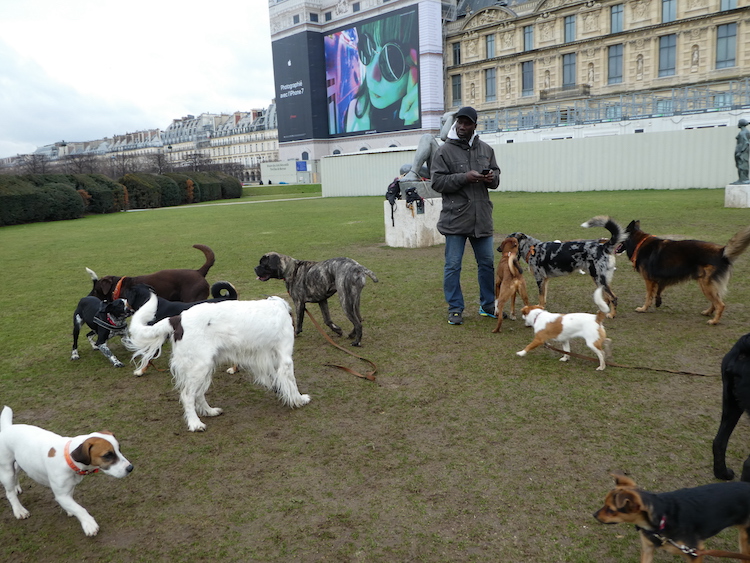 ...run after balls and each other...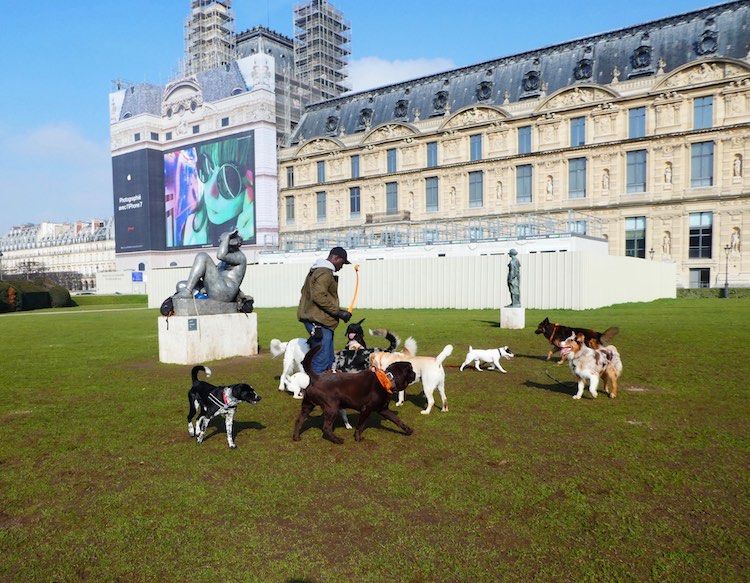 There's barking and the occasional growl but he miraculously manages to keep peace and keep track of those canines. He is helped by his own two dogs, who on his command bring back wanderers...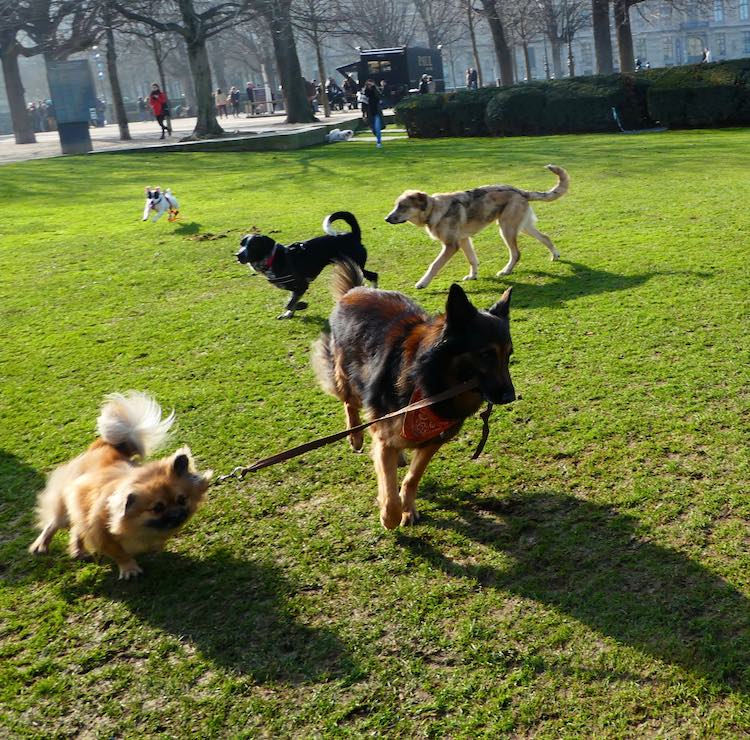 Flash at work
Others are welcome to join and it's quite a scene, all these people milling about with their dogs, plus tourists who stop to have a look on their way to and from the Louvre.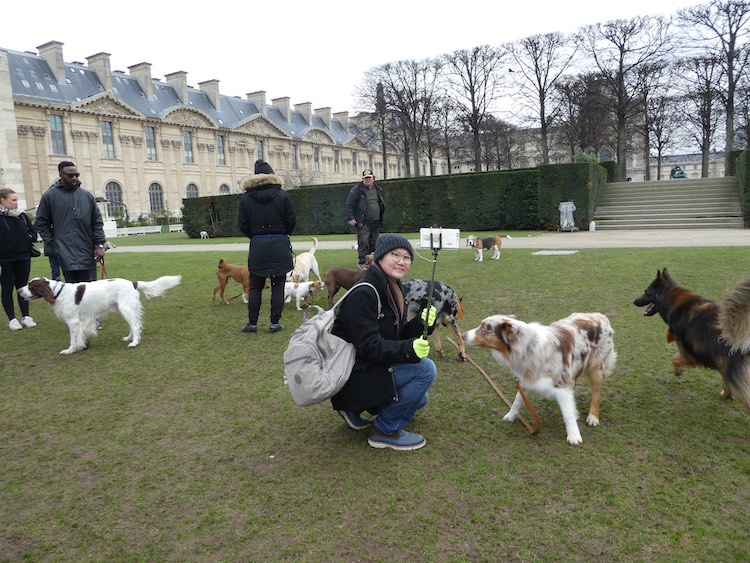 Selfie for the Paris trip photo album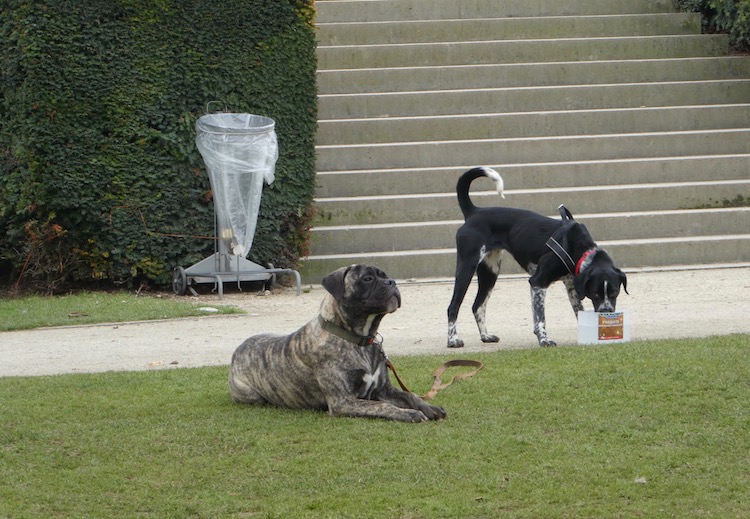 But we've been going regularly for two weeks now and it's a really nice community. Everybody pitches in to help.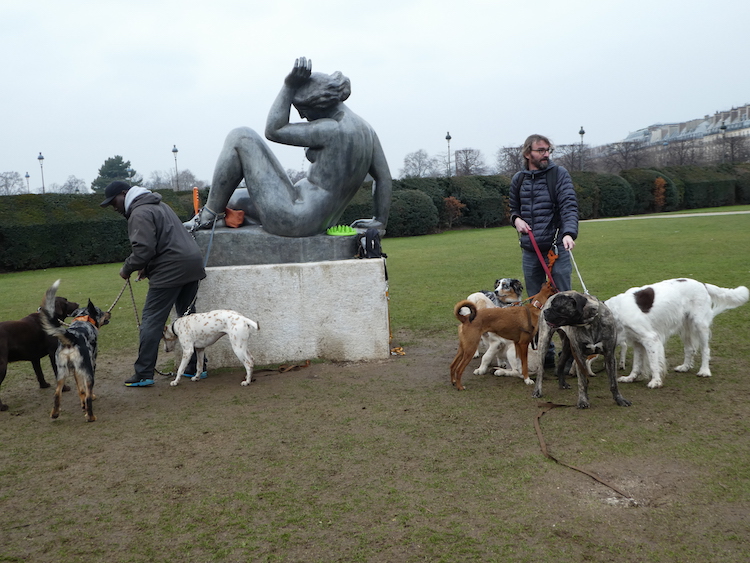 A homeless woman whom I've seen on the Left Bank for years and years brings water for the dogs every day and will accept nothing in return for her kindness.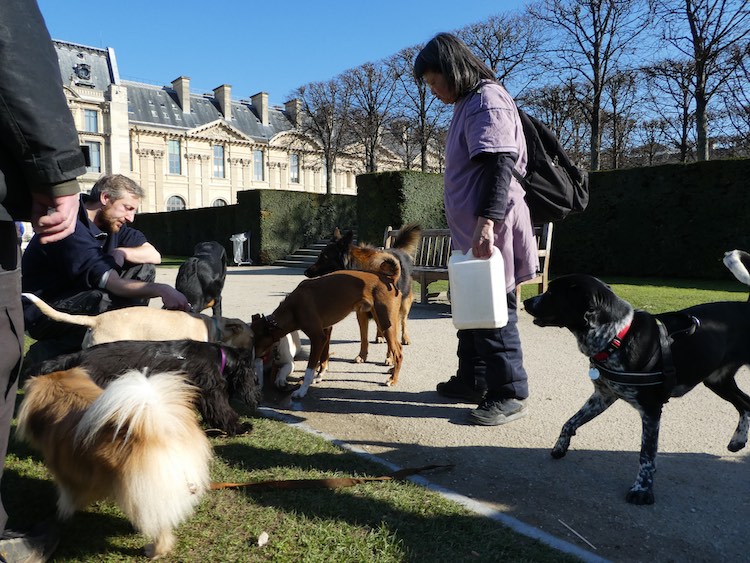 The garden guards and even the police turn a blind eye to this daily gathering where, en principe, dogs are not even allowed on leads much less without them. This laissez-faire policy can only be applauded because Koffi is providing a community service. Dogs enrich the lives of many, many Parisians but like people...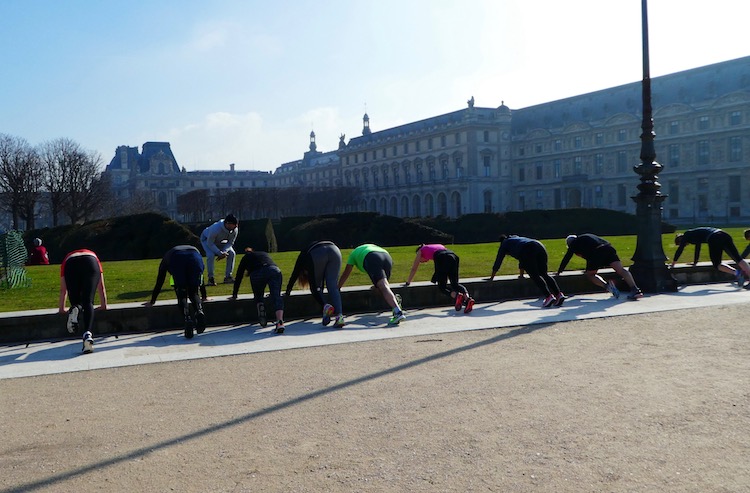 ...they need exercise and the chance to socialize. For Tasha, it's is a free, daily session of canine group therapy.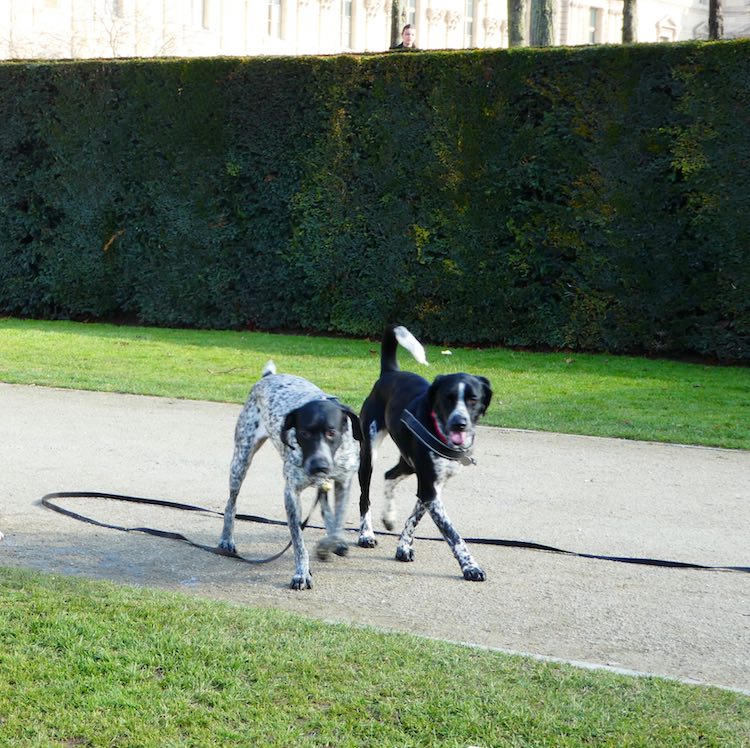 And it hasn't been bad for her mistress. Other owners are sympathetic and encouraging; they have their own difficult dog stories to tell.
I can't say all our problems are solved but Tasha comes home happier after an hour in Koffi-land. And I more hopeful.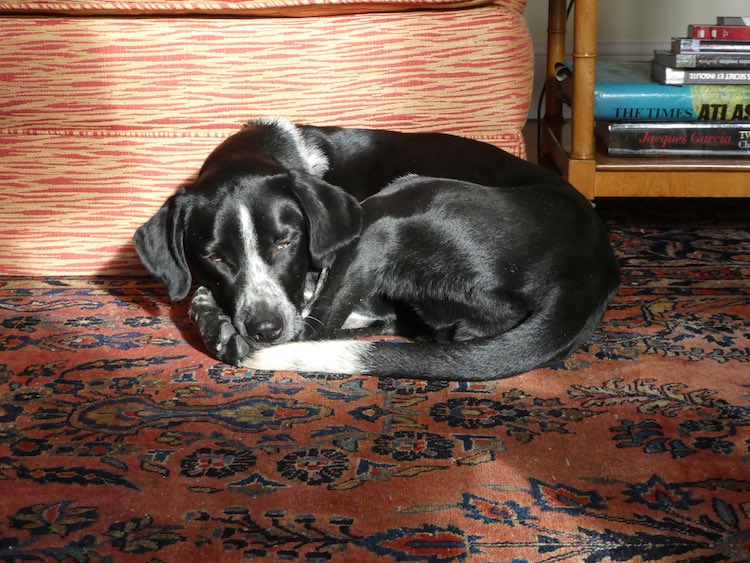 Watch this video, which says it all.