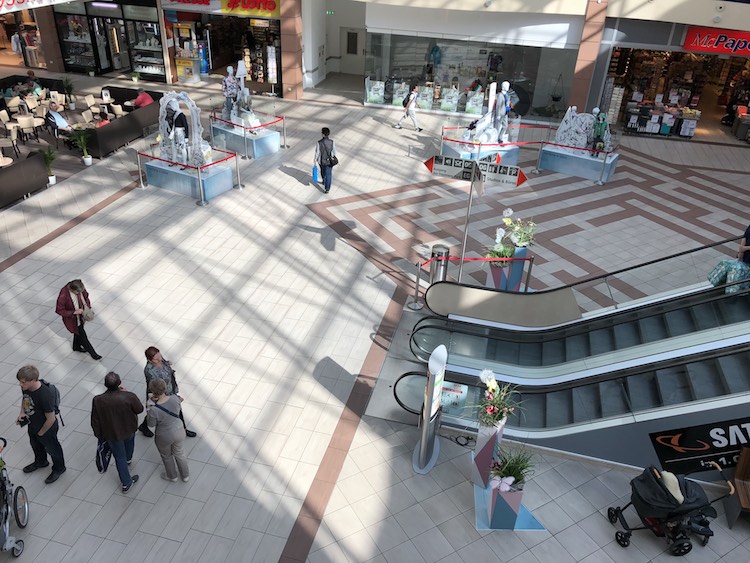 Friday, 20 April
Even with only two of us in the house, I seem to spend a lot of time shopping, especially when we've just changed cities, as we recently have, and the cupboards are bare. It's a very different experience on the two sides of the Rhine.
In Paris, within a circumference of two blocks in a quartier not well-endowed with street life we have a Carrefour Market Express, where I have an account and often pick up this or that more than once in the space of a day. We have a bakery and a wine shop (the owner is a dog lover and very attentive to Tasha's development) and a butcher, though since it changed hands and the new owners cavalierly fired Fabrice, I no longer patronize that shop. When I do buy meat these days, which isn't often since I don't eat it, I'll likely go to the shop Fabrice opened with his son at the far edge of the 7th arrondissement. Or I'll call him up; he also delivers to his faithful clientele in the old quartier.
At least once a week I get on my bike and ride to the Tuesday, Friday or Sunday boulevard Raspail market for fresh produce, fish, cheese, olives, nuts. The merchants are generally a jolly bunch. They smile and banter a lot. Like our local shopkeepers, they know me.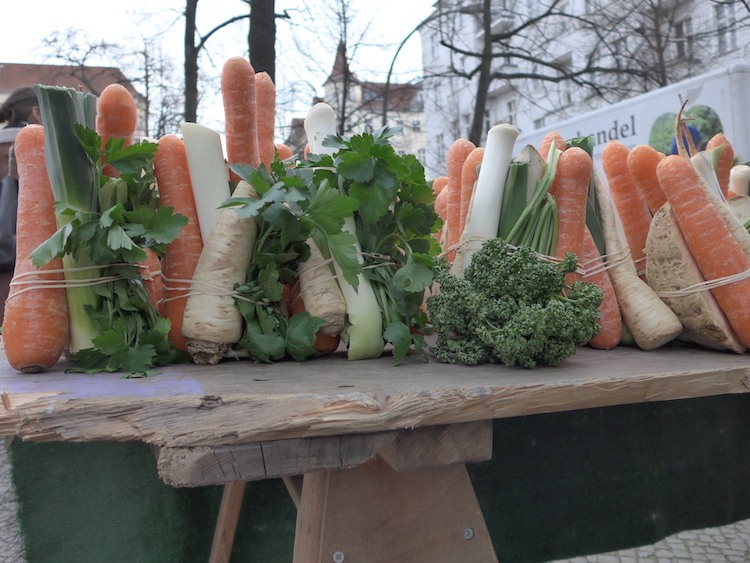 Boxhagener Markt
In Berlin, we frequent a couple of Saturday markets, either the Kollwitzplatz Markt in Prinzlauer Berg or the Boxhagener Markt in Friedrichshain. We've been going to the former since our first days in Berlin but no one recognizes—or at least acknowledges—me, except one man in the Indian restaurant where we often eat lunch afterwards. While the German vendors are not unpleasant, there isn't a lot of joie de vivre.
Most of my Berlin shopping is done at one of three supermarkets, all a short bike ride from our flat. Each has a very different flavour.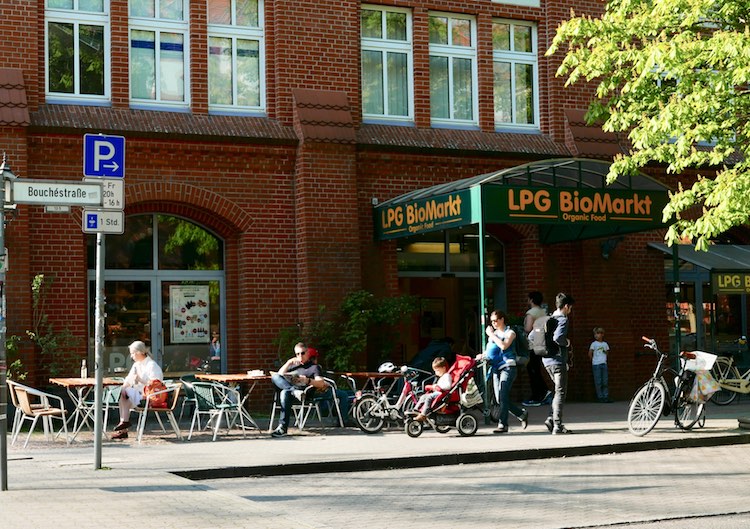 There's the LPG natural foods shop. In Germany bio stores are all over the place and many people seem to shop there exclusively. I buy certain products: purple carrots which I find much tastier than orange ones; yoghurt produced locally; the salty, crunchy peanut butter I like and edible tofu. But I can't go too often or buy too much. The healthy, responsible consumers at LPGs and their brethren across the world emit a sanctimonious energy that makes me uncomfortable. I actually prefer the Edeka, Germany's largest food retailer, because it feels the most normal. And, alas, the fresh produce is tastier and fresher than what the LPG offers.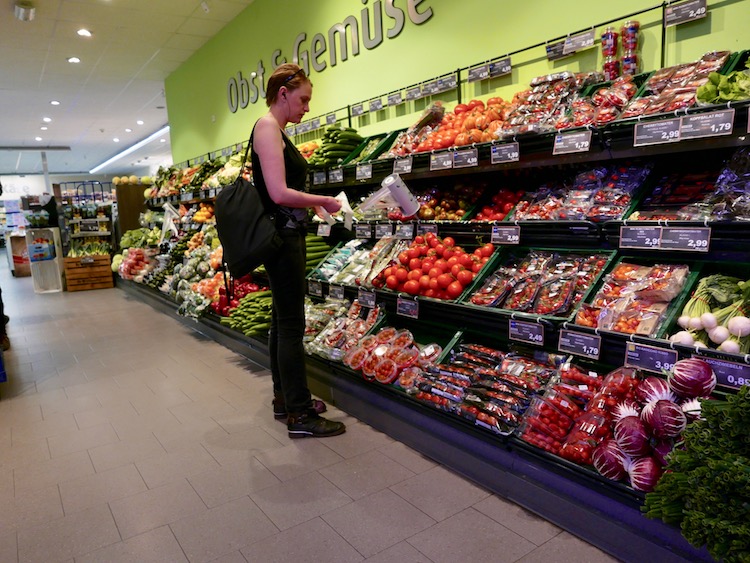 Finally there's the hypermarket Real (pronounced Ré-al). It's on two floors and sells pretty much everything you can imagine. When I go there I really feel I'm back in Berlin.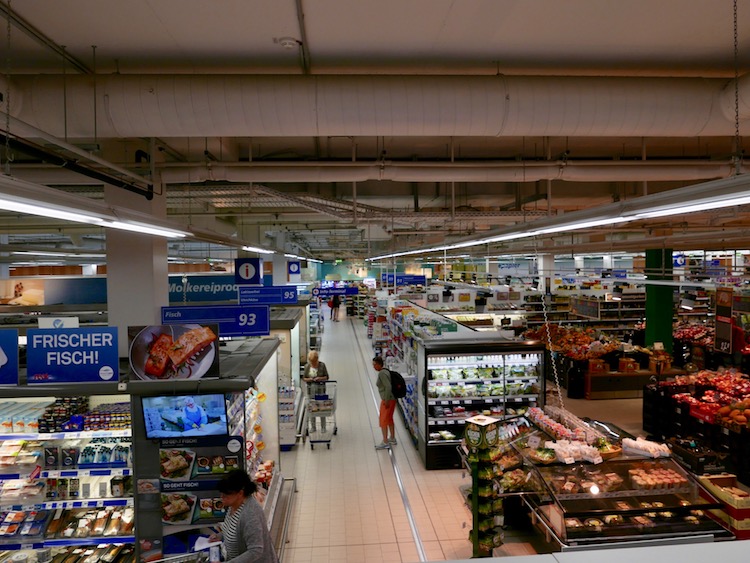 Or in a Berlin as it was before the onslaught of foreigners such as ourselves. It's the mainstay of the Park Center Treptow shopping mall (top picture), which provides what a small town would have 50 years ago. There's a bank and post office, shops of all kinds, eateries and nail salons.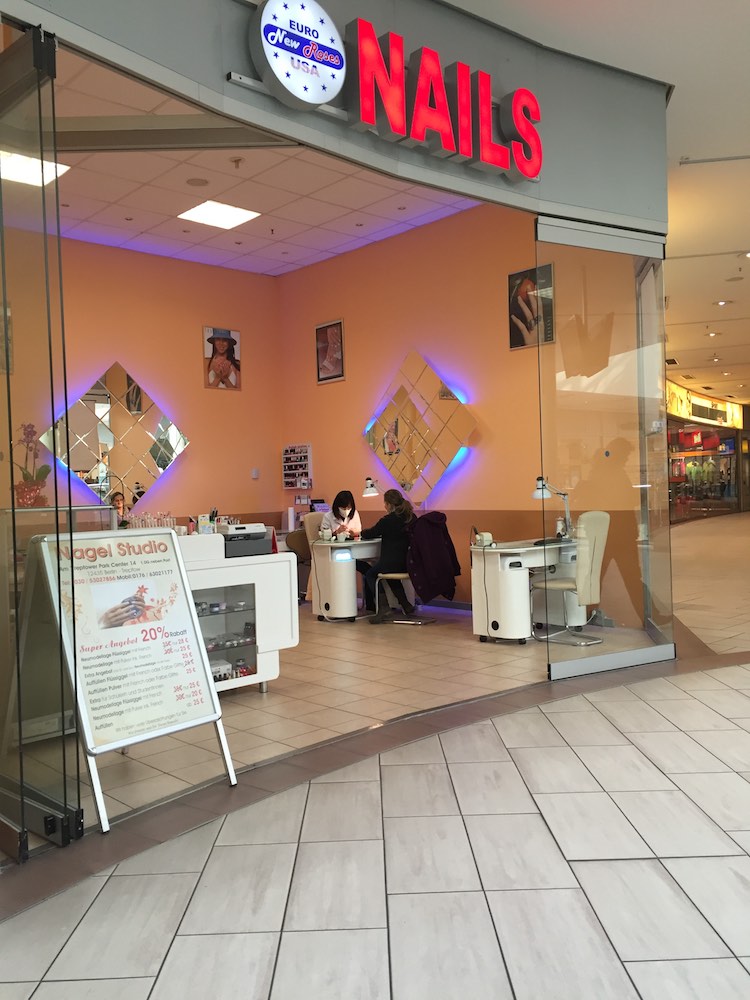 In the main hall there are often market-like stalls selling regional products.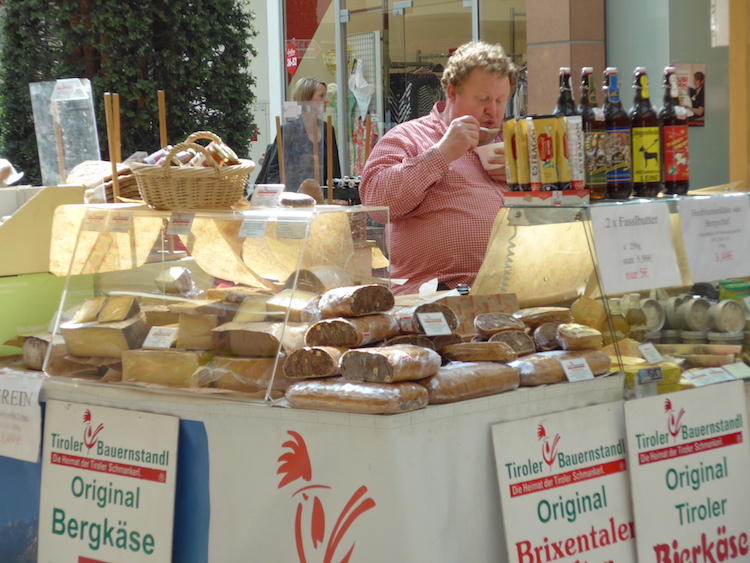 After school kids buy ice cream when the weather's warm. There are 'park' benches from which people can watch the world go by. The clientele is generally older East Berliners and the less affluent. Bobo sightings are rare.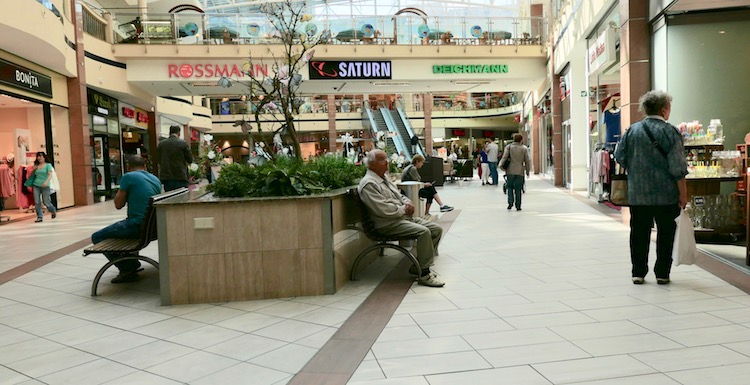 On some level I don't feel 'home' until I've been there, though after much reflection I still don't understand why. Generally speaking I'm the shop-small, spend-more-for-quality type. At the Real/Park Center it's all about the mass-produced at the lowest possible cost. I can almost see those Bangladeshi children stamping decals on these t-shirts.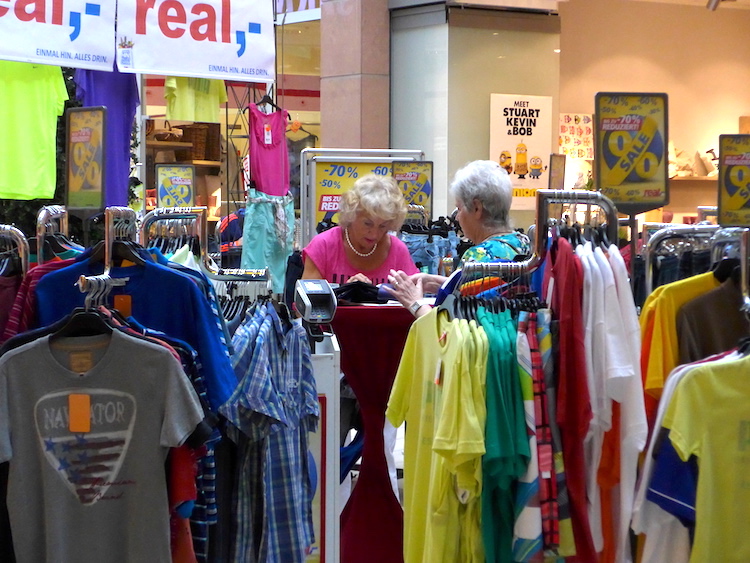 Sickly sweet donuts are sold next to vacuum cleaners.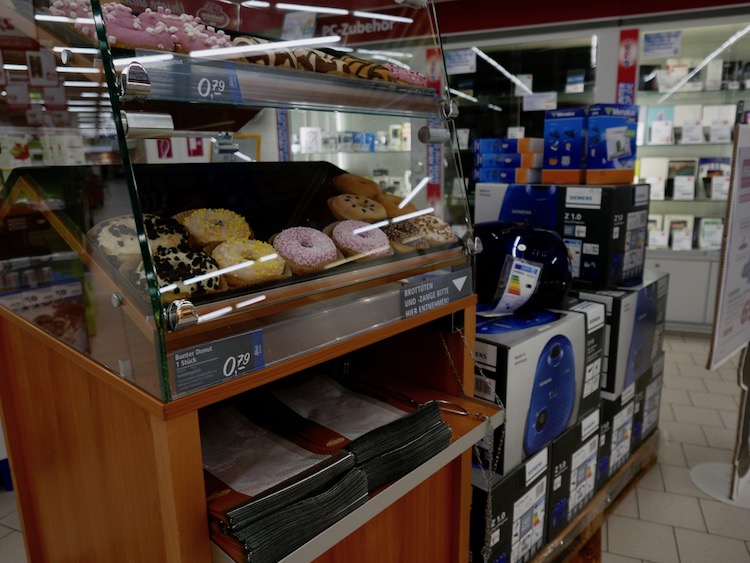 There is a pervasive smell that I have struggled mightily to identify, or at least describe. Yesterday it finally came to me: over-cooked chicken.
What is it that attracts me to this place? The only explanation I've come up with is that shopping reflects more broadly my relationship to the two capitals. In Paris I feel known and knowing. In Berlin, despite all the wonderful things I have come to love about the city, I continue to feel anonymous and uncertain. So naturally it feels real at the Real.