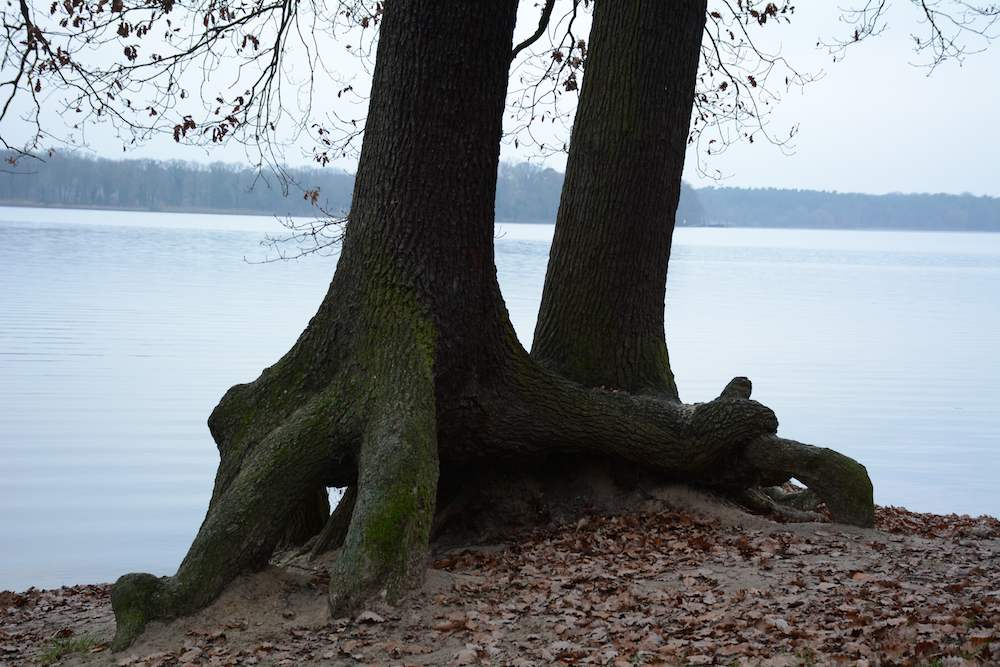 Tegeler See, St Nicholas Day
Wednesday, 10 December
Christmas is taken very seriously in Germany. It is approached, perhaps not suprisingly, in an orderly fashion. The last Monday in November (in Berlin at least), Weihnachtsmärkte open throughout the city. Come December, children receive their Advent calendars and begin cutting paper snowflakes, stars and other seasonal shapes, which are then hung from ceilings and stuck on windows. At the weekend food market, one is wished a happy ersten, zweiten, dritten...Advent by the merchants.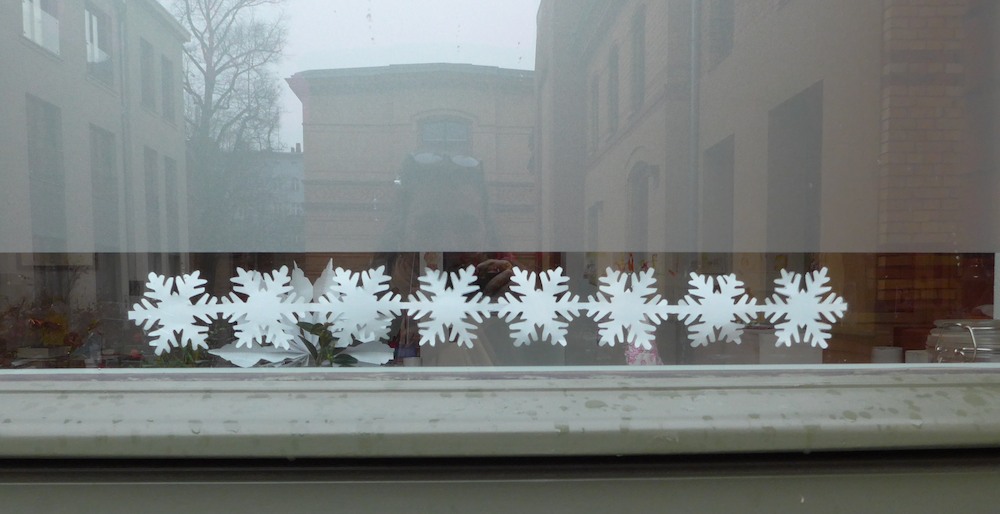 Meanwhile the adults get to work on their Advent candles. At lunch last Wednesday Ingrid M. showed me the ones she had just bought and asked how my arrangement was going. Upon learning that chez nous there were no candles, much less an arrangement, she said: "Naja, next year I'll help you," and that evening she sent me a photo of hers.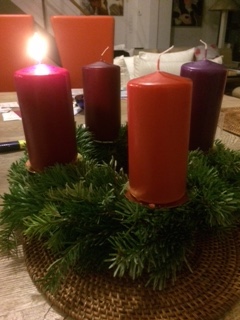 Even at the Registery Office, where on Monday my stepson Nick and Maike happily married, four candles were dutifully lined up on a bed of fake pine at the side of the room. I didn't get a photo of that one but today I gazed upon a similar sample while discussing terrace tiles at the building materials store: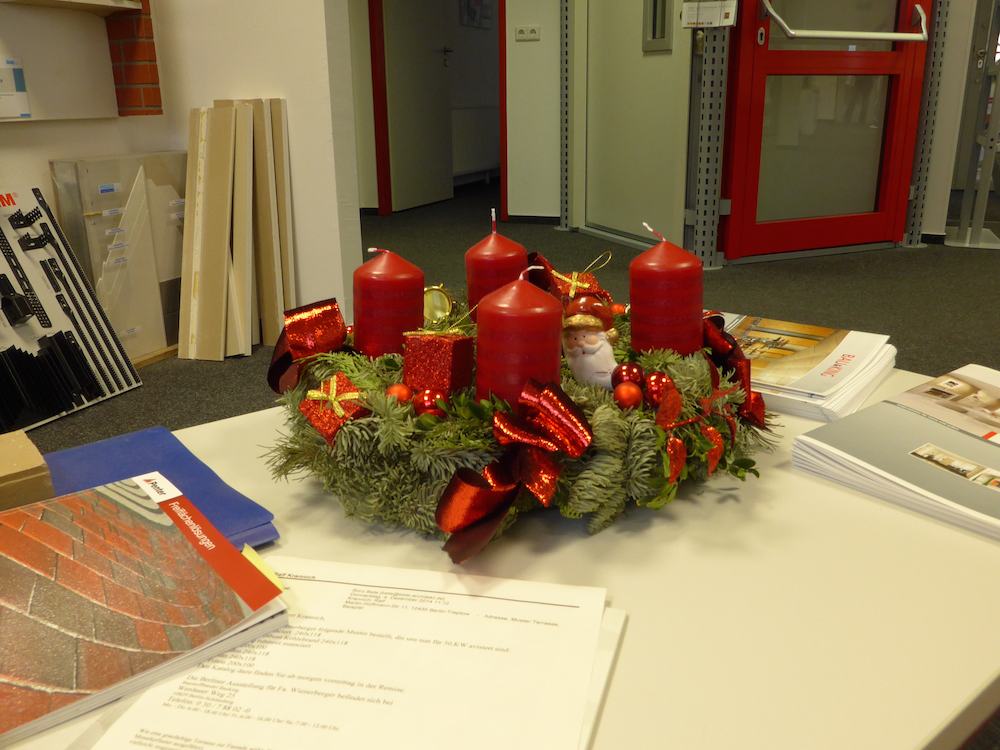 In preparation for the arrival of Sankt Nikolaus on the 6th, children clean their shoes and put them outside the door the evening before. Those who have behaved well over the year (obeying all traffic lights surely being part of the deal), will find sweets and presents in their shoes the next morning; those who have not, get a stick. Since German children are generally compliant and these being lenient times, I have not heard of or witnessed any child being given tree parts.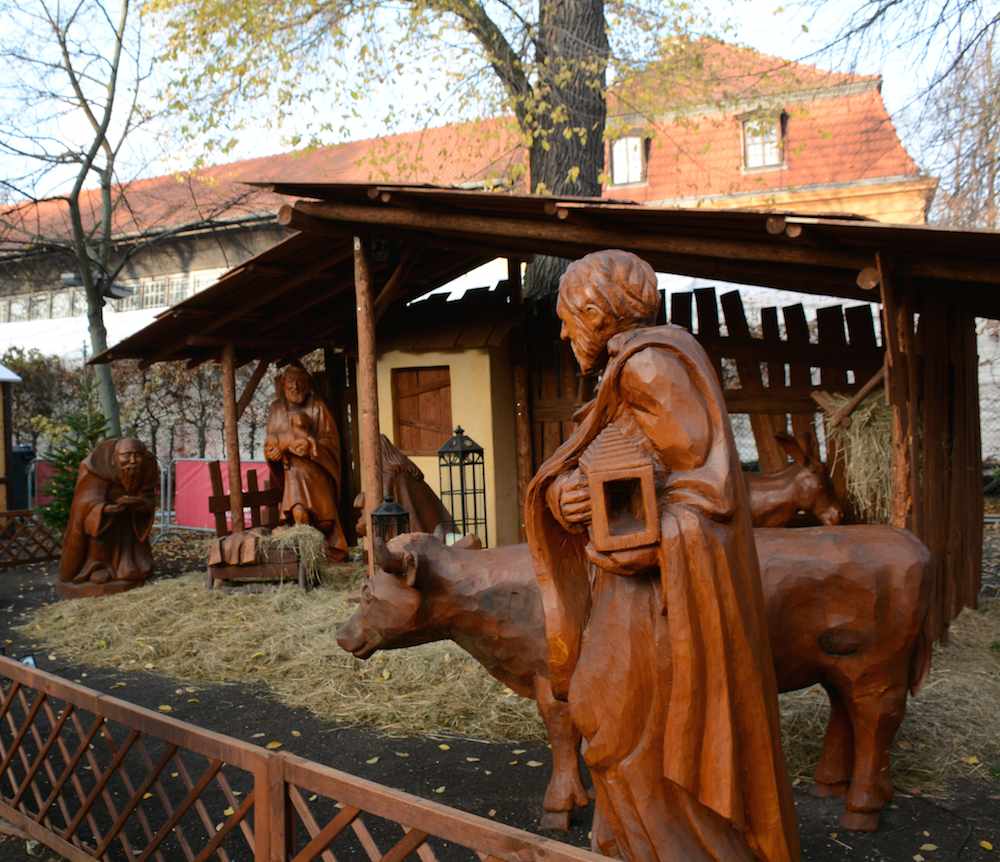 Two of the better Christmas markets are at the Gendarmenmarkt and the Charlottenburg castle. Saturday, David and I made our way to the latter, which has lots of crafts and lots of food. Having bought slippers, hats, scarves and leather goods for our family at Gendarmenmarkt last year, we didn't purchase much this time, but we did eat lunch at one of the stands.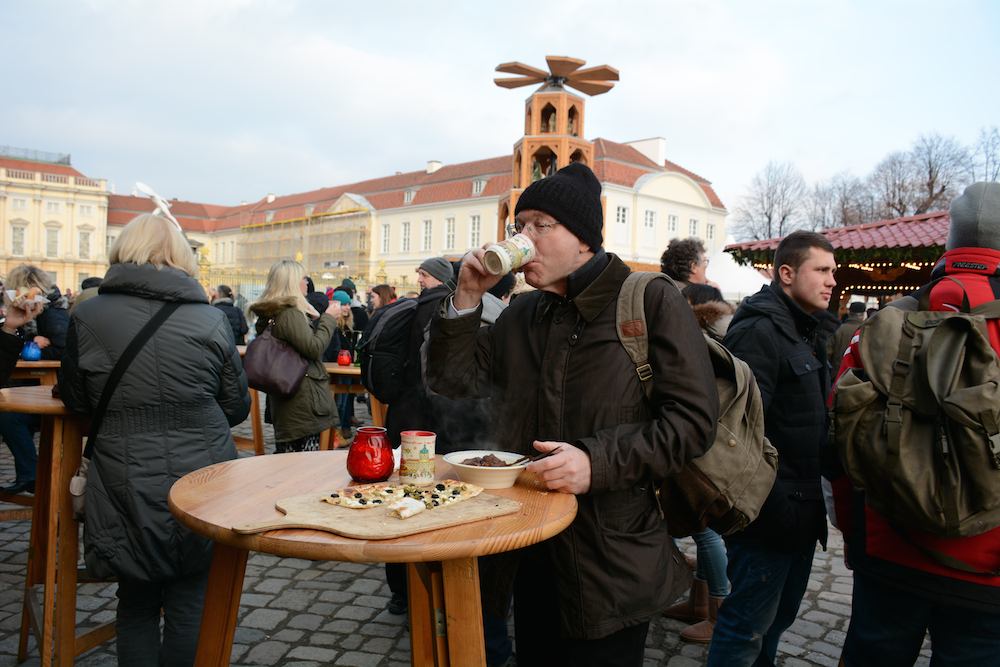 On this small table is a smorgasbord of German cuisine: what is left of my Flammkuchen, a northern version of pizza; David's bowl of Hirschgulasch mit Spätzle, a hearty venison stew with German egg noodles, topped with plum sauce; and Glühwein, the spiced, hot wine glugged in massive quantities this time of year.
I admit we did this more with the spirit of the season, rather than our palates, in mind--but how wrong we were--all of it was delicious.
We left for a walk with Elsa on the Tegeler See, once again pondering the contradictions in this country. Though last week also saw a conservative Bavarian politician calling for permanent migrants to speak German in public and at home and there is a growing extreme right party, Germany is generally on the higher end of the tolerance scale, vis-à-vis other cultures. Yet it is also fervently attached to its rites and traditions.
And along the way manages to maintain its position as the strongest economy in Europe.
Affaire à suivre...