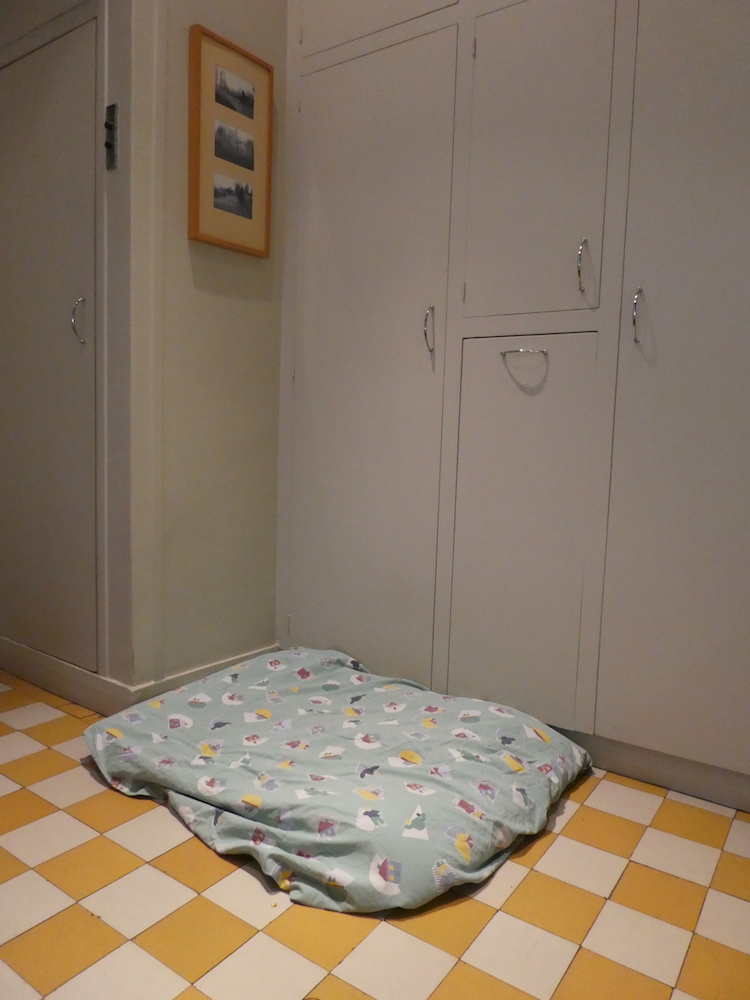 Friday, 3 February
When our Elsa died in December, I got many wonderful messages of sympathy (for which I send heartfelt thanks across the blogosphere) but one particularly stuck in my mind. My ex-sister-in-law Anna F., who has had countless canines, wrote: "I often have the feeling that the previous dog has planned who they would like to fill their dog basket 'vacancy'."
Despite the great hole that Elsa's absence left in our lives, we'd decided to wait until at least March before even starting to look for Another. It would be nice to have a break from the daily walks, to take the several short trips we had planned without worrying about what to with the dog.
On Saturday evening the 7th of January, after discussing the above, David asked fatal question number one: But when the time comes, what kind of dog do we want? This sent us poring over the pages of the book that my sister had given us when we got our first dog, Lily the black Labrador. Dear as she was, we didn't want a Lab (joint problems, heavy frames), so how about a Tennessee Treeing Brindle or a Spinone Italiano? Maybe a Karelian Bear Dog or an Owczarek Podlhalanski? The choice was overwhelming and there wasn't a one that really caught our interest. Because what we really wanted to do was save another dog, as we had Elsa.
But if she doesn't magically appear in your courtyard, how do you go about finding a lost dog? The internet, of course. So I typed in 'chiens abandonnés' and up popped the SPA (French equivalent of the ASPCA/RSPCA) site. I typed in 'female', 'medium size' and our postal code and was led to a shelter north of Paris. I clicked on the site—just to get an idea—and there was this photo: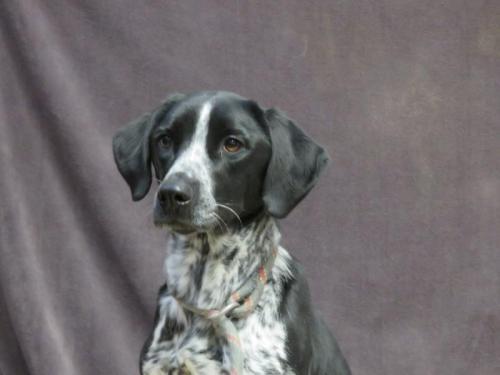 And that photo: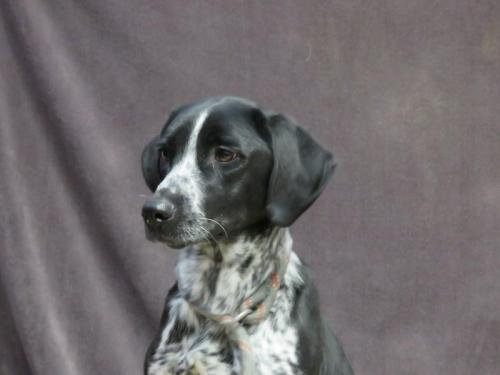 Lily's black, soft ears! Elsa's soulful eyes and fine muzzle!
Ooh! I said. A sign! Just like Anna said!
But now's not the time, David said.
You're absolutely right, I agreed.
But Sunday I was back on the site, looking at that face. I said to David: Maybe tomorrow I'll just phone and see how it all works.
Sure, he said. Why not? (fatal question number two)
The woman at the shelter informed me that she had just arrived on Friday (the day before I 'found' her—another sign!). Having been on the loose for an unknown length of time, she was very 'stressed' but seemed to be adjusting.
Can you reserve a dog? I asked.
No, it's first come first serve.
The rational adult in me replied: We have several trips coming up. Maybe another time.
Just before hanging up, I thought to ask: And how far are you from Paris? (fatal question number three)
Only about an hour.
By evening, having kept the photos on my screen all day, I was on the phone with David, who had gone to Frankfurt, saying: This is the dog.
Bless my husband's heart, he said Okay.
Though I'd planned to drive up Friday when I had the whole day free, I spent a sleepless Monday night, imagining the cold concrete of the shelter. The dark cages. I said to myself: A dog is not like a new pair of shoes that one eyes today and buys in a month's time. No, I had to go. Tomorrow. It was only an hour away.
Well, not exactly. Google Maps informed me that it was 183 kms away—a solid two-hour drive. Why had this shelter popped up on my screen when the largest SPA centre in France is just outside the Paris city limits? Another sign!
And you don't change your mind about a decision of this import just because it's an hour farther than you'd thought, so off I set to Tilloy-les-Mofflaines, fervent as a Crusader on a Mission. Apprehensive too. Not just about the dog but also about my reaction to a whole battery of homeless animals. While the French may lead Europe in pet ownership (61.6 million), they also abandon them at a shameful rate: 100,000 per year, 60,000 of them around the July-August summer holiday time. That makes a rate of 1000 cats and dogs a day.
But at this shelter our better angels were on display. It was a buzzy place, with volunteers coming in and out to give the dogs their daily walk. Two more prospective volunteers were filling out applications. A cat and a dog were being adopted. The two women at the desk told me no animal is ever euthanized. In fact they all—'even the old and the wall-eyed'—get adopted by someone.
With my application form in hand, I was sent back to the kennels where I tried to block out the barking and not look too closely at the eyes peering up at me. Jérôme brought out 'Leia', who was indeed stressed. Half crouching, eyes darting about, she shied from my hand and wanted nothing to do with me. He told me she didn't like men in particular—had growled and barked at him upon arrival—but that she was improving. I hesitated. Would she ever relax, trust a human being? The eyes in the photo suggested she would. Jérôme was hopeful…but this under-nourished, obviously mistreated creature was a wreck.
Suddenly she jumped up, put her paws on Jérôme's chest and looked lovingly into his eyes. Okay, I thought. If she's capable of that with the man she'd growled at four days ago, she should be all right. In any case, how could I let her be led back to that cold, concrete cage?
Mission accomplished, reality sank in during the long, dark drive home. I said to myself: What's wrong with you? At your age, how could you still act so impetuously? What kind of person makes big decisions according to a series of 'signs'? A rational adult would have waited until March, as planned. Or at least until David got back from Frankfurt, so he could have accompanied you all the way to Tilloy-les-Mofflaines and had a say. What if this dog you now have in the back of the car and in your life for the next 10 years, at least, doesn't adjust?
It's been almost four weeks now. Leia is now Tasha because she is tachetée, or spotted...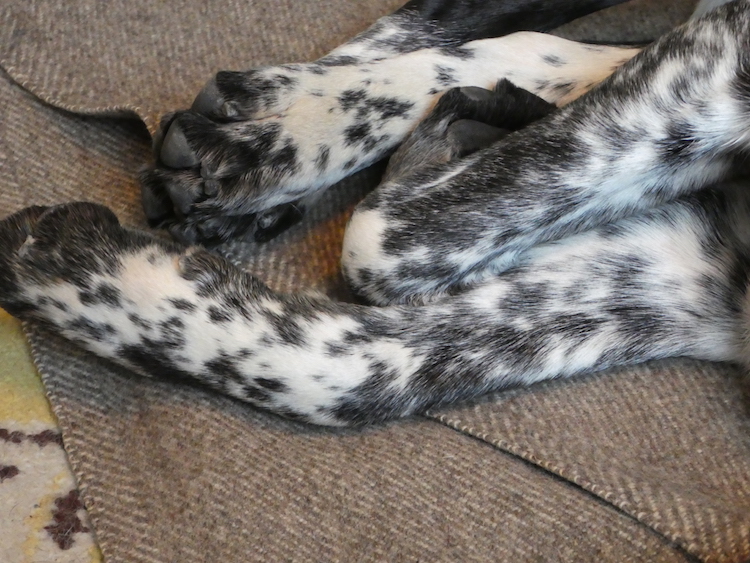 and there's a pleasing echo of Tolstoy's Natasha. In no time she was putting her paws on my chest and giving me loving looks, but no question she's suspicious of men, including David when he got home from Frankfurt. No visitor, male or female, is exactly welcomed at the door. Ditto for some but not all dogs she encounters in the park. House-training is not quite moving forward apace. But every day Tasha gets better acquainted with, more at ease within her wildly new world.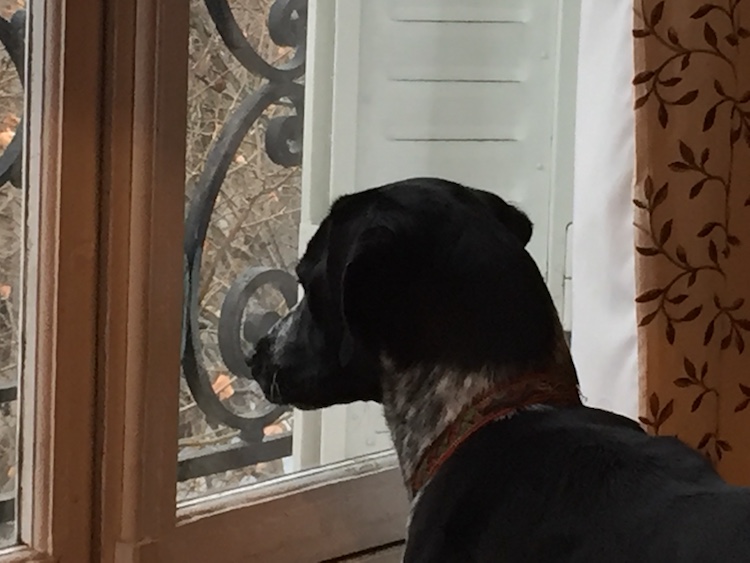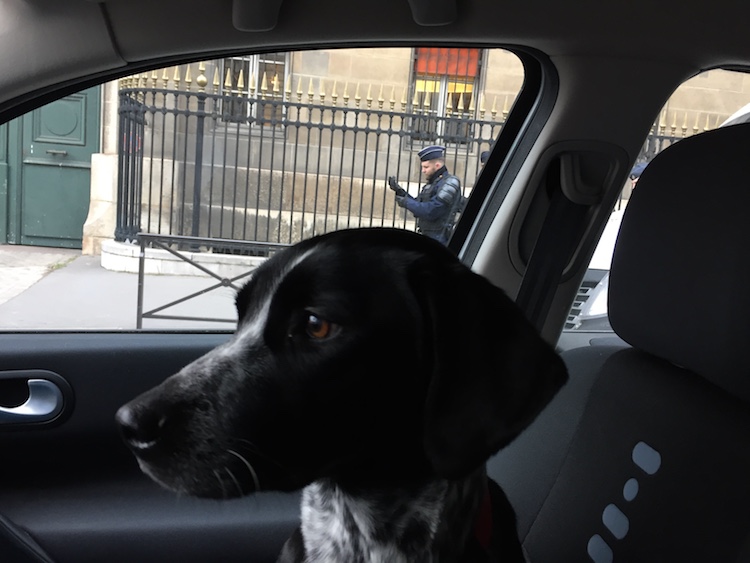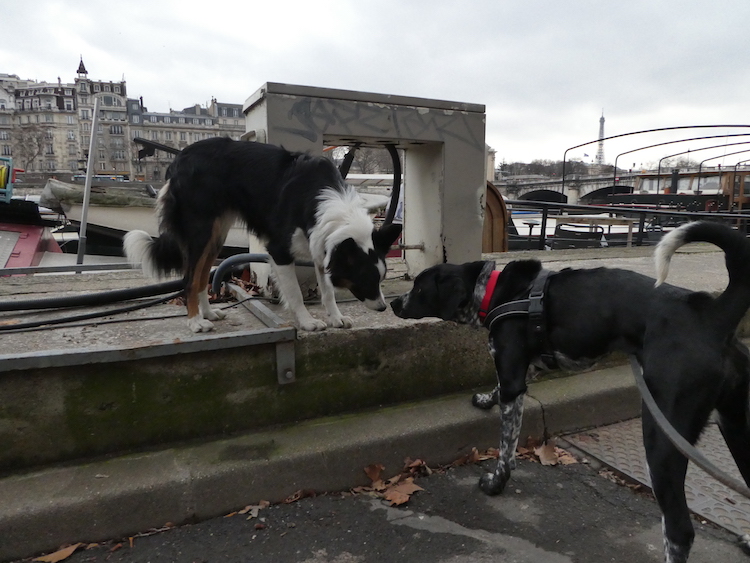 As Jérôme at the SPA was helping me get the terrified dog in the car, he said: It can be difficult in the beginning. But once they get settled, these dogs give back so much.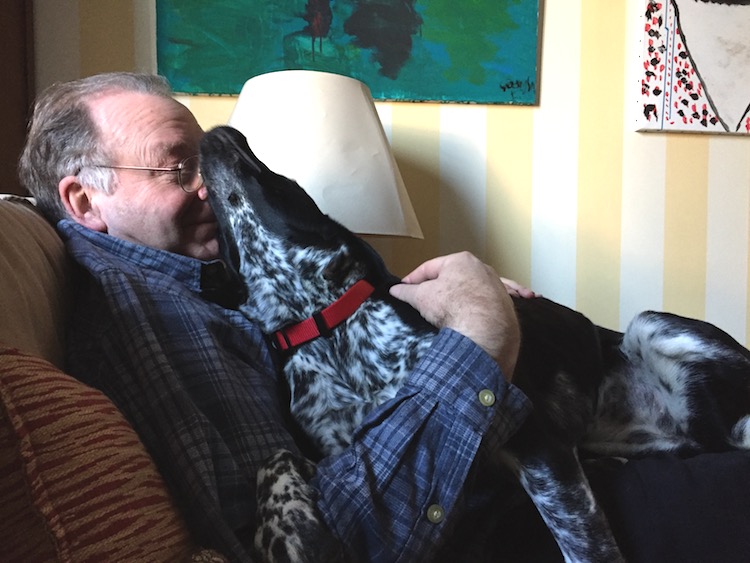 Thank you dear Lily, dear Elsa, for sending Tasha our way.