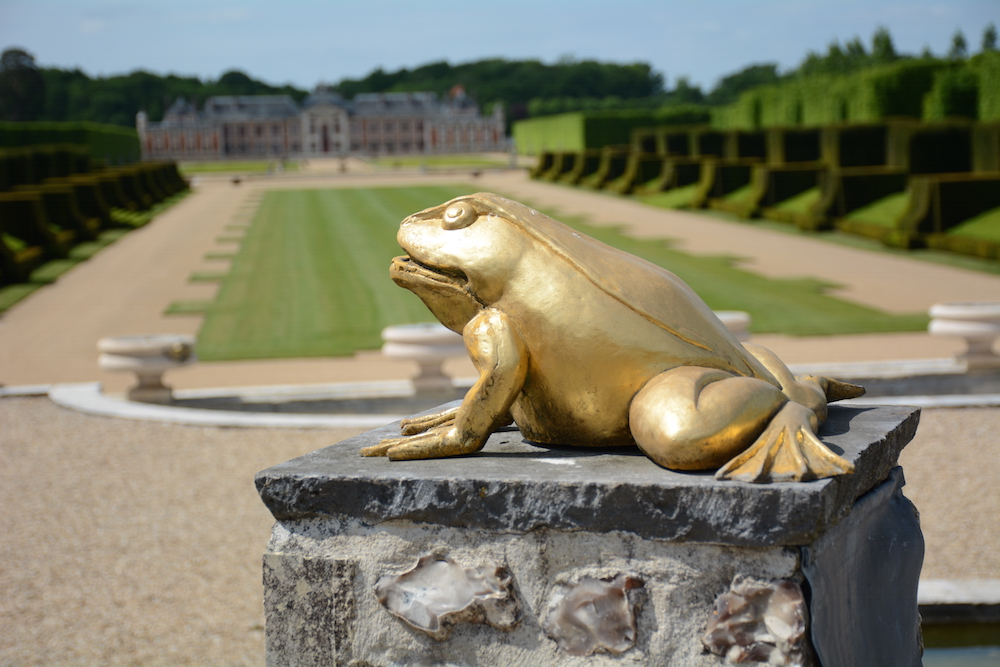 Friday, 15 May
The mild shock I wrote about last week at returning to the geometry of the Tuileries gardens, after the more free-spirited approach to nature in Berlin, was just a warm-up for this week.
On a three-day road trip, David, Trevor P., Dana W., Bertrand du V. and I visited two beautiful gardens in Normandy, at the Château de Brécy and Château du Champs de Bataille. Here man has taken the domination of nature to new levels: the layout is linear and symmetrical; the greenery is meticulously sculpted.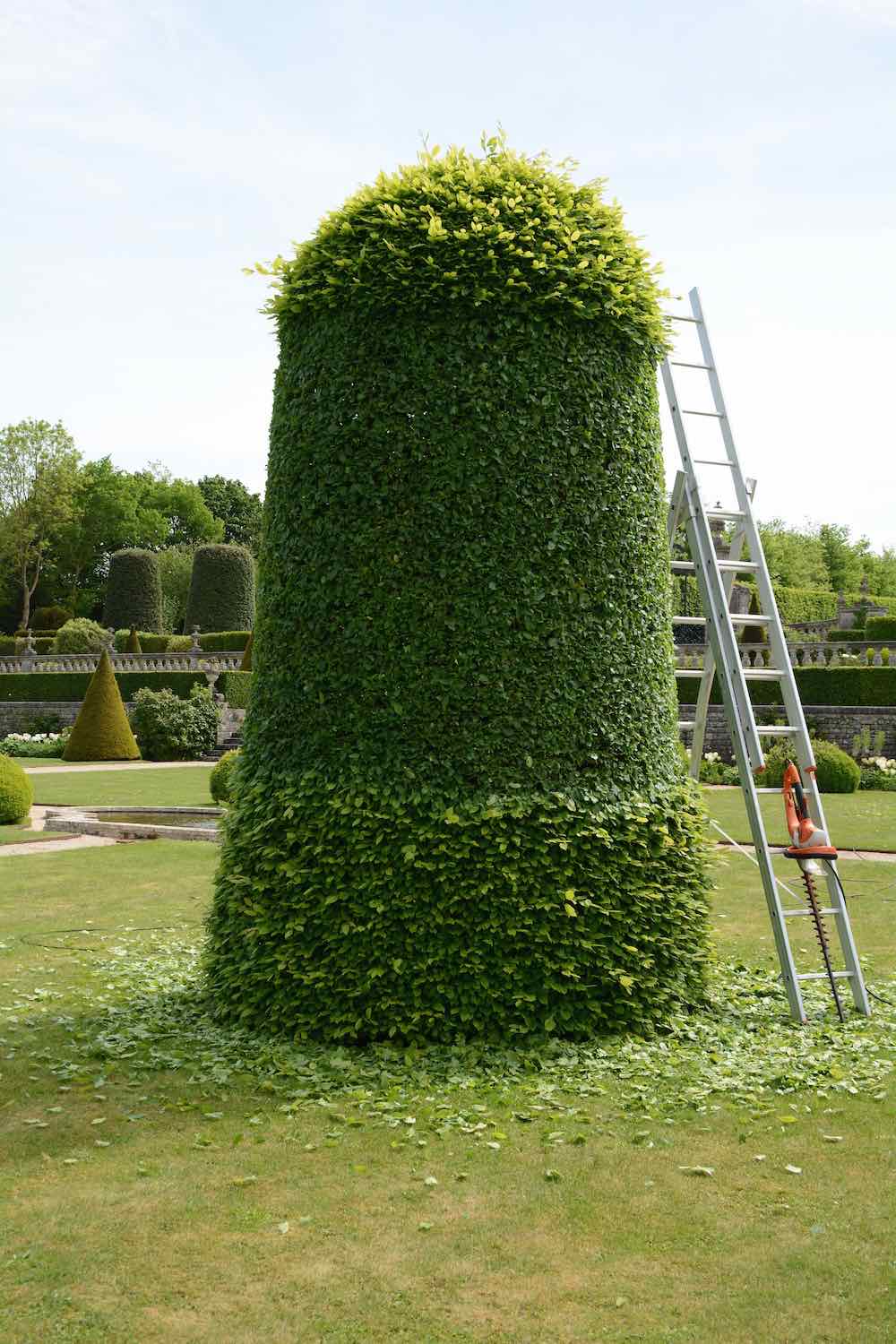 The effect is not fuzzy and warm, and may not be to everyone's taste, but it is stunning. Particularly at the Château de Brécy, where the restoration has been done with loving care and an unstinting attention to detail.
We also drove to le Mont St Michel, a place I had not visited in all my 34 years in France. Partly because I hate crowds. And crowds there were (it gets 3 million visitors a year) but the site, a rock outcrop covered by the stone abbey and surrounding houses, is spectacular. Sorry about this tourist photo but it's fitting and all I have (merci, Bertrand)..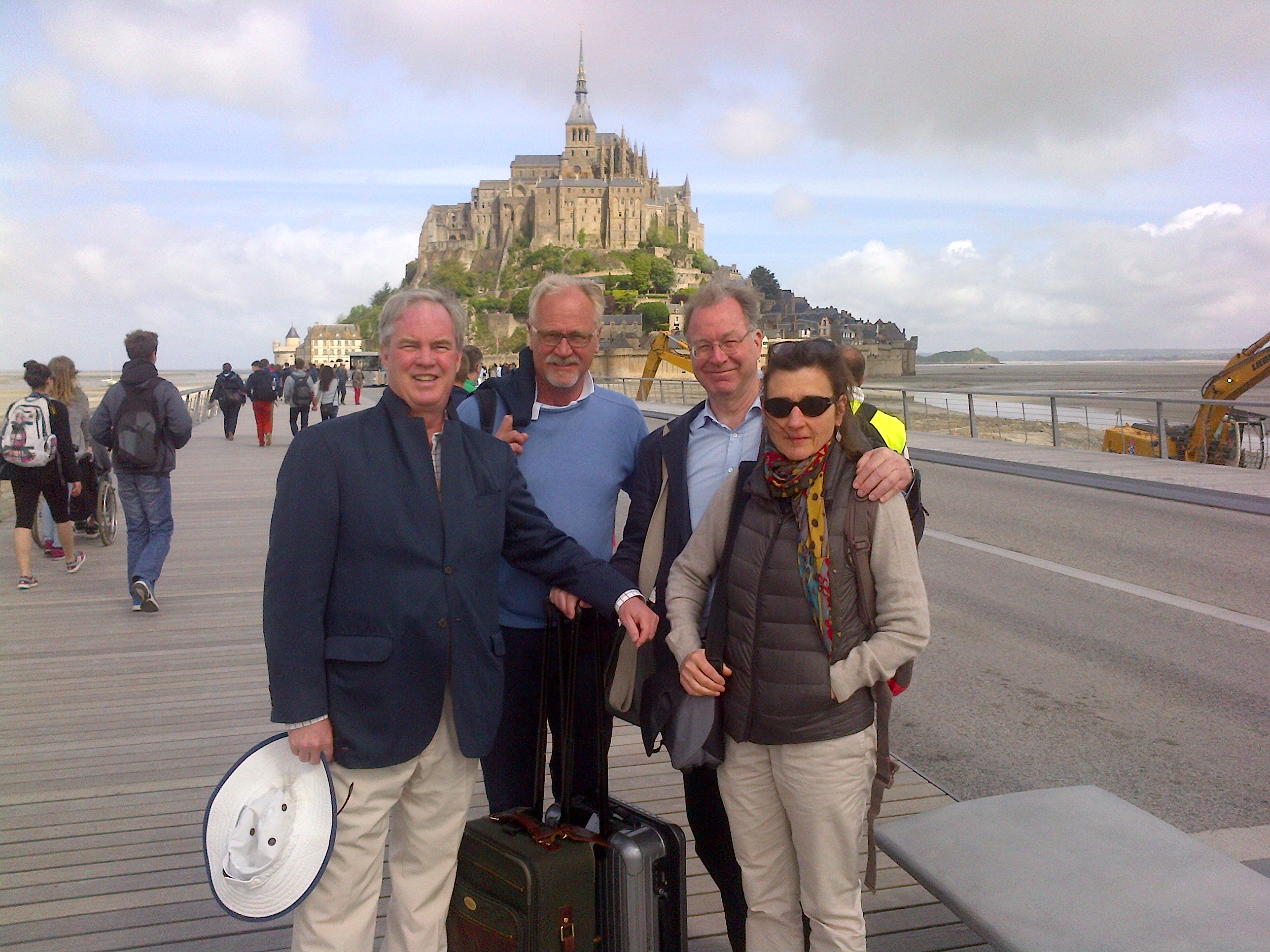 Approaching from land, you get glimpses of it in the distance and can imagine what pilgrims must have felt, arriving hundreds of years ago: that they were witnessing a miracle. Inside the abbey, even if you don't believe in God, you can't help but be touched by the grace and spirituality of the place. We only saw it at low tide but the long stretches of sand viewed from the ramparts are wistful and romantic, showing nature as is...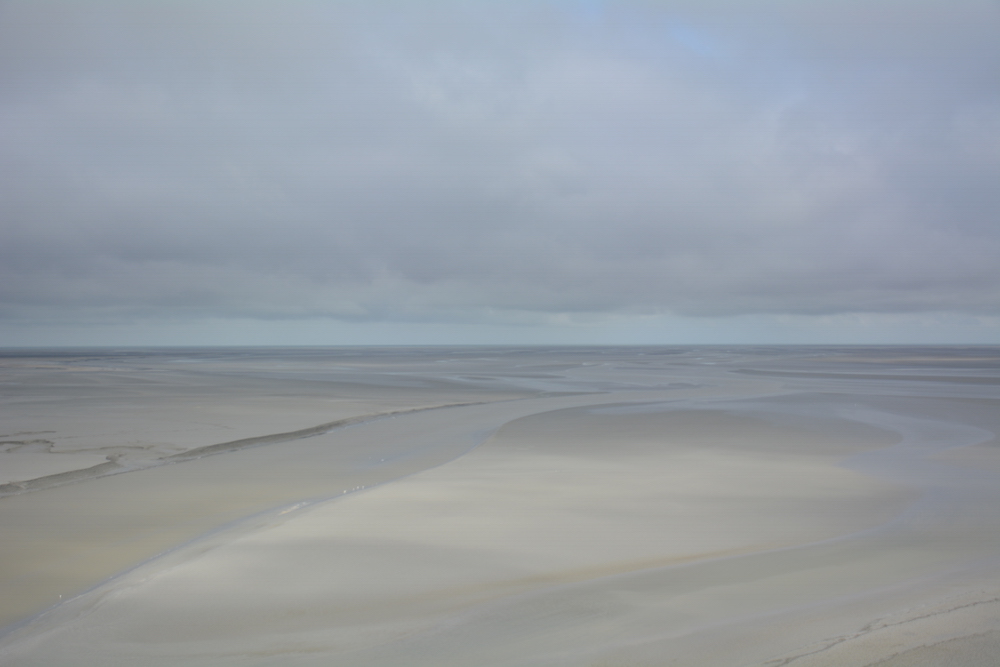 But this tranquil view is deceiving. Bertrand told us that there is quick sand in certain spots. That the tide, the hugest in Europe, comes in, as Victor Hugo put it, "at the speed of galloping horses". As you can see at the edge of the tourist photo, diggers are digging away, trying to keep the relentless sand and encroaching land from ruining the magic.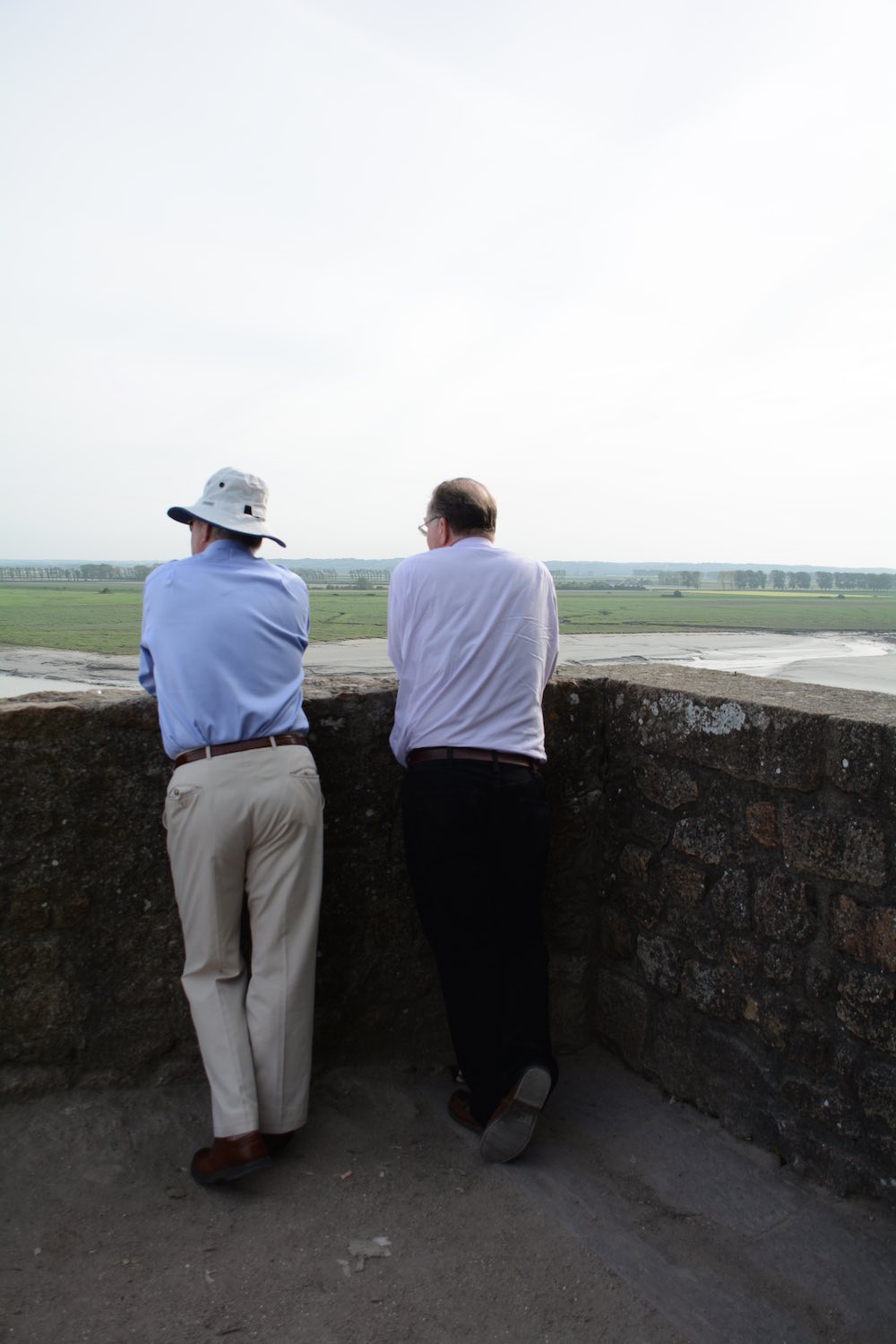 It was with these victories of man over nature fresh in our minds that we moved on to the Normandy D-Day beaches and the American Cemetery. We started at the Pointe du Hoc. Today the pockmarked land and bunkers are overrun by tourists, not soldiers. But minus the enormous parking lot and welcome centre, the place looked pretty much as it did at the 40th anniversary in 1984 when I was hired by CBS to be an interpreter and general handy person and thus in a position to get a good peek at the back of Ronald Reagan's blue-black head (hair certainly looked dyed to me) gleaming in the sun.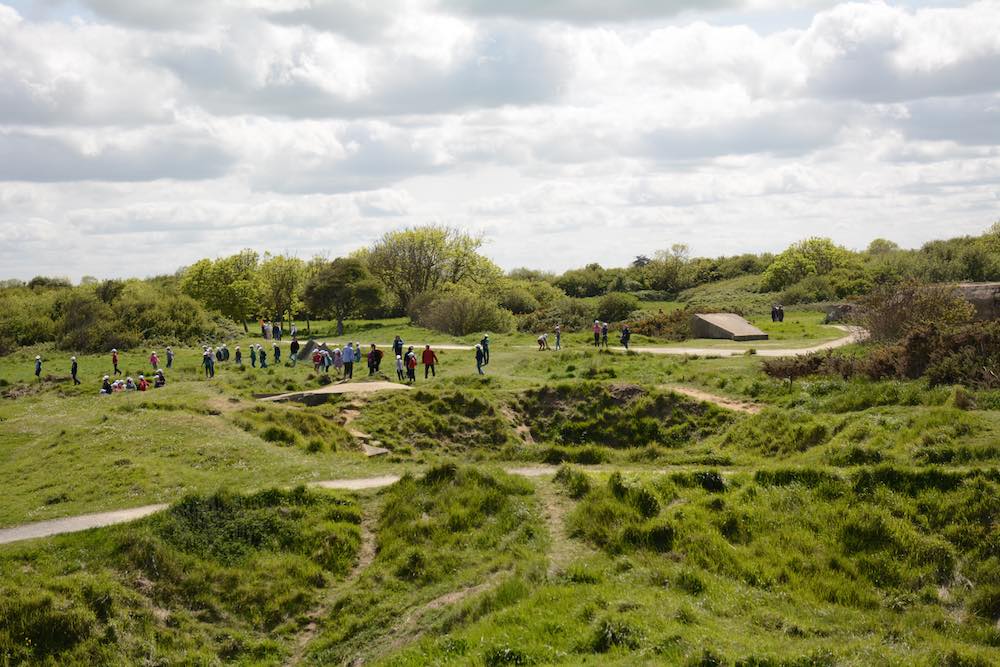 After Omaha Beach, we went to the American Cemetery. There are few sights more moving than those 9387 white grave markers stretched out row after row after row. On Tuesday, they too were gleaming in the sun.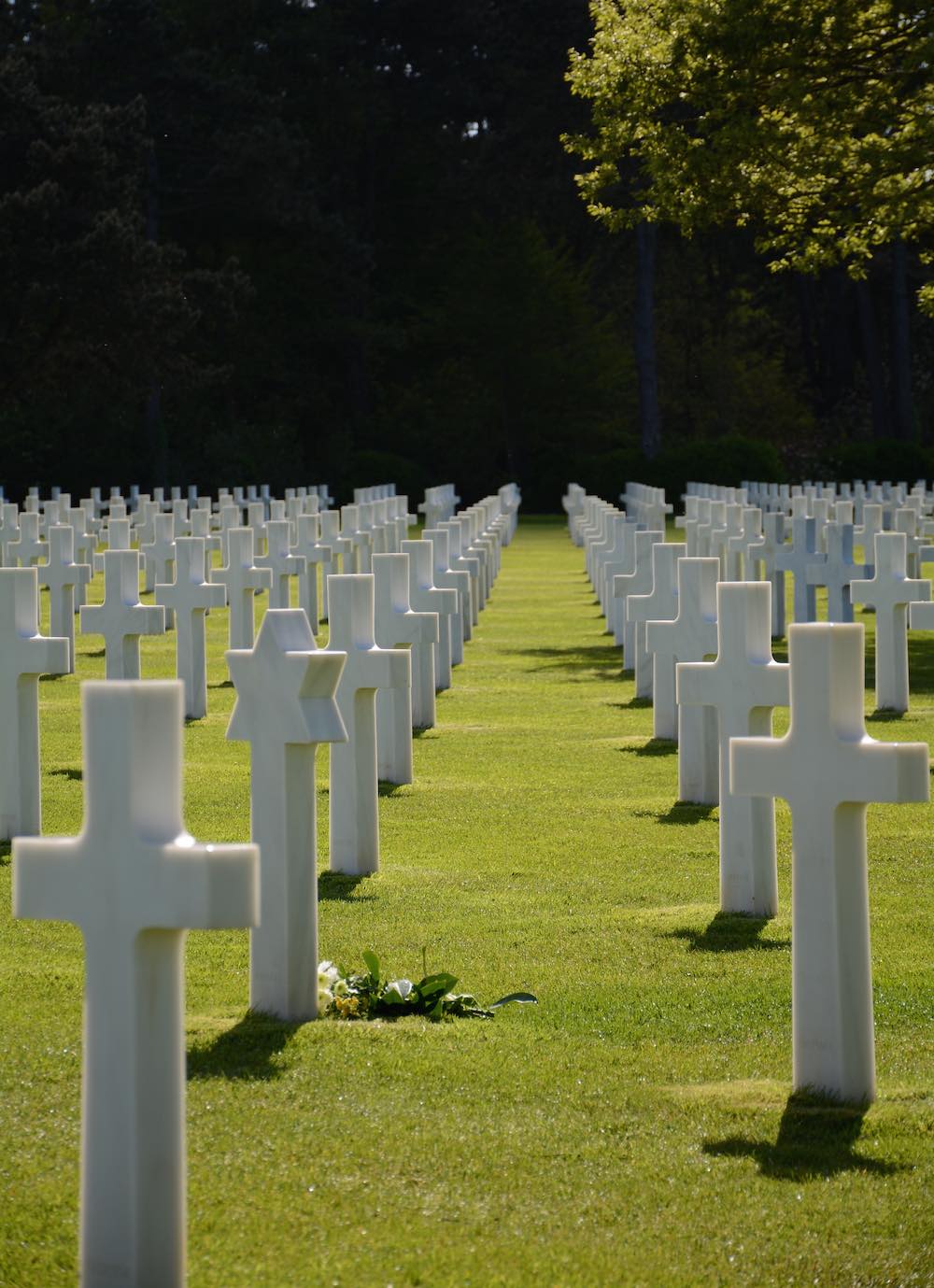 Among the hordes of tourists at the Pointe du Hoc and American Cemetery, there were groups of French school children learning about the War and its devastation. Facts such as in the Battle of Normandy alone Allied losses are estimated at 45,000 dead; 173,000 wounded or missing. About 12,200 French civilians were killed or missing. On the German side, there were 30,000 dead, 80,000 wounded, 210,000 missing.
This carnage was also man-made and the question that followed me these three days is this: does this mass tourism help? Do we learn anything from the gardens, the churches, the cemeteries? From what we create or what we destroy? People visit sites, are visibly moved by what they see--whether in delight or horror--yet all around anger and intolerance continue their apparently inexorable rise.
Just as we were leaving, I saw three French schoolboys standing in front of some crosses and a star of David. Two of them fidgeted; one was on his knees, just staring. The two fidgeters said: "Come on, let's go, he can stay behind and visit his Jewish friends." And off they went, sniggering, pointing, making fun.
And I remembered what friend and great historian of Germany Fritz Stern said to me in February: "the veneer of civilization is paper-thin." So it seemed at that moment.