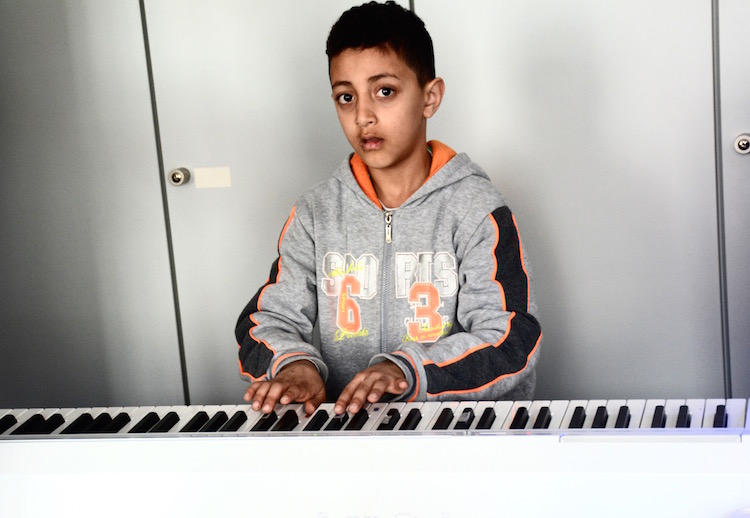 Good Friday, 25 March
At 7.30 Tuesday morning I was as usual walking Elsa. As usual I was listening to the news on Deutschland Funk to improve my German. And I said to myself: Thank you, President Obama, for visiting Cuba. You may be supplying Americans with yet one more reason to hate each other but you are giving the German media something to report on besides the refugee crisis.
That sense of relief lasted through breakfast. Then the news about Brussels flashed on my computer.
I've already written too many blog posts about terrorist attacks, already described the shock at the barbarity, the fear that creeps up the back of the neck and the dull despair that sets in while watching the footage on television.
After last November's attacks in Paris, I found solace in the story of Caroline and Jérémie. This time I fortunately have an example of our better selves in Kate Eberstadt. A recent Columbia graduate, Kate is in Berlin to create a children's choir in a refugee camp. But The Hutto Project, which I visited Monday afternoon, is bringing a lot more than music to these children.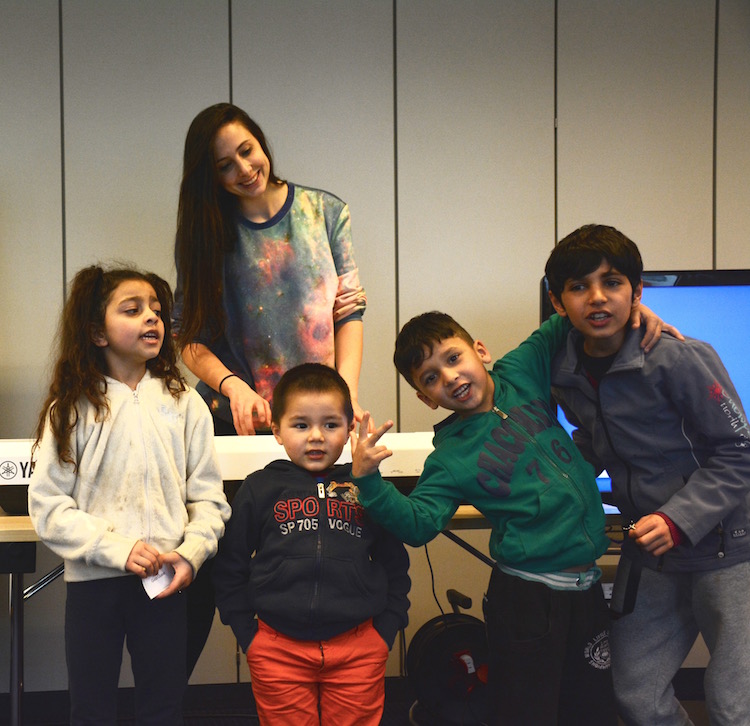 Three times a week she sets up a room in a German Red Cross office: a keyboard, a computer, a white board and a flip chart. Then she and a group of volunteers head over to the nearby gymnasium where about 200 refugees are being housed.
She explained along the way that just about all the children in the camp—around 20, at the moment—participate in her rehearsals. They come from Syria, Iraq, Afghanistan, Iran, even Moldavia and range in age from two to 21. The number of children who come on a given day, she said, depends on the level of tension among their parents. A terrorist attack in Iraq, for example, can bring simmering regional antipathies to a boil and the parents won't allow their children to fraternize with The Others that afternoon.
But that resistance doesn't generally last long, perhaps because The Hutto Project is all these children have. They do not go to school and have no other outside activities.
A few minutes after Kate went into the gym, children began to pour out. The younger ones all scrabbled to be picked up by the adults.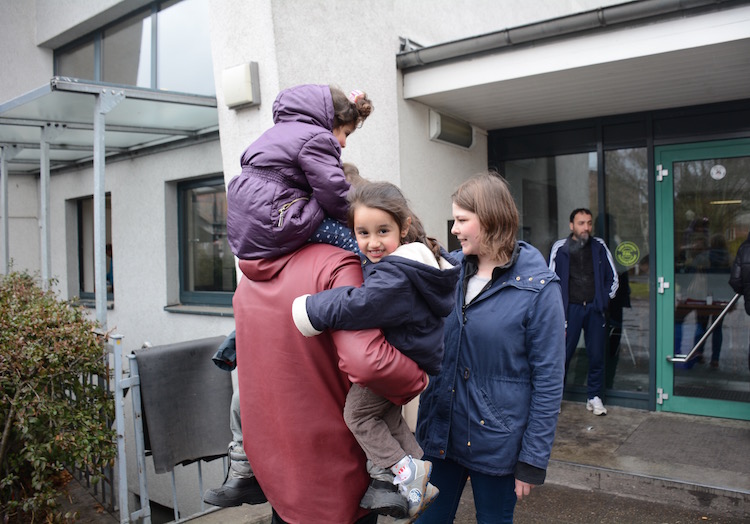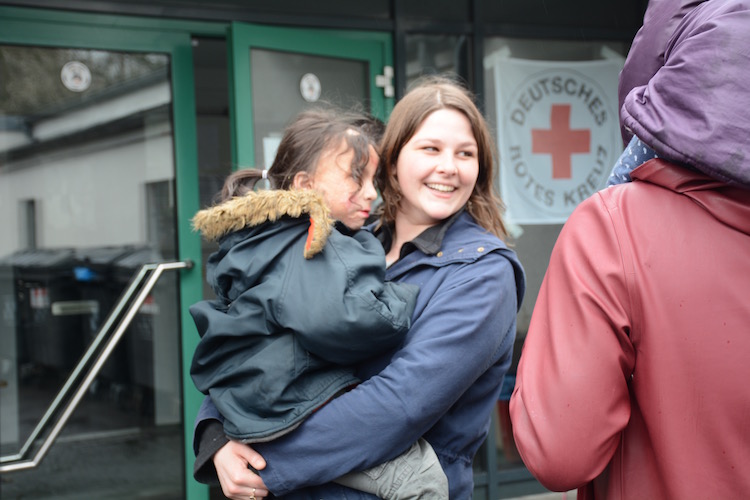 And soon we were meandering back to the Red Cross offices, like the children of Hamelin following a fairy godmother version of the Pied Piper.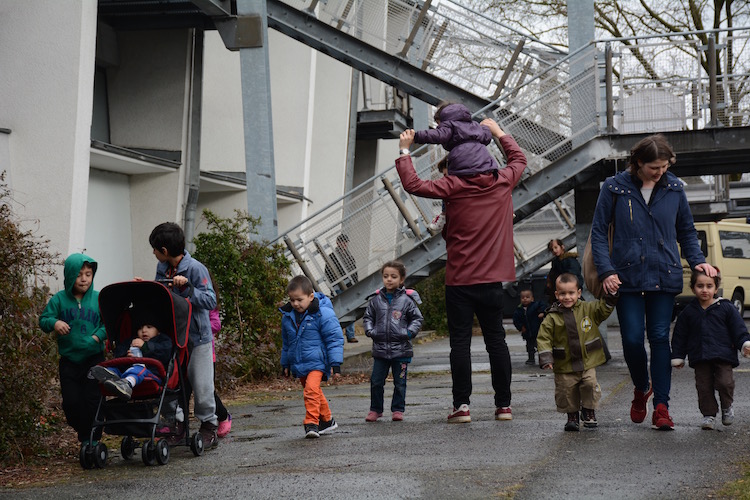 In the room, the children shed a motley assortment of second-hand coats. Kate, who speaks to the group in English, asked everyone, adults included, to step into the middle and introduce him or herself.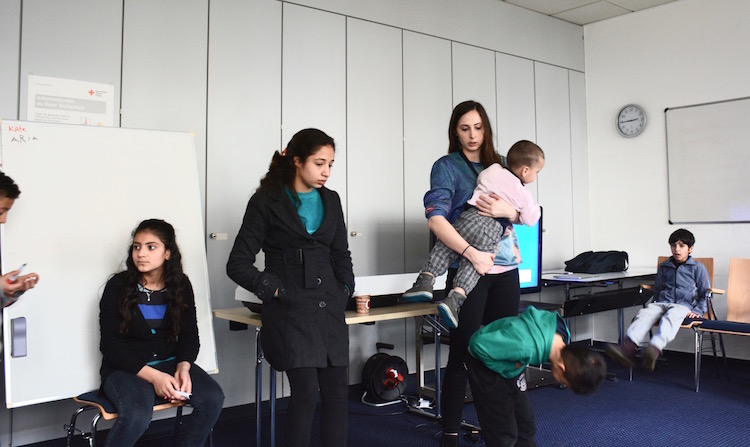 All the children managed some version of My name is…, then bowed and wrote their names on the board. There was lots of clapping and high-fiving.
For the next two hours there were warm-up exercises...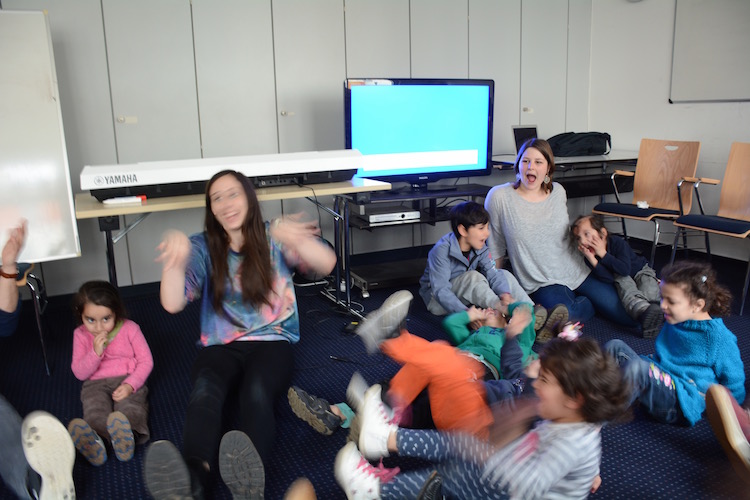 singing...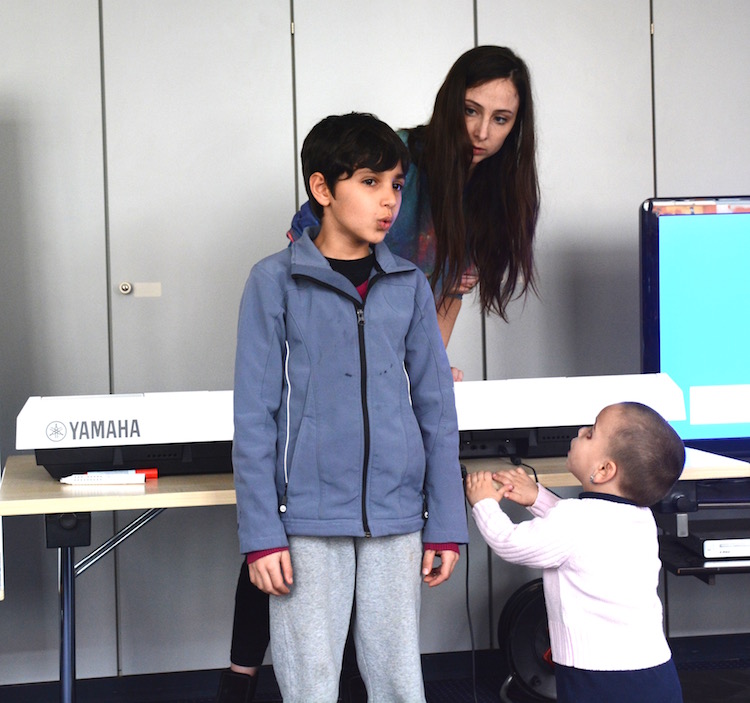 and dancing to music (in this case mirror dancing)...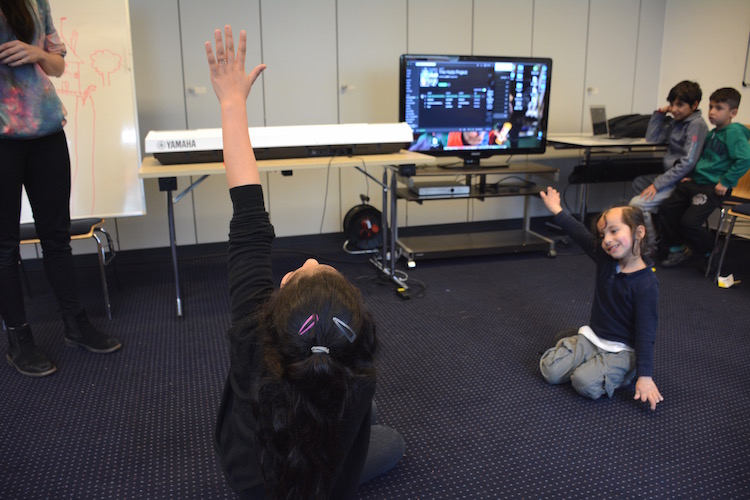 At the beginning, Kate says, she just wanted to do something to help the refugees, partly out of shame at the negative American response to the crisis. She thought of using music, and particularly the human voice, because it "occupies space in both mind and body and has a huge potential for healing." Then her inspirational high school choir director Benjamin Hutto died. "It all just came together," she says.
She applied to the American Academy and was, surprisingly given her young age, awarded a Visiting Artist fellowship.
"My goals have changed a bit since the beginning. We're working towards a performance later this spring but what I am really looking to do now is give the children a safe space, a place where they can feel proud. They don't have any other occasion to feel proud."
You feel in the room that she is accomplishing just that. That she has created a stimulating, nurturing and orderly environment where these traumatized children can safely express themselves beyond the reach of their parents' distrust and fears. Perhaps the surest sign she's succeeding is the way the children themselves cooperate. Not just by clapping and giving high-fives but also by intervening in disputes, taking a disruptive smaller child on a lap or encouraging a shyer child to dance. It's hard to imagine a group of European or American children being quite so solicitous of one another, of being such positive forces within a group.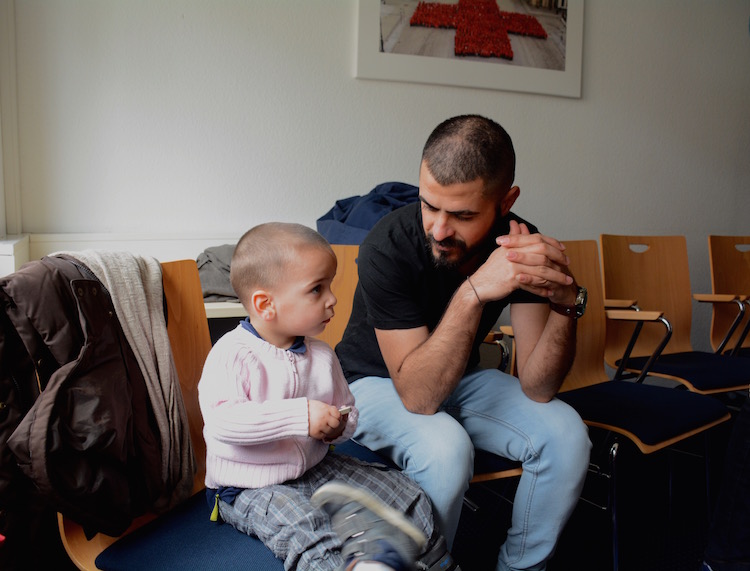 In the middle of the rehearsal, Kate drew the basic outline of a house on the board. She asked each child to add something. I have to say I wondered what on earth these children would be able to draw other than bombs, broken bricks and men with Kalashnikovs.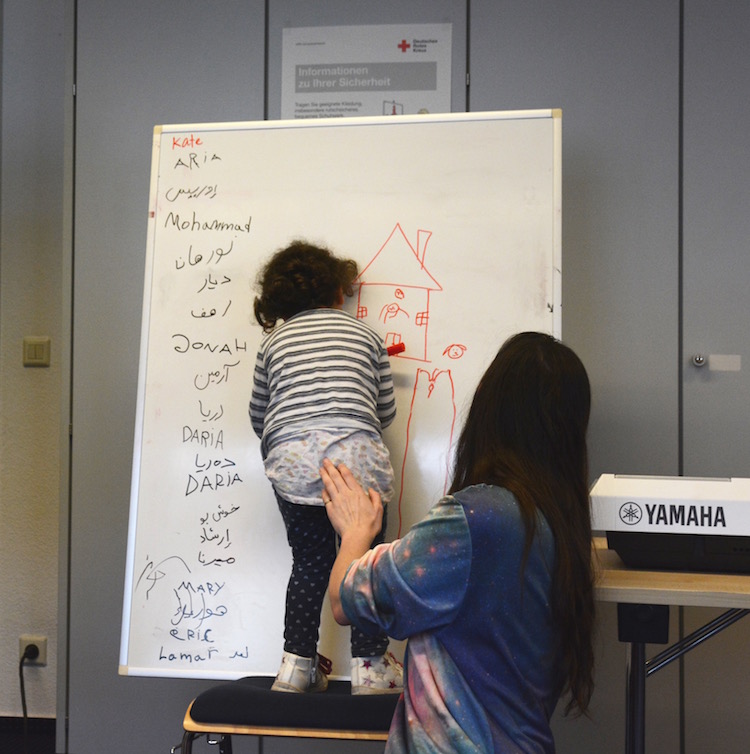 But by the end there was the house, complete with flowers, grass, smoke coming out of the chimney. Even a big German car parked outside.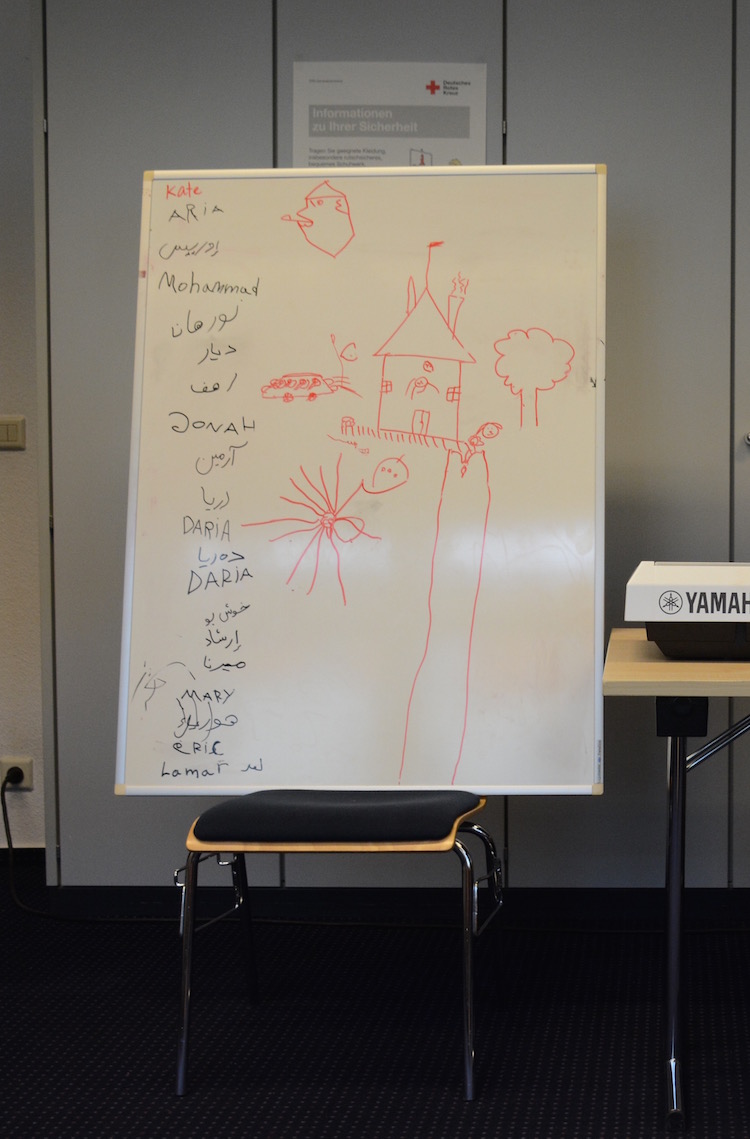 I wasn't sure if it was heart-warming or heart-breaking, watching these children create the happy home.
But I was sure that projects such as Kate's would improve their chances of one day actually being able to live in one.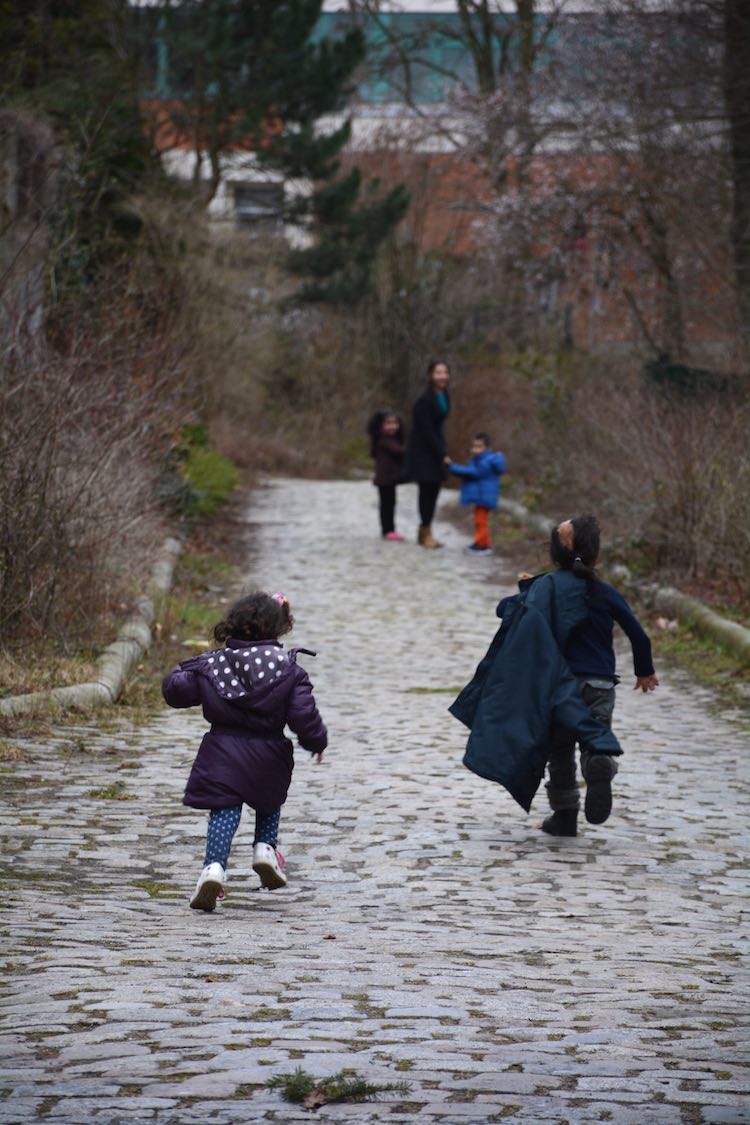 Another route back to the gym
Watch this video, where the sheer joy of The Hutto Project is on full display.