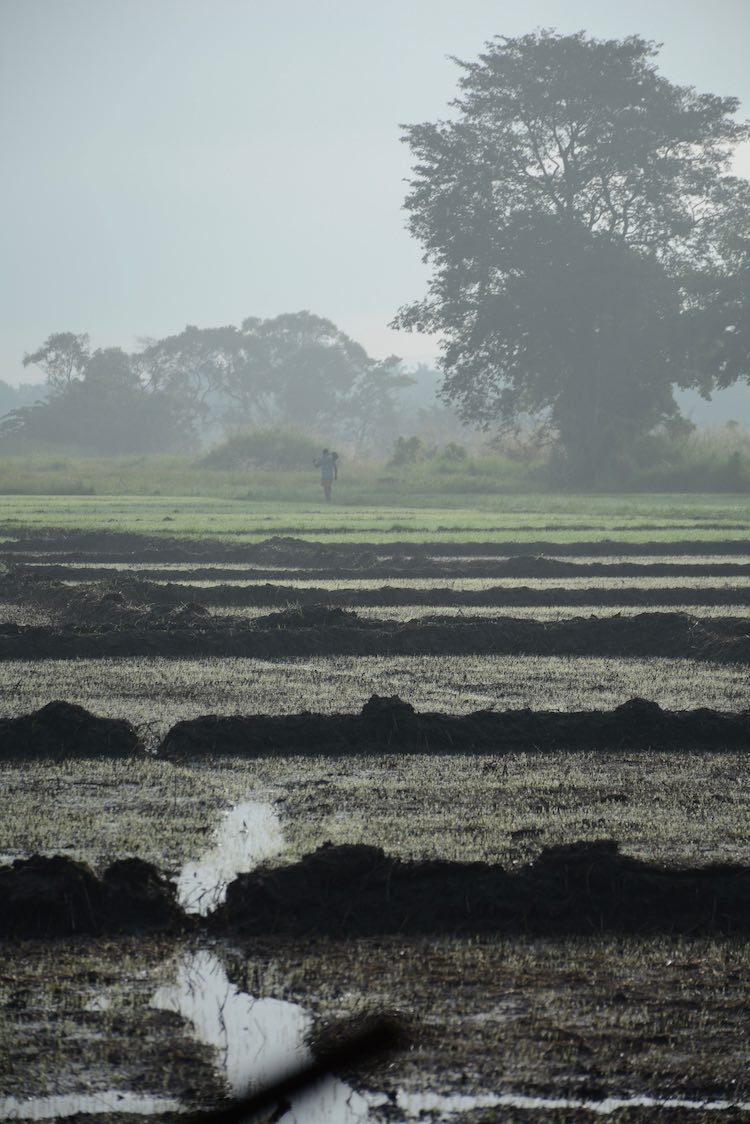 rice paddy, Sri Lanka
Friday, 26 January
The last 18 months have been a whirlwind of travel, at least by my standards. Besides six trips to the US around my mother's final illness and death, there's been Rwanda, Iran, Sicily. And last week we returned from the trip of all trips: southern India, Sri Lanka and the Maldives.
The impetus for this latest sojourn was daughter Georgina's Marriage to Amal, Part III (Part I being the Paris Party, Part II The Civil Ceremony in London). It took place in Mahabalipuram, Tamil Nadu, late December and like Paris Part I, the joy at the event was fuelled by their happiness. Unlike Paris, this was a real wedding and a resplendent Indian one pulled off with great panache by Amal's mother Radhika.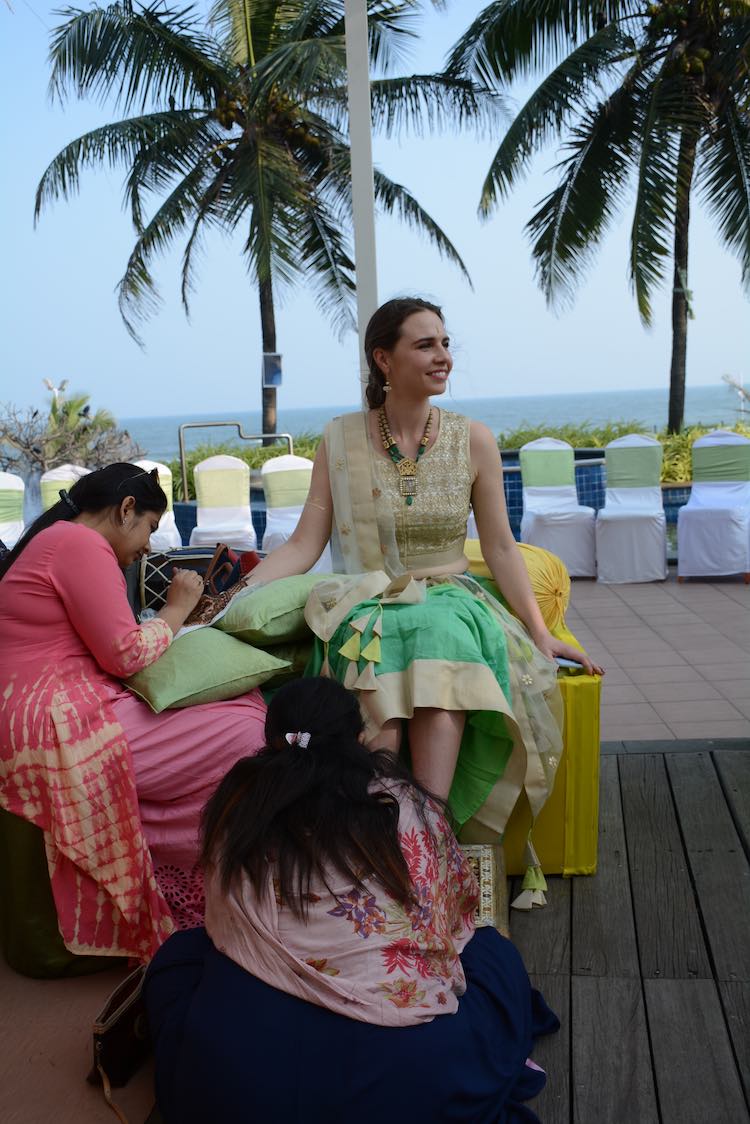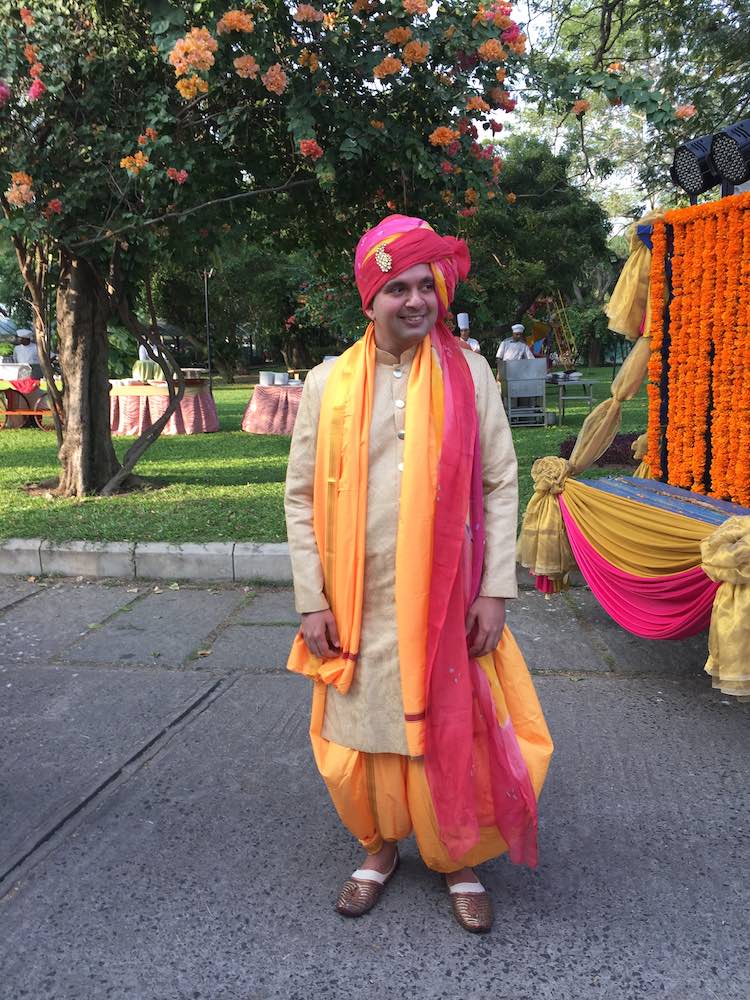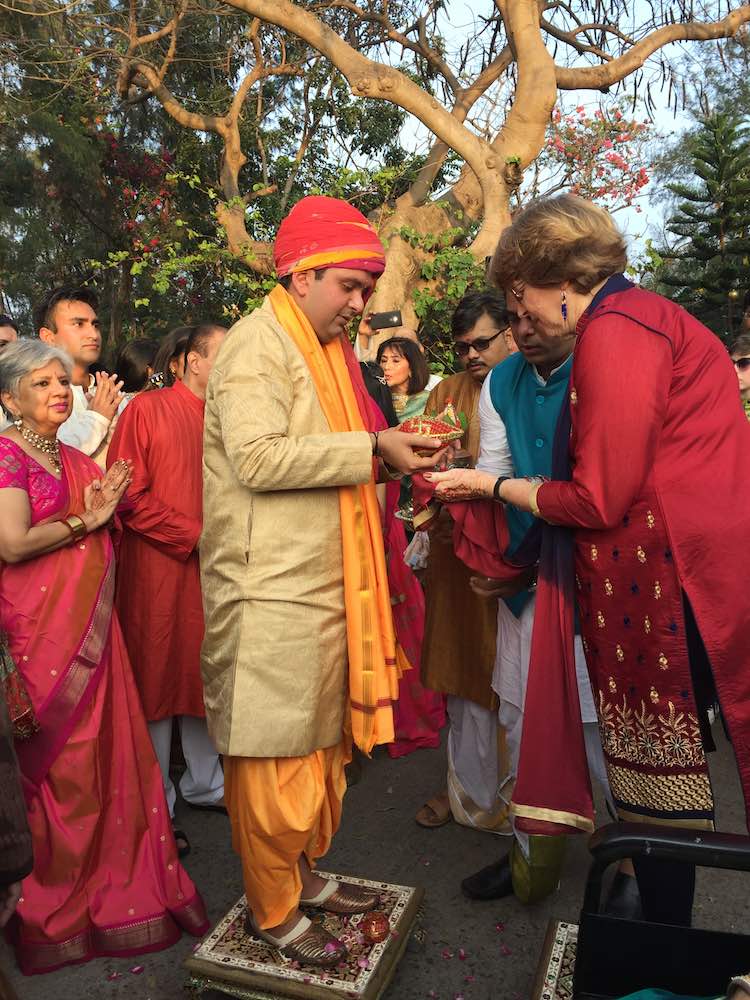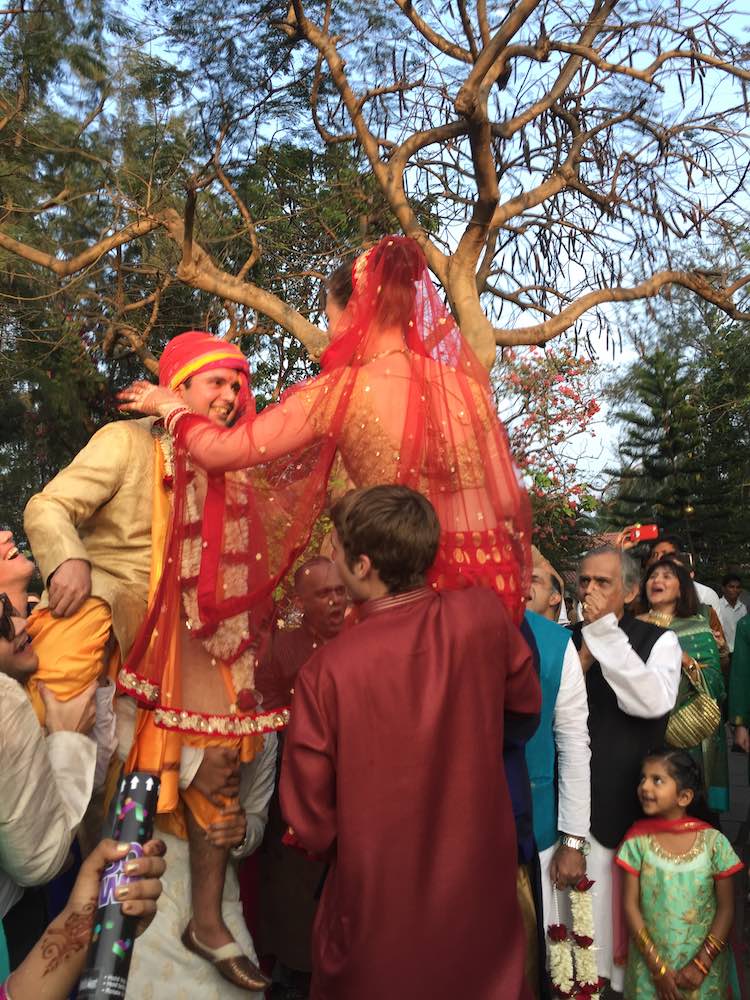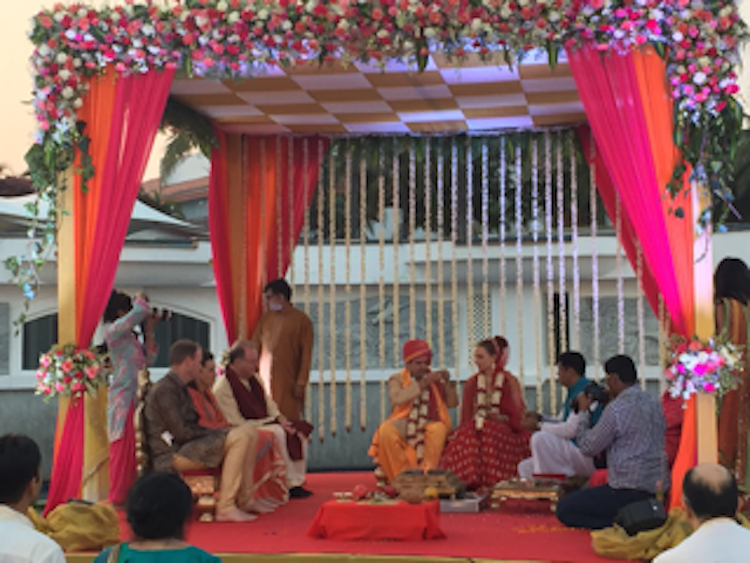 The couple are now officially and spiritually united.
While in Mahabalipuram we visited the UNESCO World Heritage Tamil stone temples from the mid-seventh century...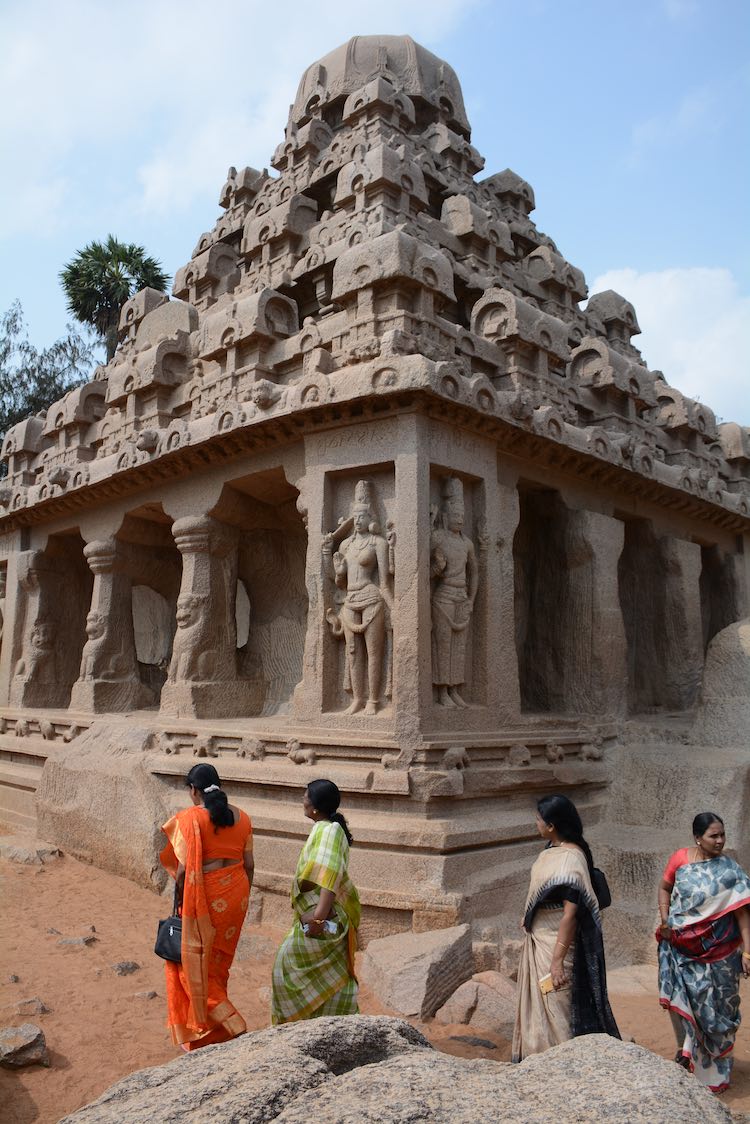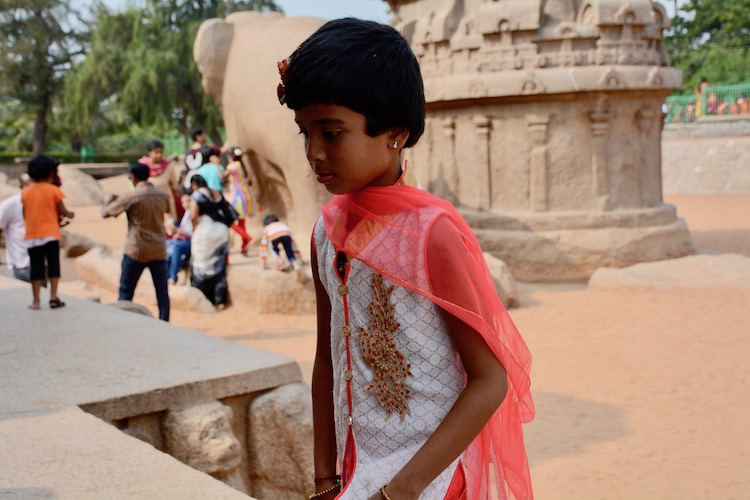 monolithic Ganesha Ratha temples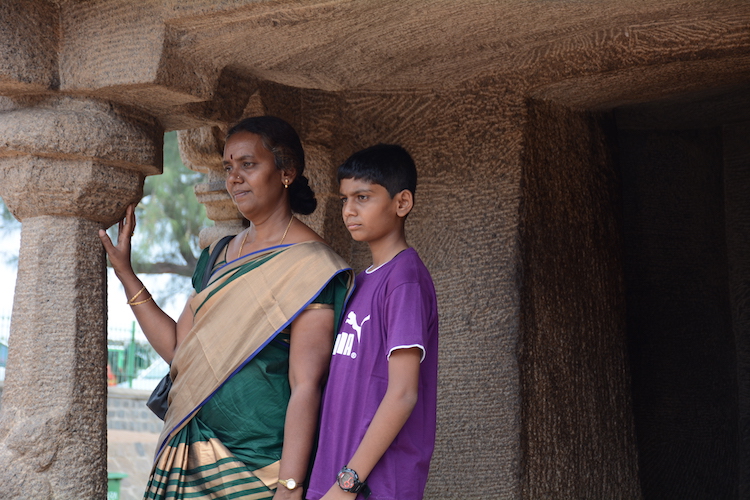 monolithic portico Mandapas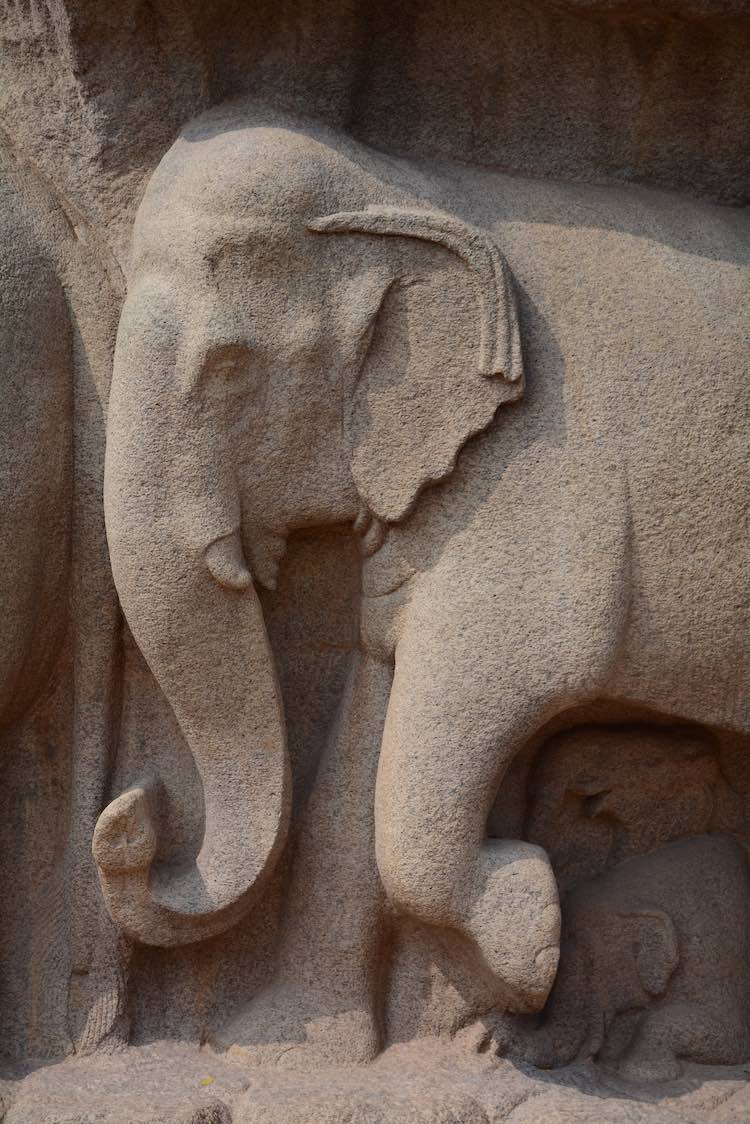 detail from Bhagiratha's Pennance, the largest open air bas relief in the world
On the way back to the airport in Chennai, we swung past Kanchipuram and more temples.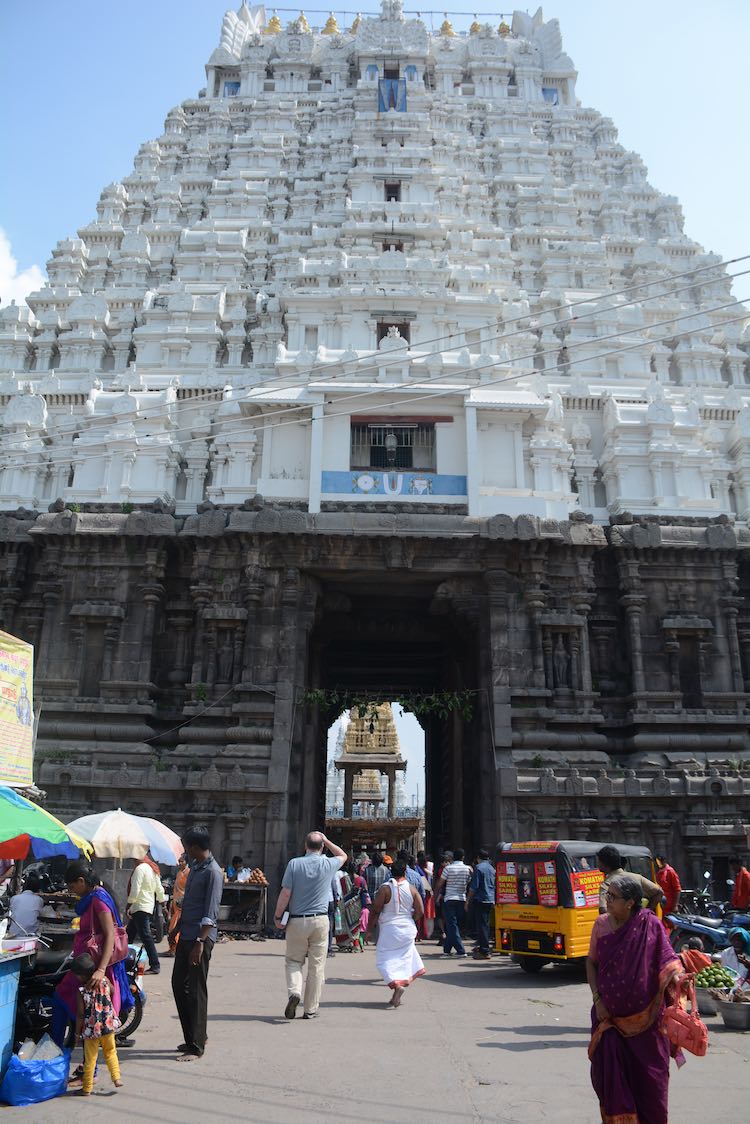 David, hand to head, at the handiwork and sheer size of Ekambareswarar Temple, circa 600 AD
By the time we got to Sri Lanka, I was beginning to think about patterns, about what all these countries we've visited of late have in common. They share so much that this blog could almost be a cut and paste job from previous postings. As with Iran and Sicily, for instance, India and Sri Lanka have long and complicated pasts, histories that are peppered with invasions, booms and busts, times of savagery and periods of tolerance where cultures feed off one another and produce great works of art and architecture. In Sri Lanka Polonnaruwa, the ruling city from the 11th to the 13 century, is one such example. Its vast ruins brought to mind the Persian masterpiece at Persepolis.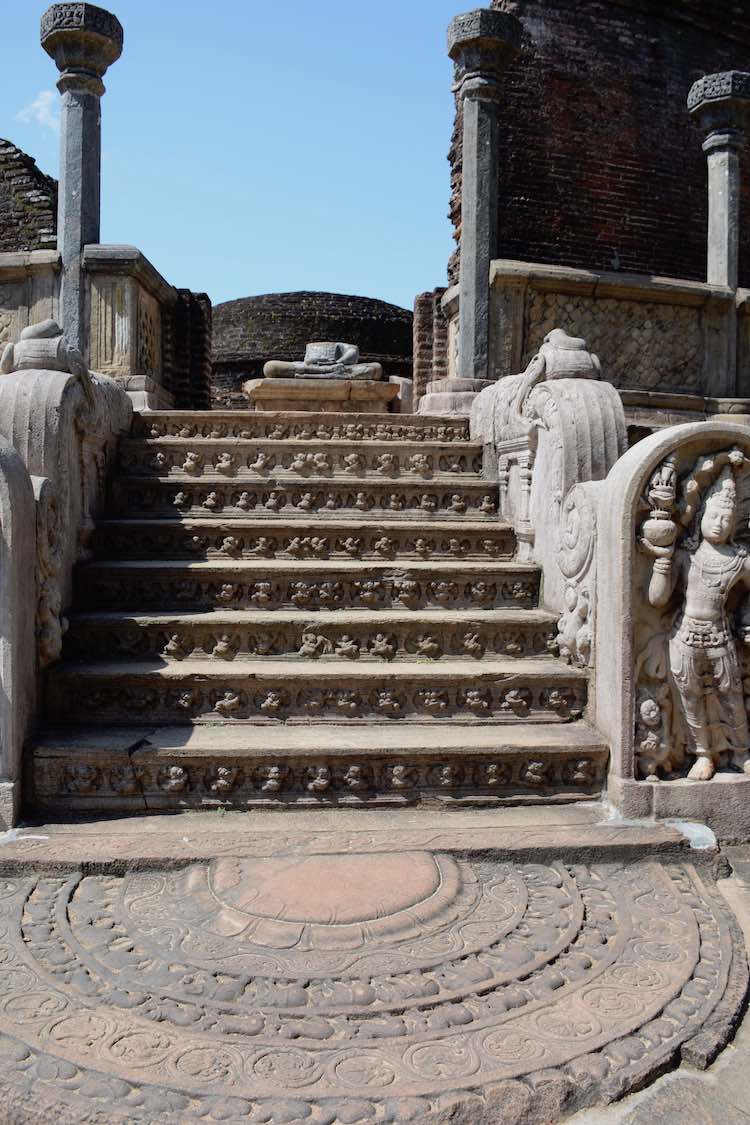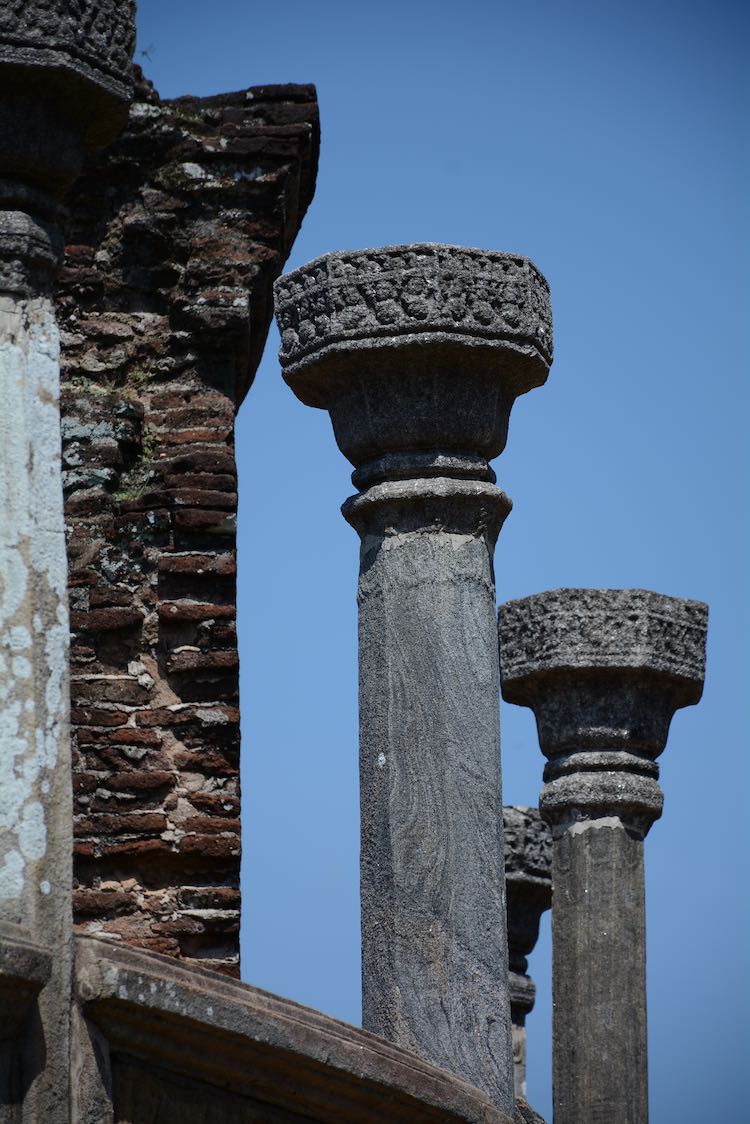 These sites often come with tales of human greatness and folly. My favourite in Sri Lanka is of Kashyapa, son of a king and a commoner. When he learned his younger half- but fully-royal-blooded brother Moggallana was to inherit the throne, he imprisoned then assassinated their father. Meanwhile Mogallana had hightailed it to southern India. Kashyapa, knowing his brother was amassing forces to retaliate, left the then capital of Anaradhapura, commandeered a 200m high outcrop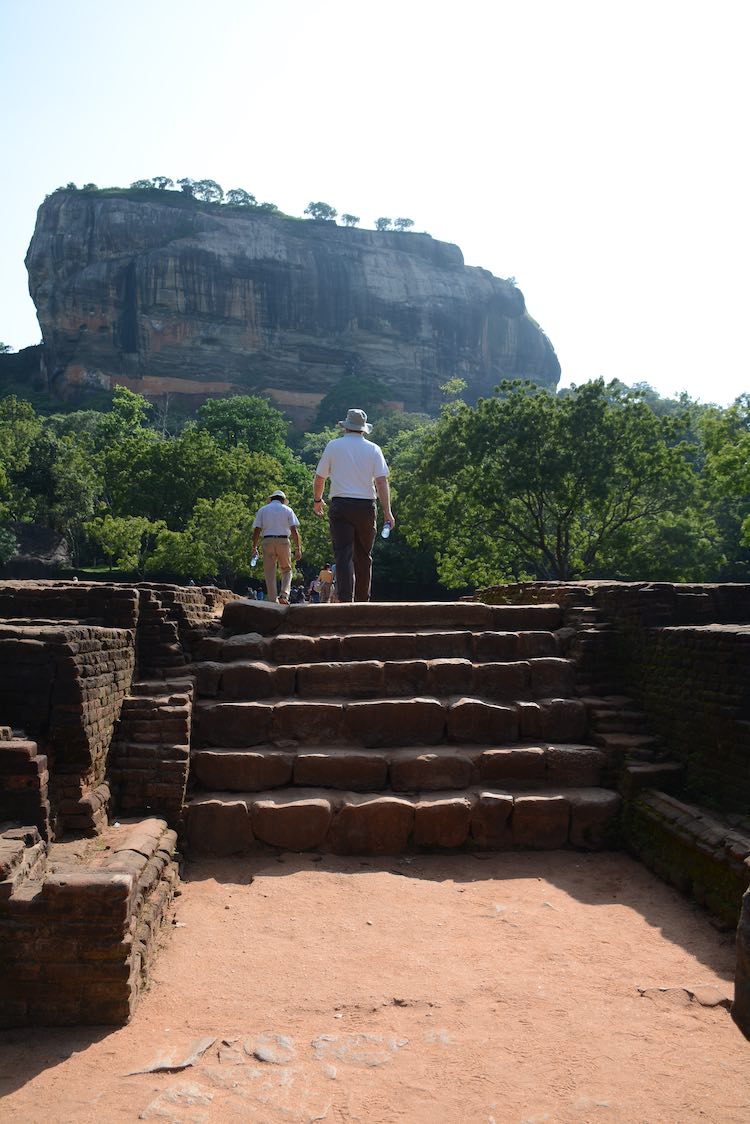 from the Buddhist monks who had lived there for centuries and began to build his own headquarters. Sigiriya, a sophisticated and majestic citadel, took seven years and 16,000 workers to achieve. As in Iran and Sicily, the architecture fuses fluidly with the surrounding stone...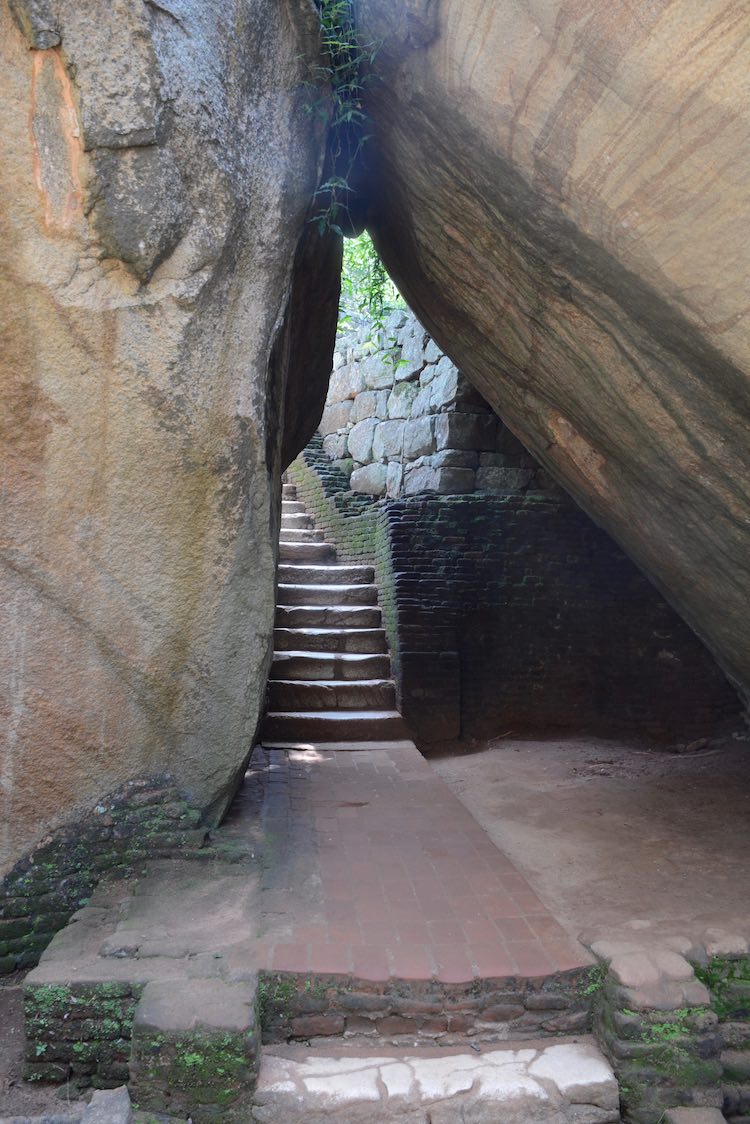 ...and demonstrates feats of engineering, in this case a large bath carved directly out of the stone...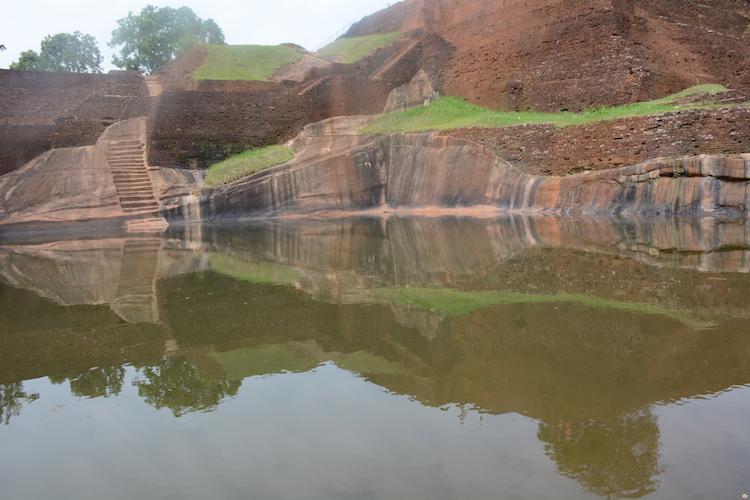 After 18 years in India, Mogallana did return. By then all that building and waiting and guilty conscience for his act of patricide had somewhat deranged Kashyapa. Instead of readying the flooding moats and catapult systems he had designed to defend his pleasure-dome fortress, he went down on the plain where he was open prey. In the last scene of this tragedy of Shakespearean dimensions, his troops abandoned him and from atop his elephant, he stabbed himself in the neck with his own sword.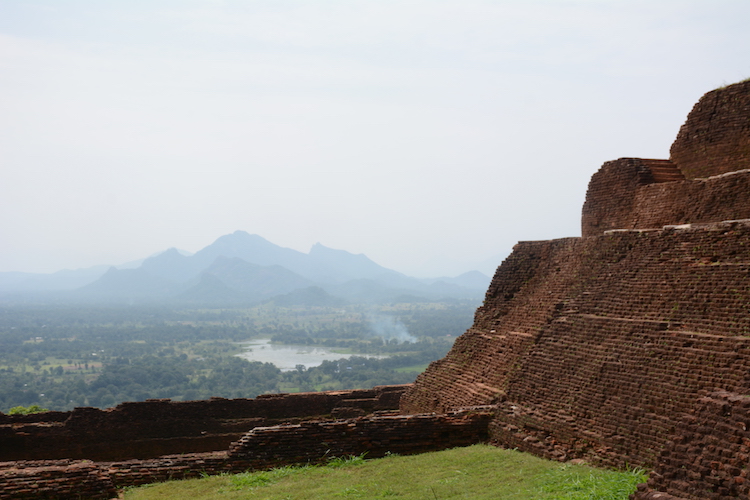 When it's not political power spurring creativity, it's usually religion. In Sri Lanka, though there are pockets of Hindus, Christians and Muslims, Buddhism has prevailed since 246 BC. Tradition has it that Buddha left his mark on the island literally: a one metre-long footprint in the stone atop Adam's Peak and a 5cm-long tooth that is kept inside seven caskets at the Temple of the Tooth in Kandy (the tale of the tooth is almost as good as the Sigiriya story). Both places this time of year are packed with pilgrims.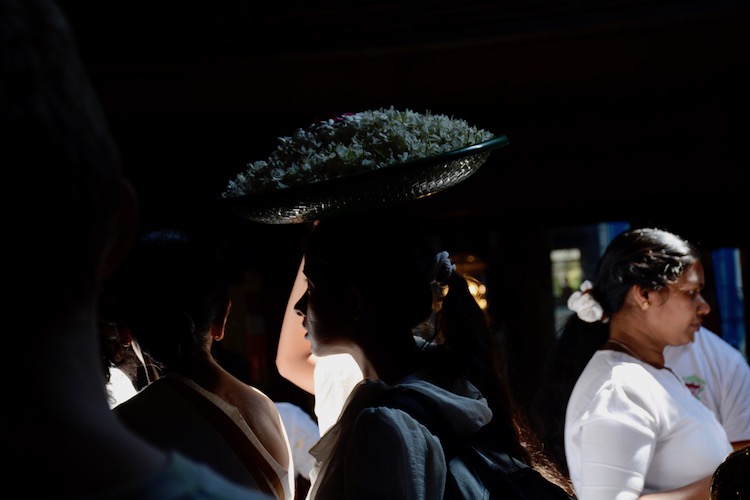 Temple of the Tooth
Statues of Buddha crop up with the frequency of mosques in Iran or churches in Sicily,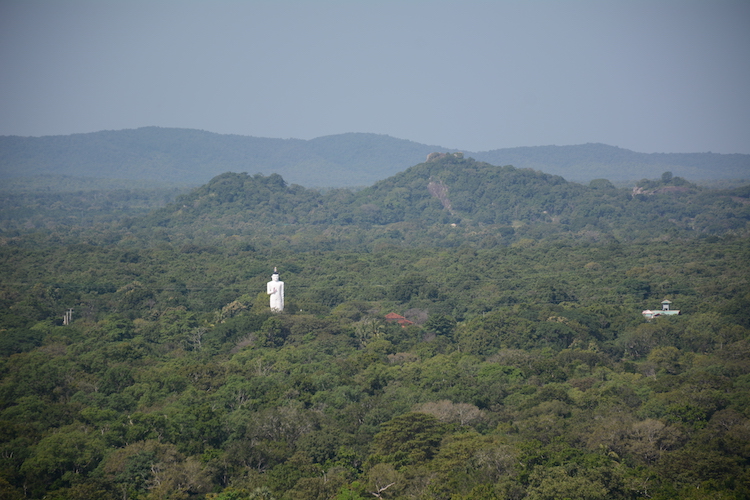 showing him in many of his 13 poses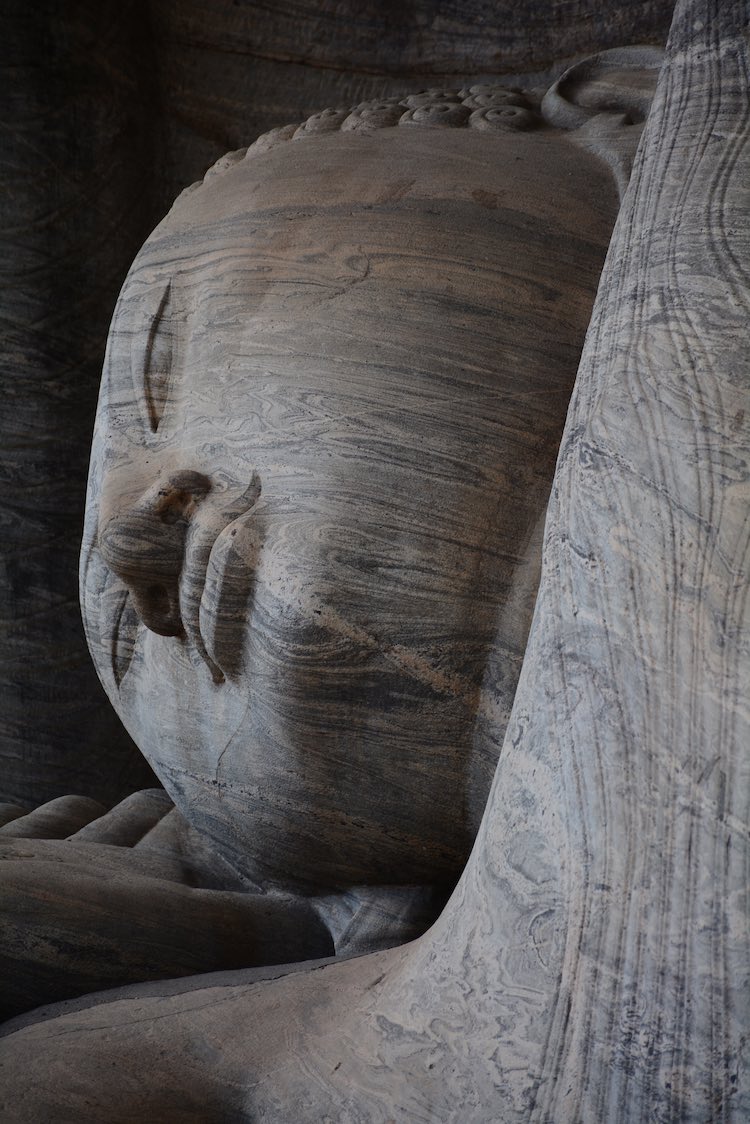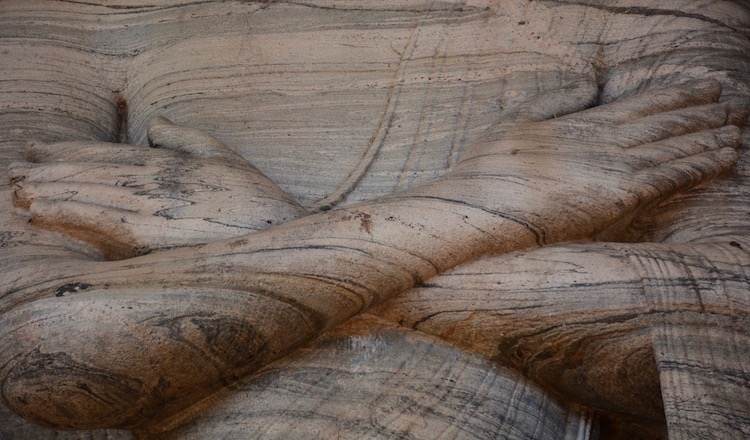 two examples carved out of stone at Polonnaruwa
There are temples and monasteries everywhere. The one built into the stone at Dambulla being a particularly spectacular example.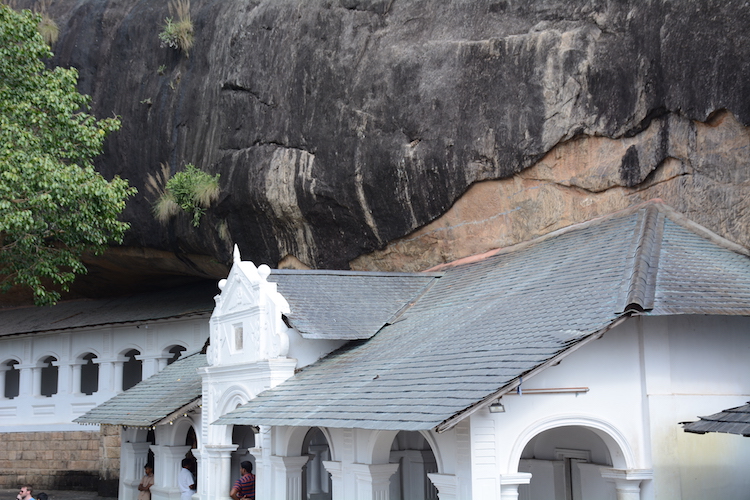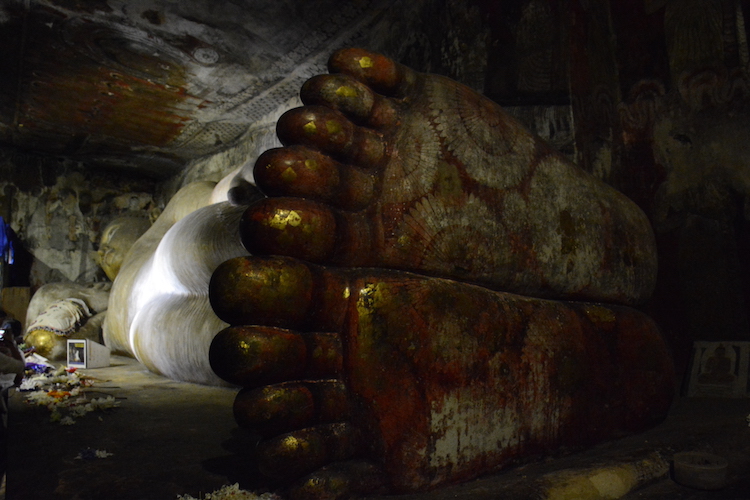 one of hundreds of Buddhas inside the cave temples, Dambulla Rock
Sri Lanka often reminded me of Rwanda too. Compared to India, it is clean and orderly. It too had a bloody civil war between ethnic groups. Like the Hutus and Tutsis, the Sinhalese and the Tamils are currently peacefully reconciled. Nature and wildlife are also abundant and the country is doing its best to exploit that richness. There are lots of nature reserves where birds and animals can go about their business in peace.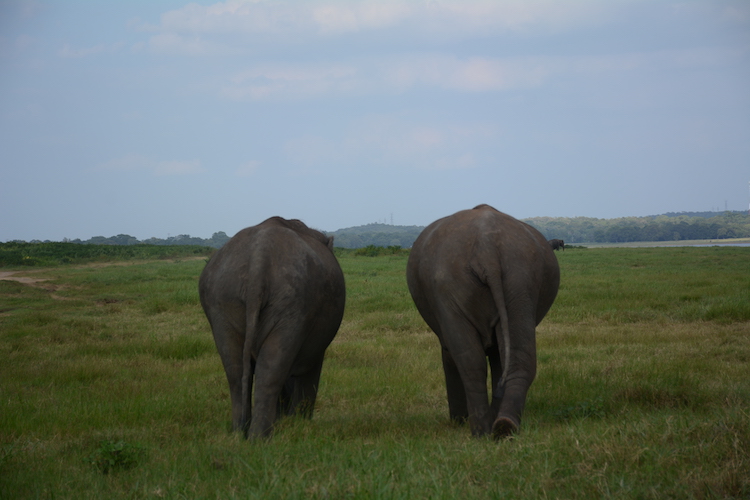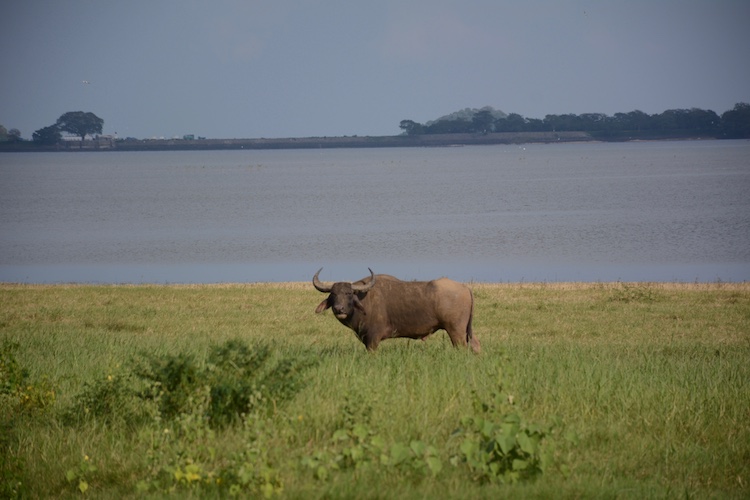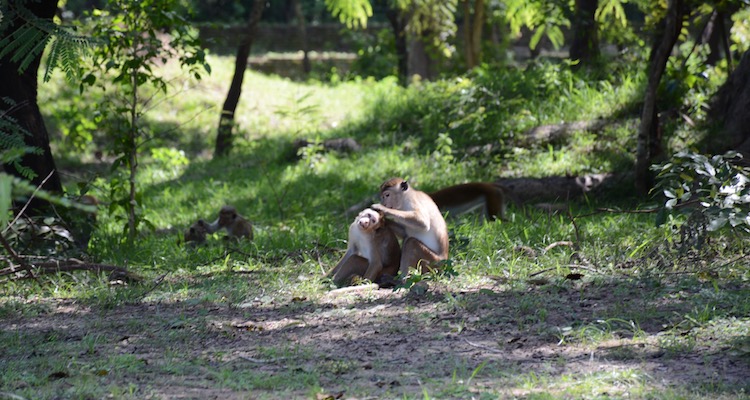 There are eco-hotels that are committed to respecting the nature around them.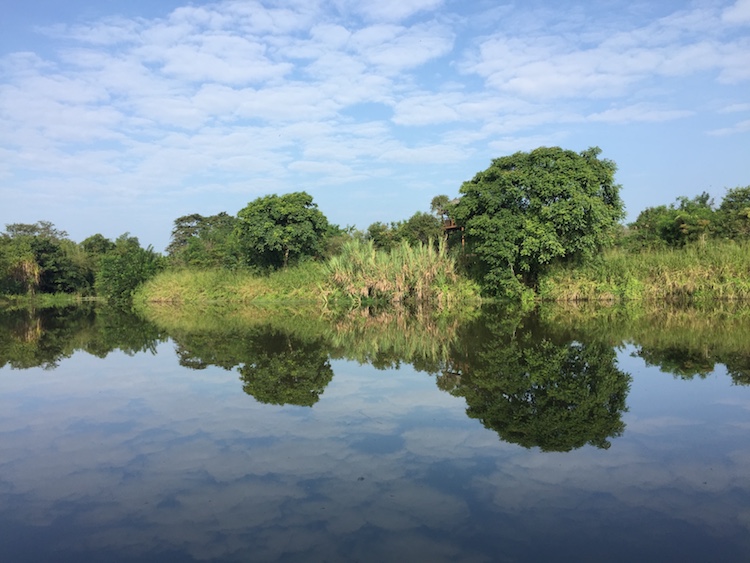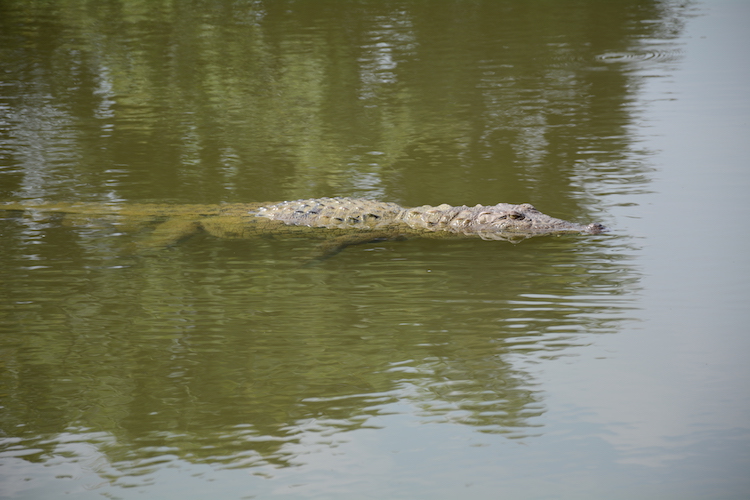 two views from the dining room
For a few days at the end we stayed in Ceylon tea country and that was my favourite part of the trip. Firstly, the landscape is breathtaking.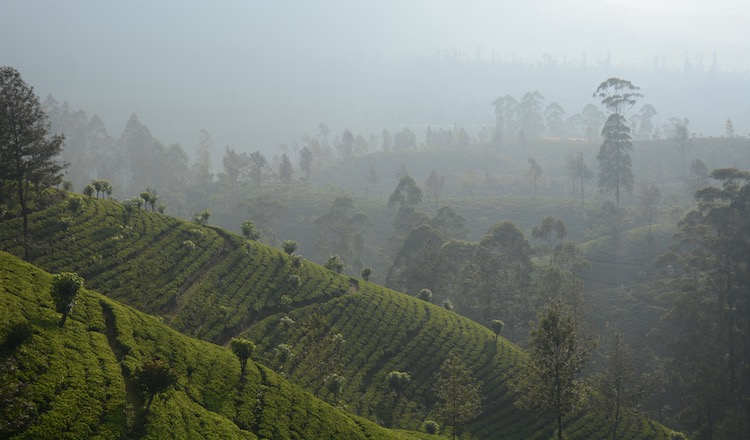 Secondly, while all the other places we visited were fascinating, we had to share that fascination with hundreds of other tourists under a hot sun. Up in the central highlands it was cool and uncluttered. From our hotel, a former plantation manager's bungalow, we took long walks through the tea fields and the villages of tea workers, mostly Tamils brought over from India by the British in the late 19th century.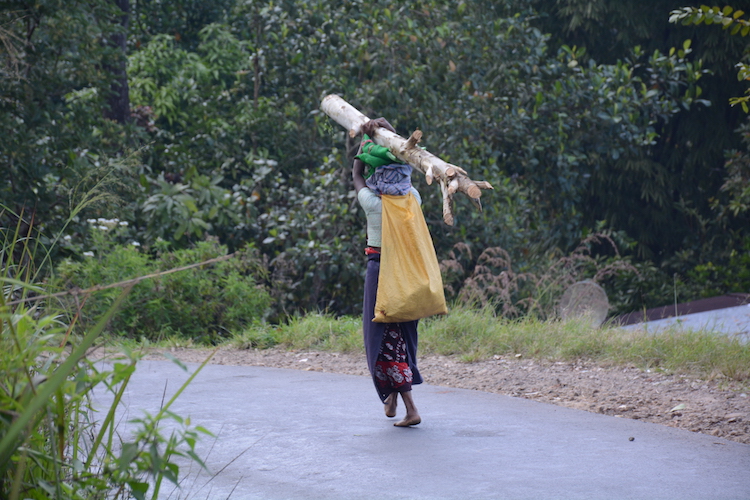 As in Rwanda, work is back-breaking and the people are poor, even if where we were employees receive housing, education, as well as child and healthcare.
And as in Rwanda, despite having little, every single person we crossed gave a smile, wanted a photo.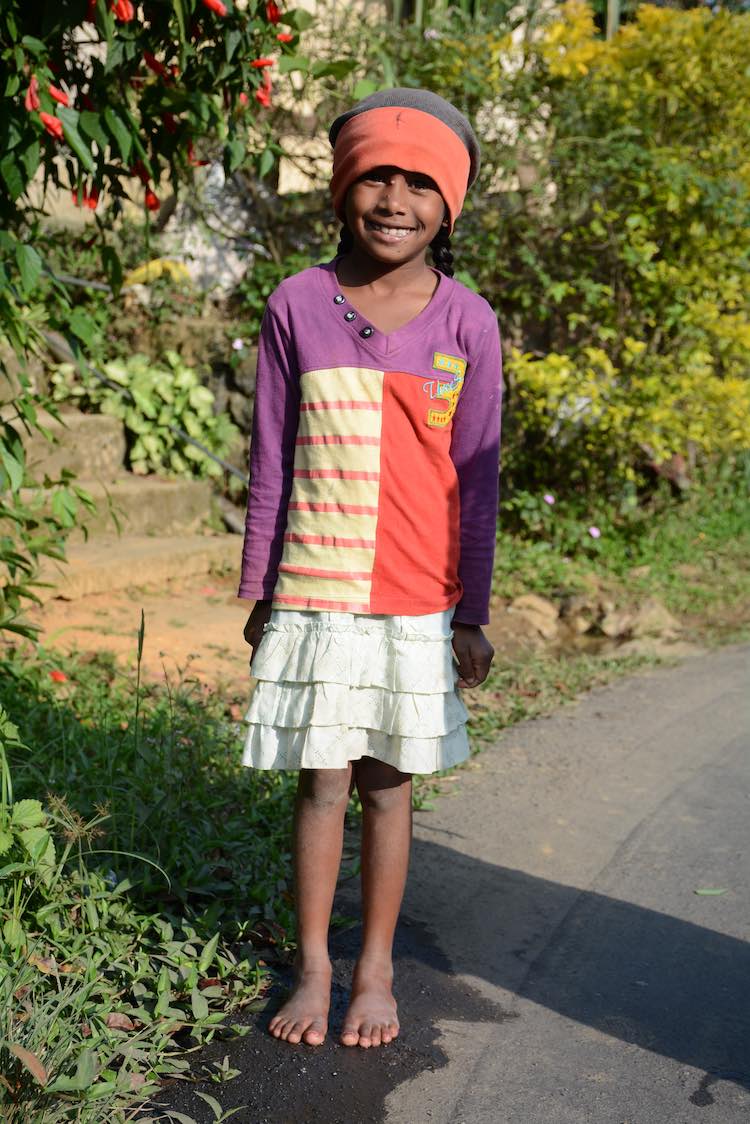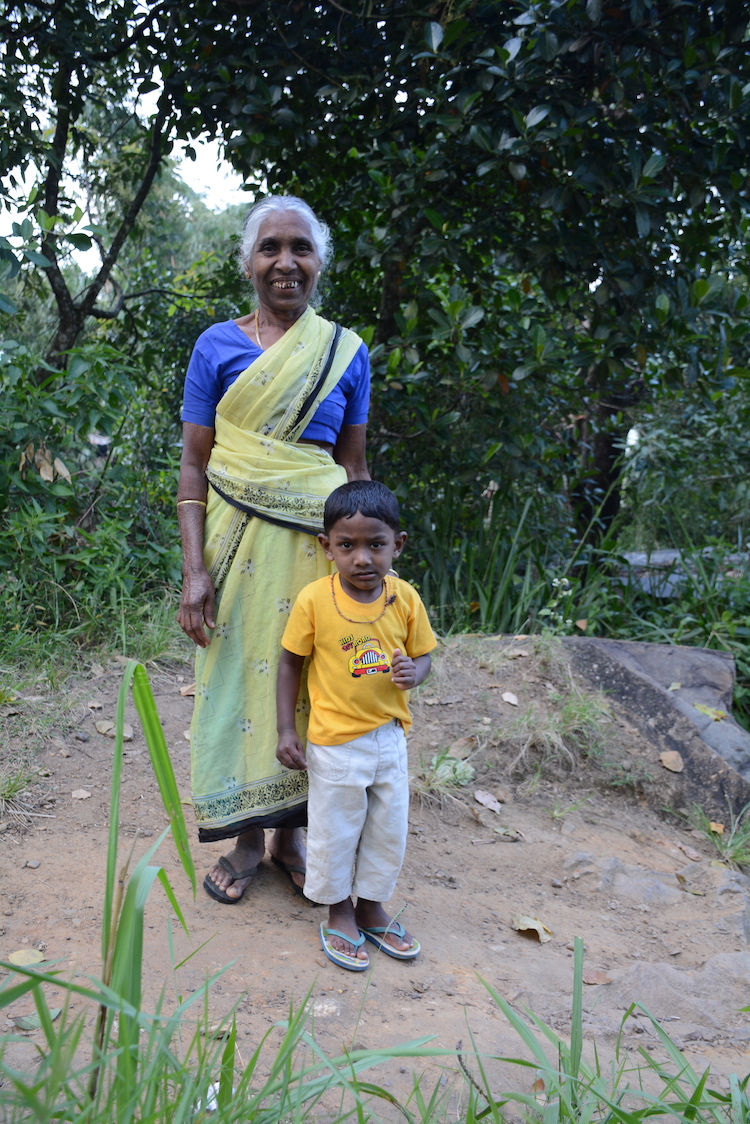 We tacked the Maldives onto the end of our trip because they were there. And we both like to snorkel.
The islands are beautiful, even paradisal.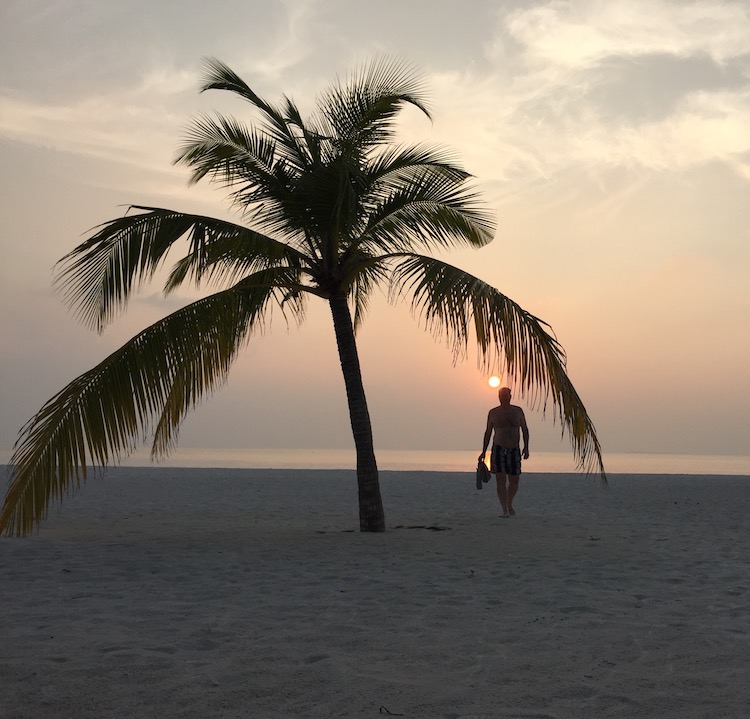 It was here that the Unites States came to mind, though I'm afraid to say not in its most tremendous light. This nation of 1190 islands, of which 200 are inhabited, seems to be in climate change denial, even as it is being reclaimed by the sea.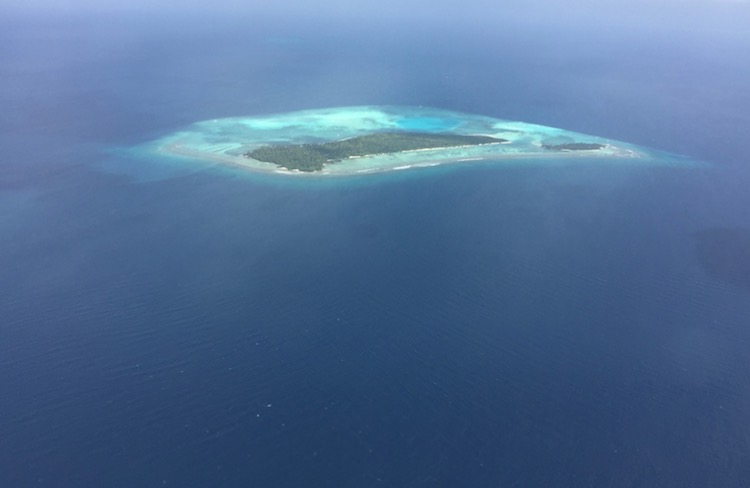 One island where we were taken snorkelling had barricades along the shore worthy of the Normandy coast in the second world war. And while we saw bright fish, sea turtles, rays and a shark during our snorkels, the seabed often looked like a battlefield, there was so much dead coral strewn about.
Yet at our hotel the white, fluffy towels were replaced at a shameful rate. The environment was never mentioned.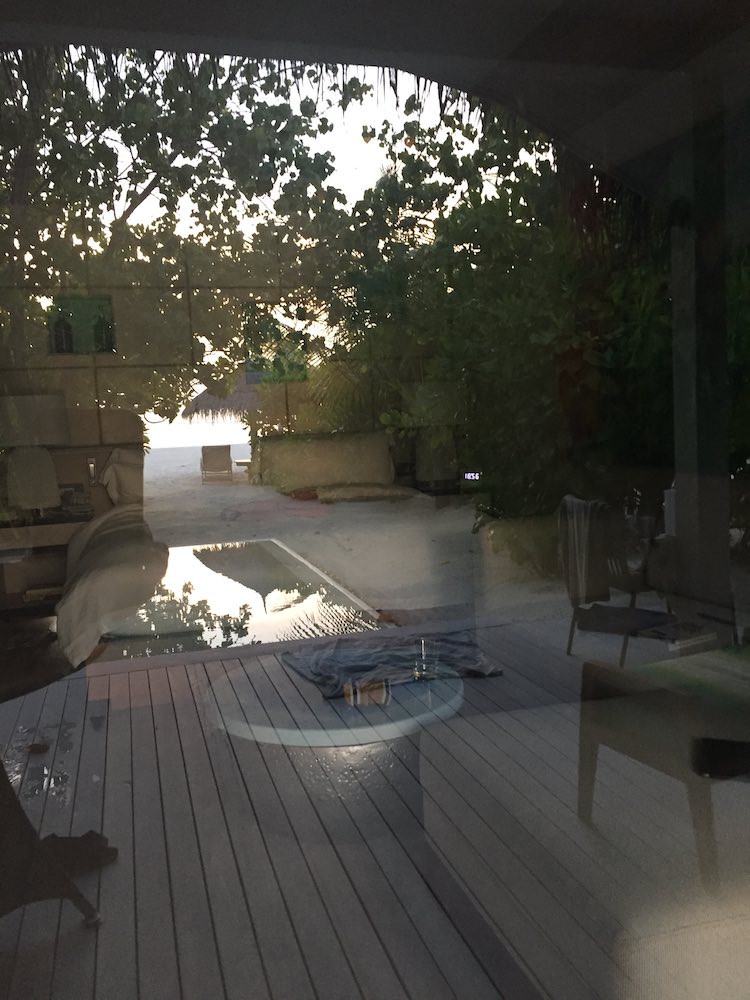 And the country proudly continues to build new hotels and resorts. It's scary.
Then again, it is frightening back home in Paris too, where it's rained almost every day and the Seine has dangerously burst its banks.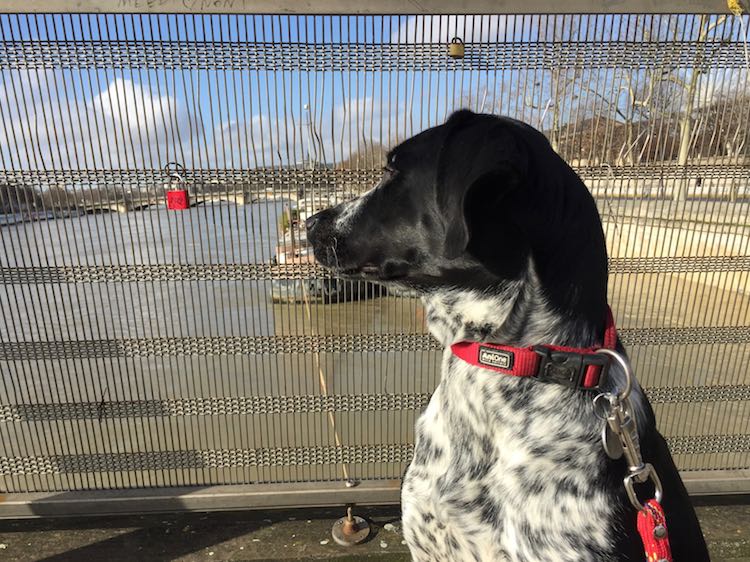 The Seine Also Rises: a concerned canine looks beyond the love lock to a greater threat
Just as in 2016. In fact, for a better idea of what Paris looks like under water today, just consult the blog I wrote then.